Group Exhibition at Sprüth Magers Berlin Celebrates Contemporary Women Artists !
Since the foundation of her gallery in Cologne, Monika Sprüth has worked closely with five extraordinary contemporary women artists to create a strong and beautiful relationship spanning over thirty years. Now, the artworks by Jenny Holzer, Barbara Kruger, Louise Lawler, Cindy Sherman and Rosemarie Trockel will celebrate this unity in an exhibition coming to Sprüth Magers Gallery in Berlin, with a starting point in forms of two Eau de Cologne magazines published by the gallery owner between 1985 and 1989. Featuring interviews, conversations, portraits and essays of these five ladies, but also other German and American arts makers of the time, the magazines represented a strong voice of female talents, always accompanied by an exhibition. One of the covers of Eau de Cologne magazine, the 1987 issue, was designed by Barbara Kruger herself.

Group Exhibition at Sprüth Magers Berlin
Through a versatile selection of artworks interacting among themselves in different media, style and period, the show tackles the notions of observations, perceptions and depictions, in history of art and today. The original 1996 black and white prints featuring full-page portraits and trademark vibrant red thought boxes that Barbara Kruger used for a project in Dazed & Confused magazine will be put on view in a new order revisited by the artist.Louise Lawler's points of will be expressed through adjusted to fit, the remakes of existing artworks put in the available architecture and wall space. The viewers can enjoy the (Bunny) Sculpture and Painting (adjusted to fit), showing a re-invented view of Jeff Koons' Rabbit and Peter Halley's The Acid Test at the Whitney Museum. Three major groups of prints by Rosemarie Trockel will be organised into CLUSTERS. Created for the exhibition, this new set of images will combine snapshots of her daily studio life and references to her old artworks with pictures of artists, historical figures and events, as well as friends. Among the prints, there will also be Tisch 7, a white ceramic table featuring two human-shaped legs evoking a kneeling figure. Showing a new body of photographs, Cindy Sherman creates multi-image and multi-panel works in which she also uses unpublished images from previous series. Following her recognizable practice of creating unusual art oozing with the bizarre and the disquieting, the photographer revisits her travelling exhibition Untitled Horrors, visually sticking to the intriguing name of the show. Finally, the haunting red and black texts by Jenny Holzer can be found on 60 hand-colorer enamel square white plaques and granite benches which occupy the gallery space. Triggering our thoughts, these writings call to mind newspaper headlines, calling out attention to the perception of the body, relationships with other people and ourselves, our everyday emotions.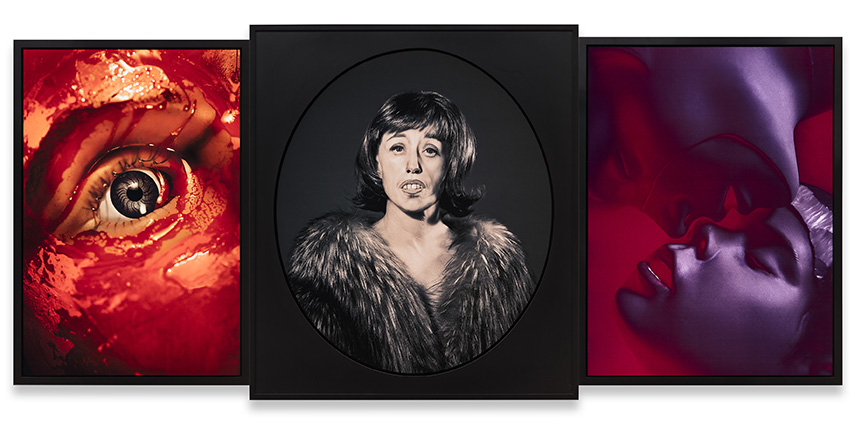 Female Artists in Berlin
The exhibition featuring the works of these extraordinary contemporary women creatives between the early 1980s and 2015 opened on September 16th and will be on view from September 17th until October 21st 2015 at Sprüth Magers Gallery in Berlin, Germany.
Featured image: Jenny Holzer – I saw them strip a man … Text: Living (1980-1982), 1981. Enamel on metal, hand-painted sign: black on white, 53,3 x 58,4 cm, 21 x 23 in. © Jenny Holzer / VG Bild-Kunst, Bonn, 2015. Courtesy Sprüth Magers