"My Art School was Subway Cars" - Cope2 in an Interview
You can love him or hate him, but Cope2 is without a doubt one of the kings of the New York graffiti and street art culture and beyond. Controversial and persistent, the artist stayed true to his recognizable "wildstyle", which originated and grew in the Bronx alongside him. Born Fernando Carlo Jr., Cope2 never attended any art schools and got involved with the underground scene from an early age, tagging the walls and the subway trains and slowly making a name for himself. When painting on the street brought him to jail a few times, he focused on creating art on canvas, which continues to be exhibited in museums and galleries worldwide. In recent years, the artist was also commissioned by large brands and clients such as Time Magazine, Converse and Adidas, among others, and to further confirm his status of an urban legend, he made appearances in video games such as Mark Eckos: Getting Up and Grand Theft Auto IV.
Speaking of exhibitions of Cope2 works, Hamburg's Hamburger Galerie is ready to host the artist's latest art showcase, under the title GREATNESS BY NATURE. It will be a self-portrait of sorts, as one of graffiti world's toughest guys will open up his soul to the audience through a series of canvases that reveal pure joy, courage, strength and even sensitivity. Cope2's art becomes an open book, a window to his heart and deep love for our world. "It's simply Cope", the artist claims. Furthermore, it's all for a good cause, as one of his artworks will be auctioned off to benefit the Mittagskinder Foundation to help Hamburg children living in poverty. Cope2's exhibition will stay on view through June 30, 2016.
Scroll down to read our interview with graffiti legend Cope2!
On Style and Controversy
Widewalls: You started your career at a very young age, but also at a very exciting time for graffiti culture – just when it all started. What made you get involved? How did your style fit in the "trends" and how was it different from other artists?
COPE2: When I started, to see these graffitis one subway cars was great – the colors, the letters – I wanted to learn from the original artists, not just copy. New York is the motherland of graffiti, I am part of the second generation and I wanted to get my special style.
Widewalls: With 35 years of a fruitful artistic career in your pocket – and counting – how would you say your work has evolved since your first tag on the subway trains to your latest exhibition?
Cope2: Evolving? There is not much difference. It's a traditional, contemporary style, unique. It is the story behind the pieces that counts. My life, my start – all these subjects like growing up in a ghetto, going to jail, believing in the art you are doing. That's it. Collectors remember New York 35 years ago, they have these subway cars with graffiti all over in their mind, when they buy a piece.
Widewalls: What did it look like for you to move from painting on the street to painting canvases? It happened relatively late in your career. What are the good sides of it?
Cope2: For me there is no difference between artwork on the wall or on canvas. In the past, I gave my energy to the wall, now I give to the canvas. To paint on the street is illegal and I wanted to change with time. At first, it was the responsibility for my family and in the end it was a natural thing for me.
Widewalls: Because you're constantly followed by controversy, you often use the Internet as a defense tool. How do you use its means to make your voice be heard?
Cope2: Life could be so easy. You like me or you don't – that's not important. To be respectful, that's important. And the guys we are talking about neither have any respect nor anything comparable. And it is hard to be bothered all day long by those persons. I try to ignore, but it is not easy. When people attack me, I want to attack back – I am a real fighter who grew up in the Bronx. But I try to ignore, to be calm. I have to learn that to ignore is the better way.
On the Exhibition in Hamburg and the Future
Widewalls: What can you tell us about your show in Hamburg? What can the viewers see inside Cope2's soul?
Cope2: The viewers will see greatness by nature because that is my very opinion: God created me to create. It's all by nature, not by art school. It's from my very soul, with all my energy. Everyone is great in his special way. My way is to be an artist. So I named this 1exhibition GREATNESS BY NATURE.
Widewalls: Speaking of Europe, how would you describe its street art scene, as compared to the American one?
Cope2: To me, there are no differences. You have a diversity of styles, but there is the same culture, the same understanding of art. Go to Texas, Berlin, Paris, Detroit or New York – you will find different styles but one culture. It's like Jazz: You have different interpretations of a song but it is always the same song.
Widewalls: Is there a contemporary artist, or artists, whose work you admire?
Cope2: Absolutely, Keith Haring and Jean-Michel Basquiat. I met Keith when he opened his Pop Shop in Soho in 1986. He inspired me as much as Jean Michel did. They are my Icons.
Widewalls: What does the future hold for you? Any projects in the making?
Cope2: There is much to do and I am fond of it. In the last weeks, I had two shows in Moscow and another one in Marseille, at David Pluskwa Gallery. I was sold out on the first day of the exhibition. In 2018, there will be some further exhibitions, I am working on it. End of this year there is a book release announced. In the meantime, I try to live a natural life with peace and respect.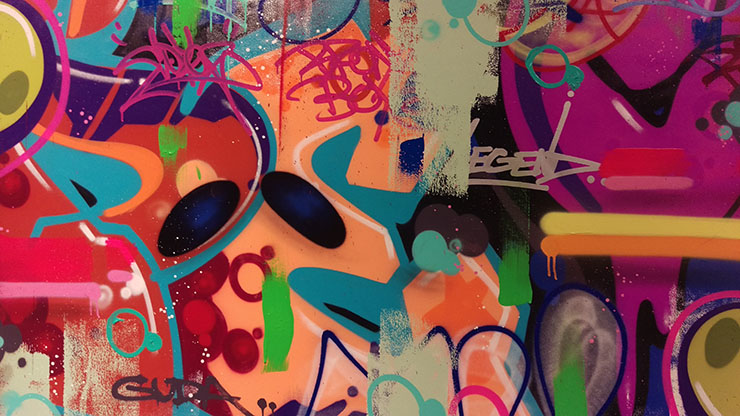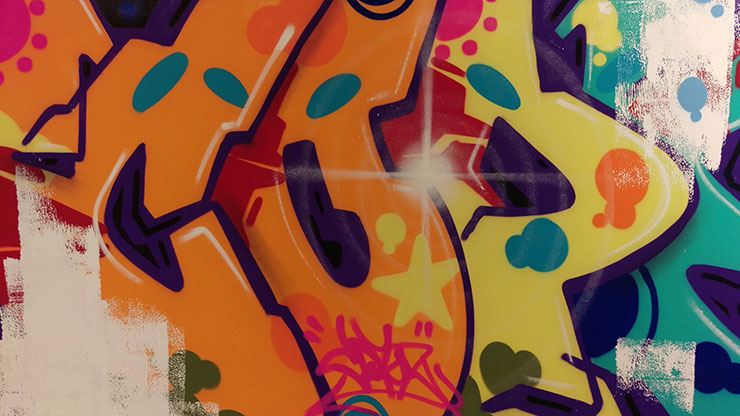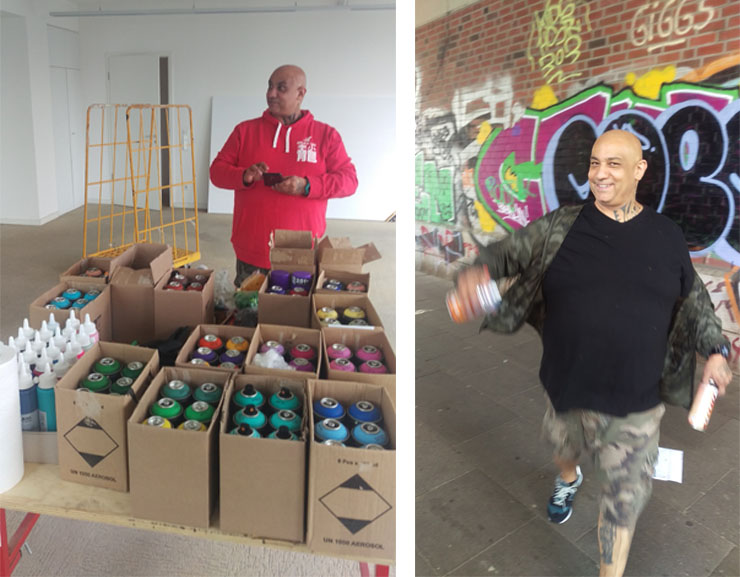 All images courtesy the artist and Hamburger Galerie.