December Brings Three New Corey Helford Gallery Exhibitions
Established in 2006 by Jan Corey Helford and her husband Bruce Helford, Corey Helford Gallery is regarded as one of premier venues for New Contemporary art. Corey Helford Gallery exhibitions feature both emerging artists and internationally established ones, supporting their growth with the production and promotion of their work, events, and projects. The month of December will be a very busy one for the gallery, since it will showcase three exciting contemporary art shows. Examining the life aquatic, the group show Beneath The New Waves: An Exploration of Underwater Reality and Surreality will present over 25 of the top New Contemporary artists. For his U.S. solo exhibition debut, the gallery will present mesmerizing portraits by Sweden-based artist Mikael Takacs in the show titled Embodiment of Secrets. Lastly, the gallery will present a unique and bold series of oil paintings by Toronto-based artist Troy Brooks in the exhibition titled The B-Girls.
Under The Sea
As one of the final shows of the year, Beneath The New Waves: An Exploration of Underwater Reality and Surreality will present pieces exploring the life beneath the waves, from the weightless beauty of motion underwater to the refraction of images just below the surface. With artworks created specifically for the show, over 25 artists will present their visions of reality and surreality under the sea including Camille Rose Garcia, Eric Joyner, Jacky Tsai, Ian Francis, The London Police, Haroshi, Adrian Cox, Andrew Brandou, Hirabayashi Takahiro, Iva Troj, Lara Dann, Luke Chueh, Melissa Forman, Naoto Hattori, Nicole Gordon, Nataly (Kukula) Abramovitch, Rune Christensen, Scott Musgrove, Sergio Lopez, Stickymonger, Victor Castillo, Vincent Giarrano, Young Chun, Yuka Sakuma, Zoe Byland, Keun Young Park and more.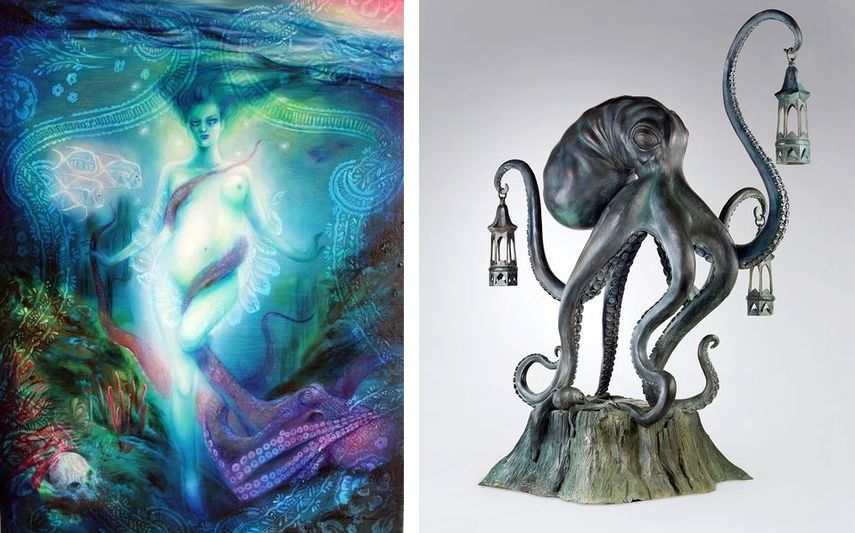 Mesmerizing Portraits By Mikael Takacs
Described as mind-bending and thoroughly mesmerizing, Mikael Takacs' portraits capture the imagination with their stunning half-abstract nature. Having a fuzzy and blurry effect from up close, his unique pieces take the form of a portrait when taking a step back. For his stunning new series of 20 paintings created in his signature palette of light and dark turquoise, Takacs has used abstraction to manifest confessions about hidden and intimate thoughts, desires and fears of his subjects. Before the exhibition, the artist has performed an experiment in Stockholm where he placed several confession boxes around working places and asked people to share a secret with him.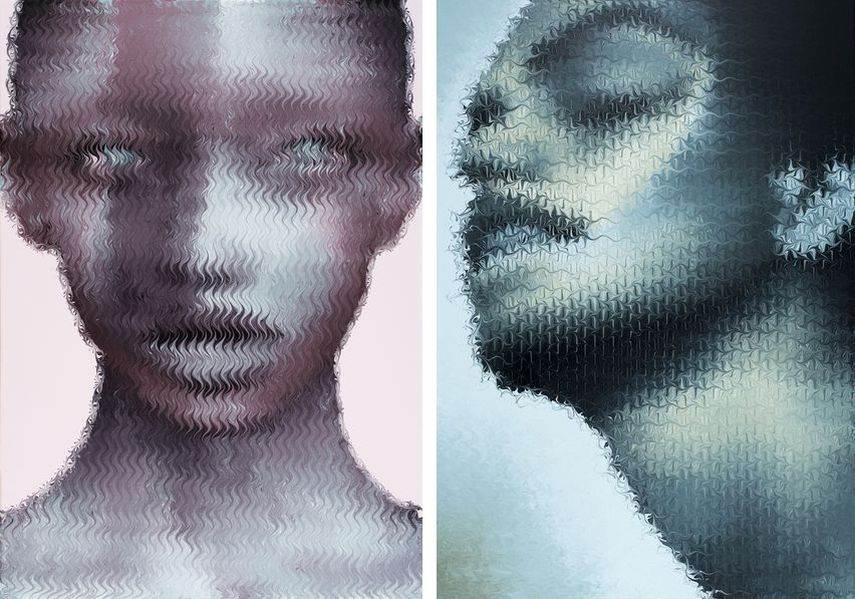 Unique Series of Oil Paintings by Troy Brooks
Influenced by a mixture of classic Hollywood imagery and ancient mythology, Troy Brooks creates surrealistic portraits of elongated women. Eerily seductive and intensely emotional, these pieces present an elaborate pageantry of female characters placed in allegorical settings. Exploring the theme of Veiled Hearts, the artist examined the veil as a metaphor. Following the Volume 1 of the series, Brooks completely brought his subjects out of the shadows and from behind the veil in Volume 2. Mixing a variety of visual influences, Brooks gave life to these girls and allowed them to tell their stories.
Corey Helford Exhibitions in December
Exhibitions Beneath The New Waves: An Exploration of Underwater Reality and Surreality, Embodiment of Secrets and The B-Girls will be on view at Corey Helford Gallery from December 17th, 2016 until January 14th, 2017. The opening reception for all three shows will be held on Saturday, December 17th from 7 to 11pm. While the exhibition Beneath The New Waves: An Exploration of Underwater Reality and Surreality will be showcased in Gallery 1, the exhibition Embodiment of Secrets will be on view at Gallery 2, and the exhibition The B-Girls will be presented in Gallery 3.
Featured images: Troy Brooks in-process; Mikael Takacs – I Tell People I Am Bisexual, so They Will Think I Am Cool; Eric Joyner – Davy Jones' Locker. All images courtesy of Corey Helford Gallery.