Creativity in Erection
Milo Moire used her vagina to paint a canvas in a live nude performance almost a year ago. Now, a guy named Brent Ray Fraser appears to have applied a new purpose to his genitals too – he paints with his penis. This Canadian.. artist has been creating paintings as wide as twelve feet using his god-given paintbrush since 2009. While Brent Ray Fraser isn't the only one with the idea – there's Uwe Max Jensen from Denmark and an Australian going by the name of Pricasso – he is certainly the latest addition to the bunch and surely the most handsome out of the three.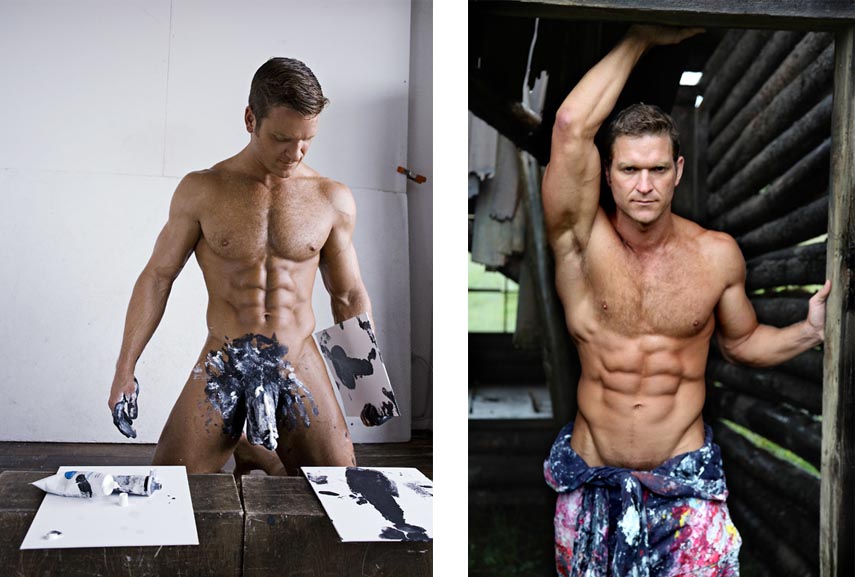 The Penis Art by Brent Ray Fraser
There's a few "technical" details Brent Ray Fraser needs to pay attention to before he starts working. Turns out that it's better to paint with a penis in erection (in case you ever wanna try, there's a tip for ya!), and for the artist, this isn't a problem, since just being around the art gets him aroused. But there is a problem: paint is sometimes too cold to be put on, so Brent Ray Fraser usually ties his penis off first. The results are both color and monochromatic paintings, including versions of Shepard Fairey's HOPE poster of Obama, Damien Hirst's Dot Paintings (for which he used his testicles as well), the Mona Lisa and Marilyn Monroe by Andy Warhol. Brent Ray Fraser has also had exhibitions and performance acts, having him become a male exotic dancer for private shows. He also owns a shop of his works which, you'll guess, is for adults only.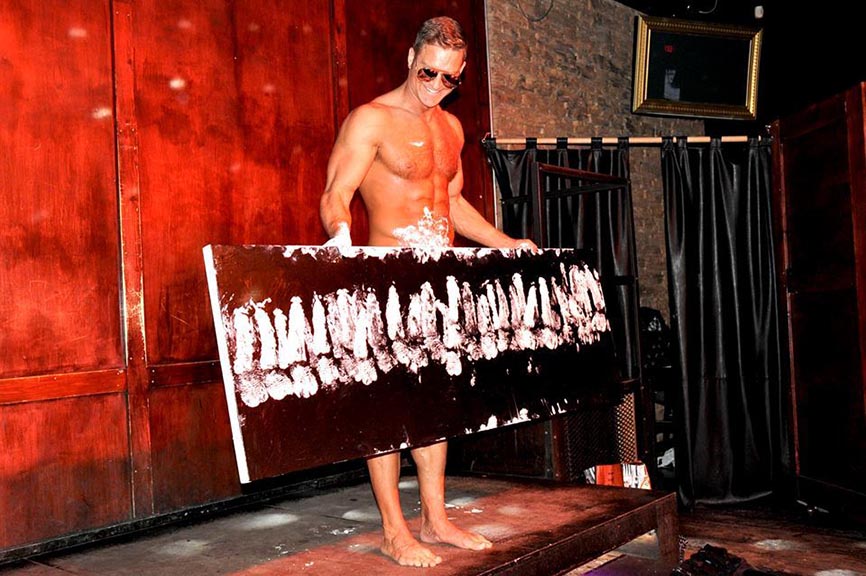 The HUFO Project
In other news, staying on the topic of male genitalia, an Italian artist is protesting male circumcision by creating foreskin sculptures to raise awareness about the procedure's negative impact. Vincenzo Aiello's project, titled HUFO: The Missing Link (short for HUman FOreskin) represents a rather big silicon resin foreskin framed by metal circle and square a la Leonardo Da Vinci's Vitruvian Man. The piece calls for an end of a practice encouraged by social norms that influences a man's life in a bad way, and the artist has been carefully studying the matter before proceeding with the project after undergoing the procedure himself. The sculpture is being sold for a $1,000 as part of a Kickstarter campaign for a further development of the endeavor. If you feel like donating, but without getting the sculpture in return, $50 pledge will get you a t-shirt with a foreskin on the front.
We simply need to know what you think about all this! Join the conversation over on our Facebook page!
And don't forget to sign up for My Widewalls for more news!