OVERTHRONE!
"People frequently ask me who the new upstarts are in street art… I'd say CYRCLE, but that would be underselling the diversity of their talents and the depth of their conceptual process. CYRCLE works in many mediums and techniques, utilizing whatever approach most powerfully delivers the concept and aesthetic. CYRCLE is surprisingly focused and rigorous for some young punks." -Shepard Fairey
StolenSpace Gallery in London will host in early March the first UK solo exhibition by L.A. based collective CYRCLE. The show, titled "OVERTHRONE! POORING REIGN," aims to explore symbols of power and the control over our minds. The "OVERTHRONE!" campaign has been a significant theme in CYRCLE's work for over two years. The StolenSpace's show is a debut of this series. The upcoming exhibition at StolenSpace will unveil two new bodies of work within this concept, "RULERS WERE MEANT TO BE BROKEN" and "SCRAMBLE FOR POWER".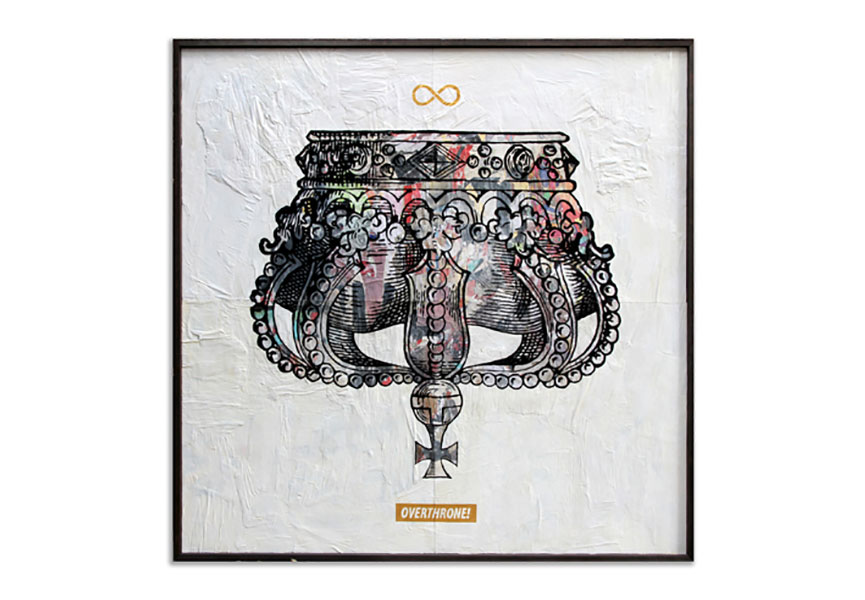 Rape of Sabine
At the recent POW! WOW! Hawaii festival, CYRCLE created a hand painted impressive mural showing ancient Greek figures, most likely one is a Hellenistic river god, in front of the Fresh Café in Kaka'ako. Thematically and stylistically, this powerful mural is in line with CYRCLE's upcoming solo show in London. Moreover, they participated in the 1xRun's POW! WOW! 2014 Featured Artists Series with their new print "Rape of Sabine". This piece, a mix of a digital re-appropriation of a photograph of a sculpture of the Rape of Sabine, is a part of the OVERTHRONE! and it's the first print released in this concept.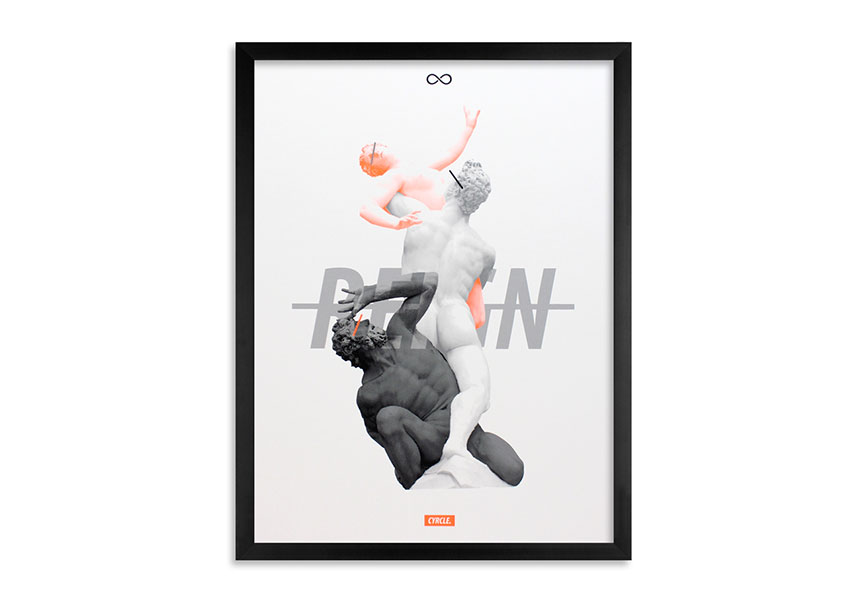 Upside Down Crown
OVERTHRONE! as a concept was developed over two years ago. CYRCLE has been studying and exploring ancient Greek and Roman art/sculptures that glorify power. Aesthetically, L.A. based collective is returning to their roots – bitmapped imagery married with text. Their first example was a mural with a massive upside down crown painted in L.A.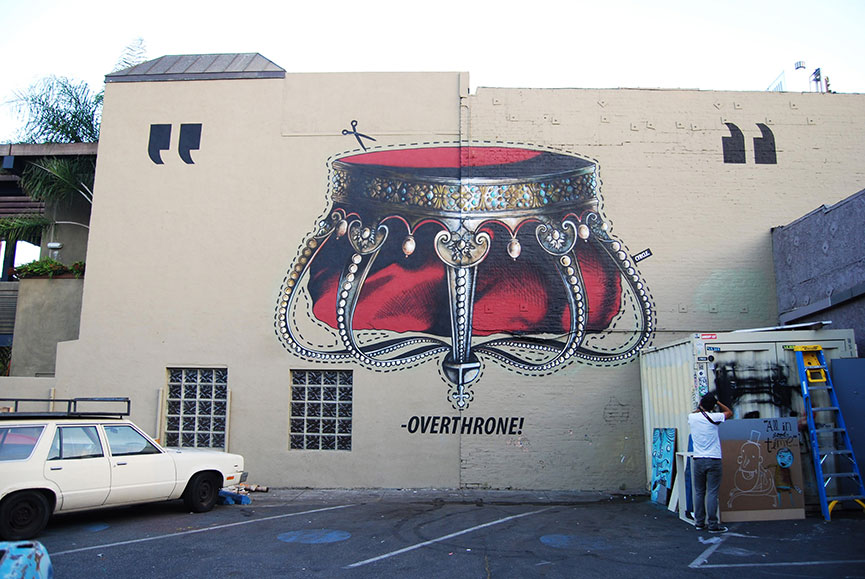 Overthrow the Power
Within the OVERTHRONE! series, CYRCLE takes the symbols of power and deconstruct them by scrambling, glitching, redacting, or simply flipping them upside down in attempt to suggest overthrowing the reigns of power. According to the artists, the aim is: "a subliminal call to action… to overthrow the powers of doubt and oppression in the mind so we, the individual, can let go of fear and take power back!"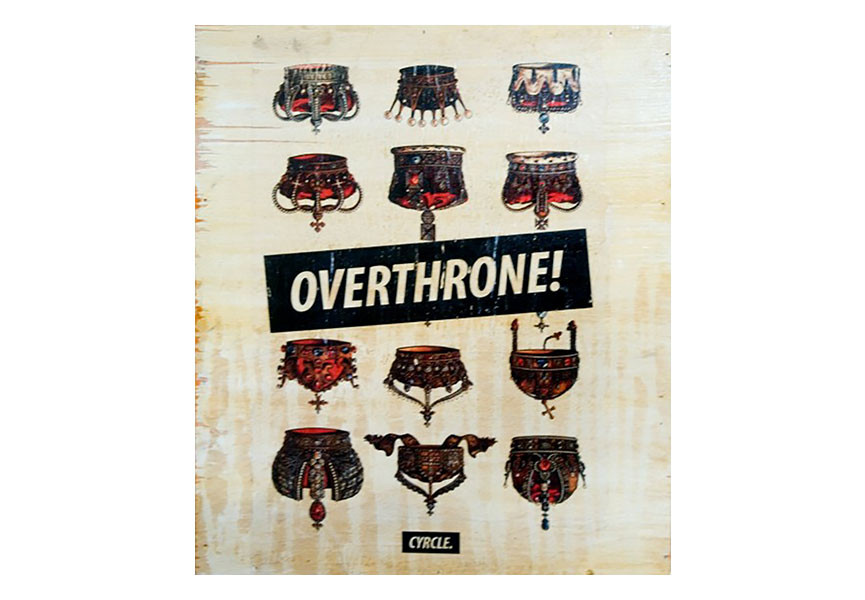 About CYRCLE
CYRCLE was born in 2010 in L.A. Originally CYRCLE had three members, Davey, Rabi & Devin, and now it is just Davey & Rabi. Their work focuses on life, duality, and the human condition. Those concepts, combined with the aesthetic consideration of form, color, and balance are what create their signature style. This two-man collective has been developing their own language for several years during which they have made a massive impact on the street and gallery scene, quickly gaining the respect of the international art community. CYRCLE reveals complex ideologies in their simplest forms. Living by the motto We Never Die, CYRCLE strives to shed light on otherwise dark matters.