Hirst and Murakami for UNICEF's 1 in 11
The biggest satisfaction when you are good at something is to use your status in order to help someone else. Many artists, sportsmen and entrepreneurs get involved in charity events to raise money for some important cause (just recently we wrote about charity that helped raise money for children with autism). In the art world, we've seen numerous engagements where some of the biggest names in urban and contemporary art (read about this in our article The Good Heart of Street Art) use their famous names to attract media attention and help raise awareness. On January 9th, a campaign entitled 1 in 11 was launched in partnership with FC Barcelona Foundation, Reach Out To Asia (ROTA) an UNICEF in order to extend educational opportunities to marginalized children in Asia, specifically Bangladesh, Indonesia and Nepal. The idea is that, through integrating play and sports into education, this would trigger potential of children.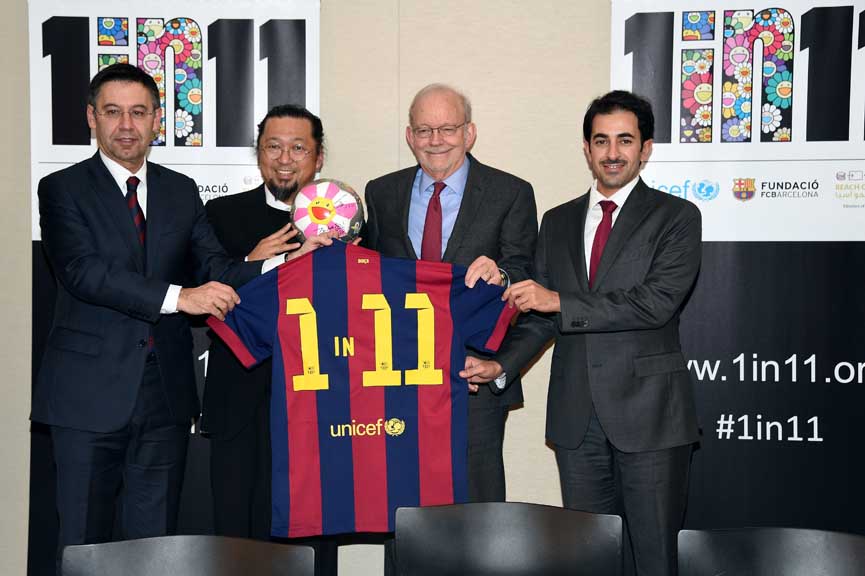 Artists Supporting the Cause
Statistics say that one in 11 primary school-age children – or 58 million out of 650 million children – are out of school. The majority of these children live in terrible conditions – areas affected by conflict, extreme poverty, children with disabilities… In these areas, educational system is reduced to the bare minimum, and the sports program is almost nonexistent, even though studies have shown that physical activity and sports in general inspire children to work harder, awakens the competitive spirit and leads to a better physical health. This is why the 1 in 11 campaign is on a mission to help raise funds – through individual donations as well as a major art auction at Sotheby's, London, taking place on February 12th. The auction at Sotheby's will feature donated artworks by art superstars like Takashi Murakami, Damien Hirst, Jeff Koons, Richard Serra and Shirin Neshat. Artists Hirst and Murakami even created specially commissioned works depicting Lionel Messi, FC Barcelona player, UNICEF Goodwill Ambassador, and President of the Lionel Messi Foundation. Murakami designed the campaign logo, as well.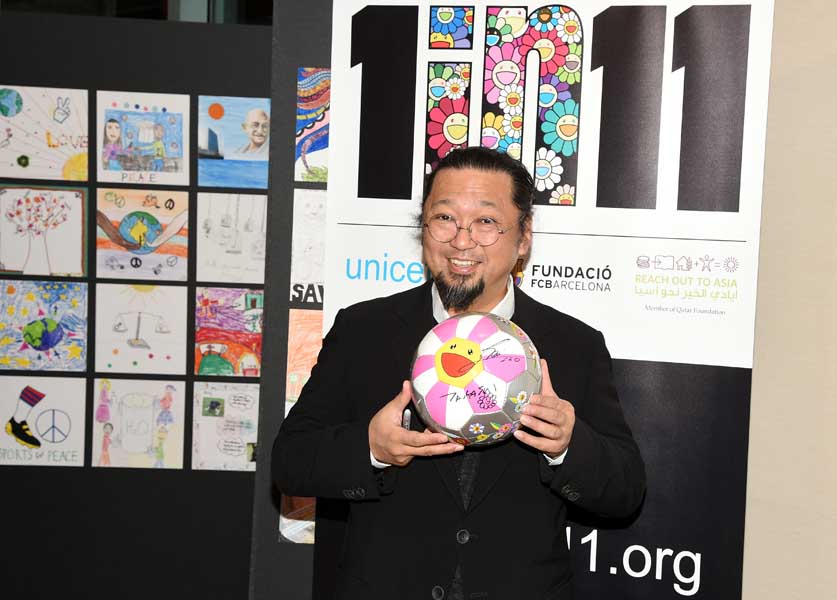 Expanding The Project to More Countries In the Future
Besides the involvement of the art household names, UNICEF 1 in 11 campaign will be joined by another Goodwill Ambassador, tennis legend Serena Williams who launched the first out of 11 promotional videos along with Messi. A special global premiere of the video was launched January 11th, on the big screens at Camp Nou stadium during the FC Barcelona vs Atletico Madrid match. The funds raised to help children will be directed initially on the educational programs in these three countries, with the goal of expanding to more countries. In Indonesia, the campaign will support schools in six districts to include children with disabilities. In Nepal, UNICEF has worked with the government to identify 10 priority districts that will offer sports programming for children up to secondary school, particularly aimed at breaking down the societal barriers for children with disabilities and including them in school. In Bangladesh, the campaign's focus will be on reaching out-of-school children.
If you want to read more about the good heart of art, sign up for My Widewalls today!

[mc4wp_form]