Daniel Arsham's Exhibition Fictional Archeology Opens Today in Hong Kong Chapter of Galerie Perrotin
There is a series of intriguing sculptures made by American artist Daniel Arsham, comprised within a series called Fictional Archeology. From afar, they look like ancient Roman or Hellenistic marble sculptures of nude men, giving in to erosion due to their very old age. However, as you get closer, you realise that these figures are fully dressed, and in very contemporary fashion too. Galerie Perrotin in Hong Kong will be the place where the past collides with the future through five of these modern-day archeological sculptures and two installations showing casts of modern artefacts like future archeological finds. Inspired by the often fictitious stories assigned to the actual historic pieces excavated by the archeologists, Daniel Arsham wants to create such relics as today's legacy left for the humanity years ahead.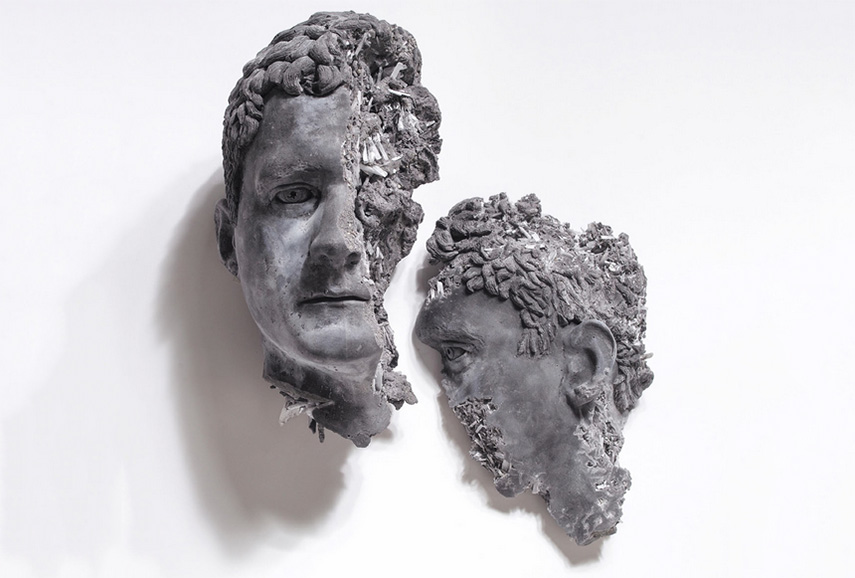 The Futuristic Past of Daniel Arsham
After hosting two previous solo shows, The Future is Always Now and #FUTUREARCHIVE, Galerie Perrotin will house the works of Daniel Arsham for the 10th time. For this exhibition, the artist managed to make rather convincing archeological sculptures, made of corrosive geological materials such as selenite, volcanic ash, chalk and sand, which helped him suggest that they were made centuries ago, rather than in 2015. His human figures, sent back through time and to the future simultaneously, can have whichever story we want them to have, as their only task is to bring along the spirit of the period they represent. In addition to this, Daniel Arsham's Fictional Archeology does indeed draw inspiration from our real history and existing pieces of classical sculpture.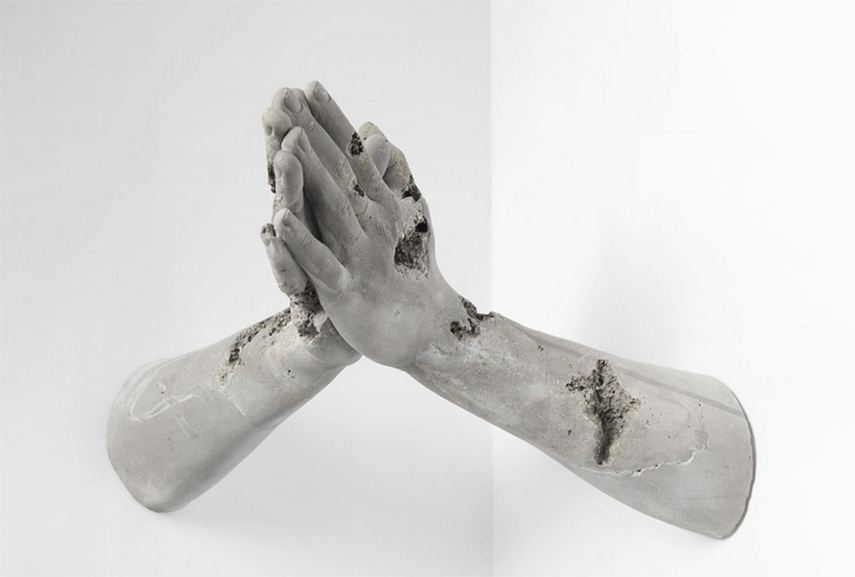 Fictional Archeology in Hong Kong
Daniel Arsham's five human figures and body parts evoke the archetypal postures and plaster casts of victims of Vesuvius eruption in Pompeii. In fact, among the artist's work there is The Dying Gaul Revisited, a modern-day interpretation of Roman marble copy of a Hellenistic statue Galata morente from circa 230 BC. Arrested in a moment between falling down and getting up, just like the original, Daniel Arsham's modern-day Gaul is wearing casual clothes, and a part of his forearm and his leg are missing, while the rest of his body is quite eroded. The lack of these features do not prevent the statue from staying in position as if these body parts were still there, but instead employ it with a mysterious element which contributes to his fictional archeology.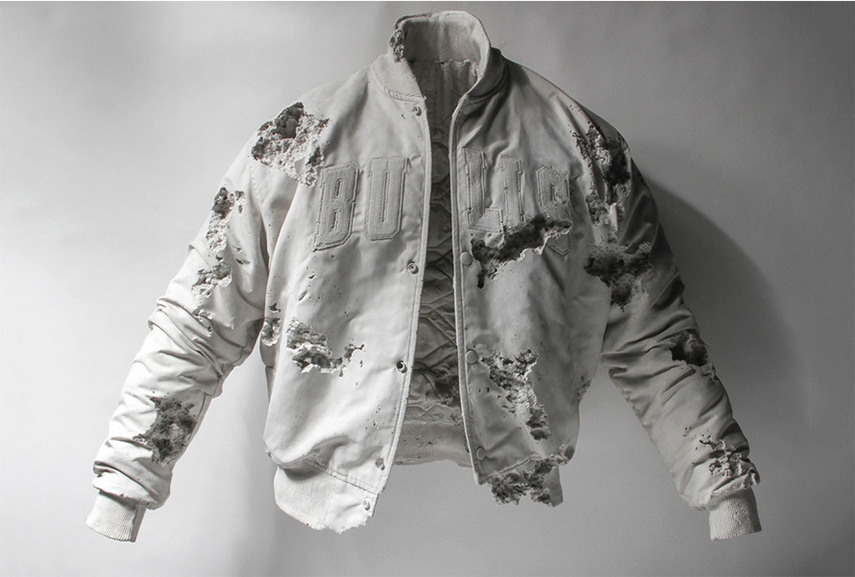 Daniel Arsham in Hong Kong
Aside from the statues, Daniel Arsham will also cover one entire wall with black chalkboard paint, in front of which he will place chalk casts of body parts, such as faces and hands, as well as various modern artefacts like telephones and cameras. The visitors are welcome to use one of these items to write on the board, which will progressively erode in the process. In a separate room, there will be another installation of sand pieces he made in collaboration with the students of the School of Arts Singapore, where it was first exhibited in 2013. In Daniel Arsham's recognisable style, the amusable of these objects will include keyboards, joysticks, calculators, cassette tapes and much more, all laid out on a large white table, as if they were just discovered and taken to the surface of the Earth.
Fictional Archeology, an exhibition of sculptures and installations by Daniel Arsham, will be on view at Galerie Perrotin in Hong Kong from September 11th until October 10th, 2015. A media preview will take place on September 11th from 5pm to 6pm.
For more sculpture masters, sign up for My Widewalls!
Featured image: Daniel Arsham – The Dying Gaul Revisited, 2015. Selenite, hydrostone, 35 7/16 x 66 15/16 x 31 1/2 in, 90 x 170 x 80 cm. Unique All images courtesy of Galerie Perrotin