Kick the Tires and Light the Fires
Daniel Arsham, the New York-based artist, set designer, "Snarkitect" and recently a filmmaker, possesses a remarkable creative expression that pervades many disciplines. Daniel Arsham has already achieved an outstanding career with a remarkable exhibition list.  On April 5, Arsham opens his second solo show at OHWOW Gallery in L.A. Arsham will present his new works under the title "Kick the Tires and Light the Fires". In his creative practice, Arsham is showing a deep interest in the relationship between modern architecture and the natural environment. He often deceive us, creating the surreal blends of sculpture and architecture. This time, Arsham will again reveal what he calls "future relics," modern items that look like they were excavated as part of an archeological dig centuries in the future.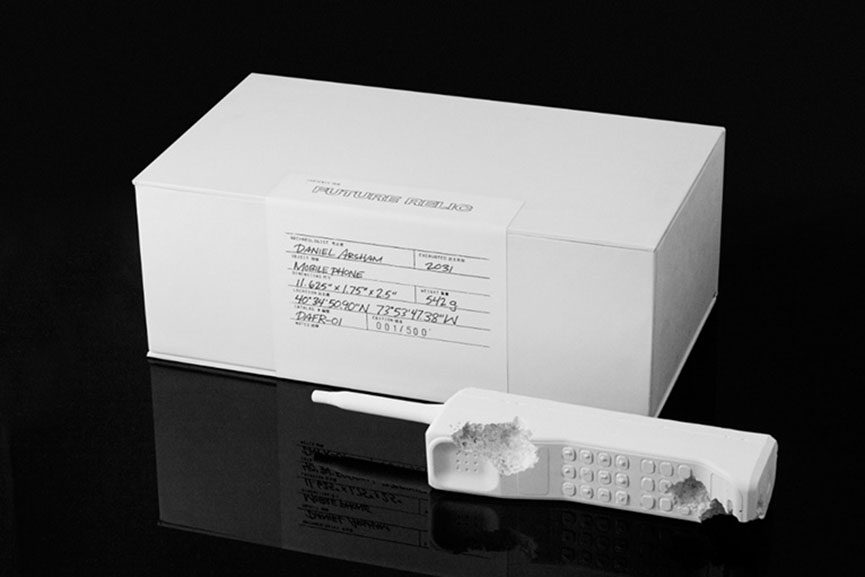 Future Relics
These relics include pop culture debris like a baseball and glove, a basketball, and a McDonald's sign. He transforms them in his remarkable way working in his usual grayscale color palette. Within this series, Arsham recently made a short film called "Future Relic 01" – his first film ever – that premiered at the Art Basel 2013).  It is based on an archetypal brick phone cast from a mixture of plaster and broken glass which was discovered by mysterious archeologist.  Arsham imagines what objects will define our time on earth.

About Arsham
Daniel Arsham is one of the emerging American contemporary artists, who's coming up fast in the art world thanks to his incredible, cutting-edge architectural and sculptural designs. Arsham was born in Cleveland, Ohio in 1980, but he grew up in Miami. Today, he is New York-based artist and set designer working in his studio in Brooklyn. He has been interested in architecture since he was a kid. His first experience with the architecture was in fact destructive. A hurricane demolished his house when he was a young boy. This event in some way determined his understanding of architecture as less stable and more fluid structure. Find out more about Daniel Arsham in our Artist section after the jump.