Daniel San Munoz: Between the Lines
Spanish artist Daniel San Munoz is featuring his new solo project Between the Lines at the White Walls gallery in San Francisco. Visitors of this upcoming show are in for the visual treat and delight that Munoz's splendid works provoke. Project on display at the White Walls gallery originates from Daniel San Munoz's monograph titled Between lines published in 2007.  
Have a Look at a Video of the Art of Daniel San Munoz
Fantastic Worlds of Spanish Visionary
Daniel Munoz aka SAN is Spanish artist who began his career back in the early nineties doing graffiti on the walls, furniture and public spaces in his home town. After several years this self-taught street artist decided to move to Madrid to seek academic education. Daniel San Munoz enrolled Faculty of Fine Arts in Madrid and very soon started his career in exhibiting and interventions all over Spain and Europe. Following the first years of Daniel San Munoz's career as professional artist a change in his style occurred and he became more enthralled with drawing which soon became the main method of his artistic expression. Daniel San Munoz's visual language is comprised of intricate symbols and codes that provide viewers to get immersed into context that rests between classical painting and active discourse of contemporary art. His rich and multilateral narrative gives way to different interpretations, confusing at times and often relating to mundane events and anecdotes masked in Munoz's fantastic visual language.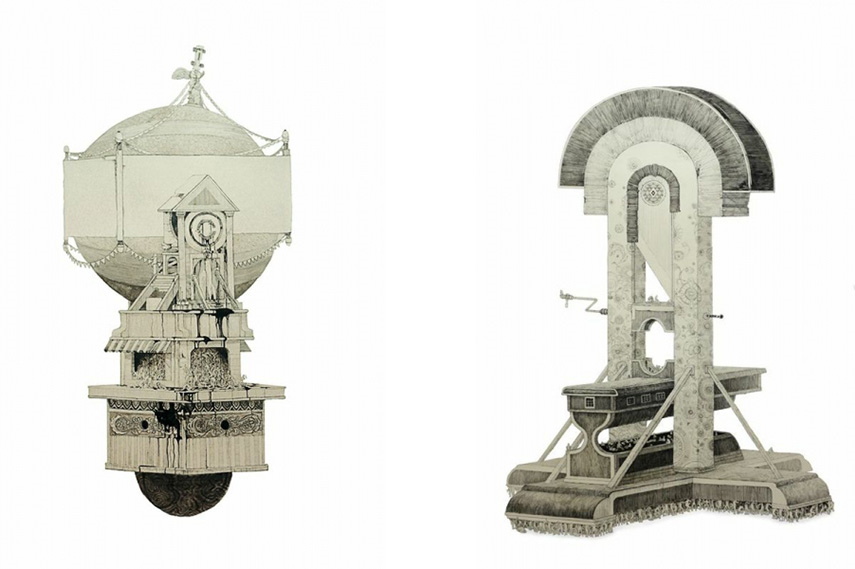 Daniel San Munoz: Between the Lines
From the very beginnings Daniel Munoz's expression has been highly figurative displaying his vast talents for fine arts and illustration. In his works Daniel San Munoz creates elaborate imaginative worlds that rely upon reality and meticulously drawn figures and object. Daniel San Munoz manages to create rich and detailed works that are at the same time minimalistic and purified of any excessive elements. The artist manages to transfer those elegant narratives from delicate drawings on paper to the large scale mural compositions without losing any of the delicacy or richness of detail. Munoz never strayed far from his original vision that art should be public good available for everyone to enjoy so he continues to selflessly share it through his street art and interventions done worldwide. No matter in which medium or technique he might be working in, Daniel San Munoz remains faithful to his style of elegant, reduced academic illustration.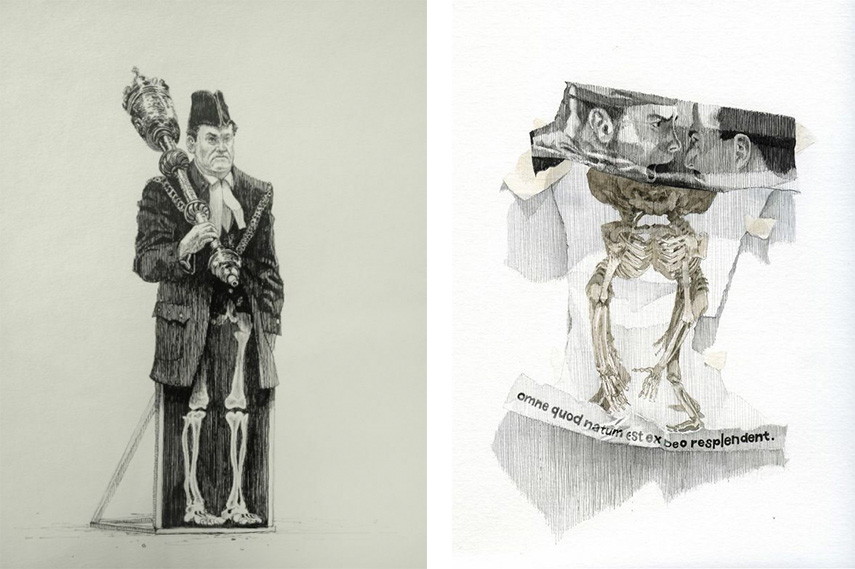 Daniel Munoz at White Walls
Whether in his drawings, paintings or murals Daniel San Munoz conveys a strong message relating to the current issues of society or human behavior and relations within social groups and how people unconsciously respond to do what they are being told to and think what they are told to think. Some of the recurring elements in Munoz's works are masks and various surveillance objects indicating concealment and creating a sense of ominous tension that enhances upon realization that those elements are derived from our reality. Daniel San Munoz is certainly one of the most versatile artists to emerge from Spain lately so his upcoming show at the White Walls Gallery should be mandatory for those in the area. Between the Lines will be open from May 16th until June 6th 2015.  If you find this story interesting and want more do sign up for My Widewalls!  Featured Images are Courtesy of the White Walls Gallery.
Follow These Galleries
San Francisco, United States