Dark on That Whiteness
There have been a number of significant and well-known art couples throughout the history – Kahlo and Rivera, Christo and Jeanne-Claude, Marina and Ulay, Stieglitz and O'Keeffe, but for some reason art world seem to have forgotten about Kate Ericson and Mel Ziegler. Working their way up in 80s and 90s, the duo left an important mark in an art movement now known as 'social practice'. Partners in life and art ended their collaboration due to a tragic death of Ericson in 1995, who died of brain cancer at 39. Ziegler saw this also as the end of his career, but now, 19 years later, he recognized the importance of reminding the art world of duo's work and decided to exhibit once again their art pieces. This is why he chose Galerie Perrotin, where in 1992 the couple had one of their last exhibitions together.
The show opened July 8, will be running until August 22, 2014.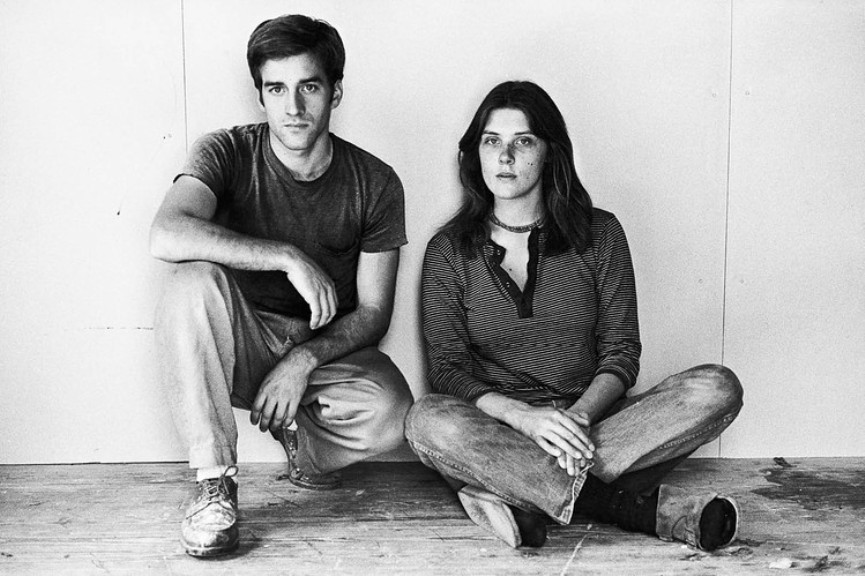 Social Practice Pioneers
Working for only ten years, the duo distinguished themselves by exploring different ways of presenting their work – they replaced traditional galleries with public places, private homes and became pioneers in social interventionist art movements. This is particularly evident in 'Camouflaged History' (1991), where Ericson and Ziegler presenting themselves as artists, approached the owners of a house in Charleston, South Carolina that needed painting. Its location demanded to respect strict building codes and approved house colors prescribed by the local Board of Architectural Review. Having agreed on the rules, artists painted the house and labeled it in a camouflage pattern. The owners and neighbors were amazed with the end result.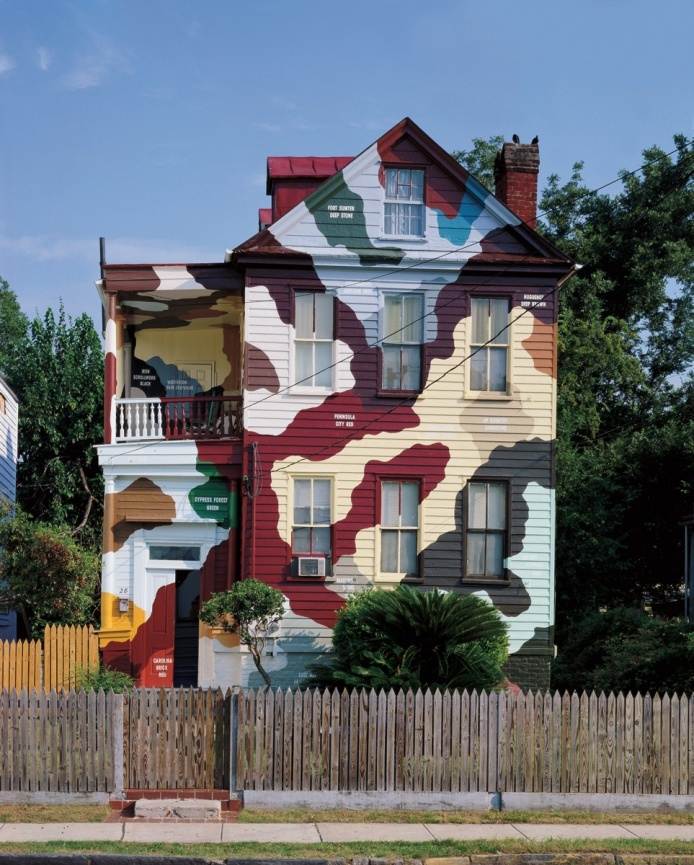 Unseen Work
The exhibition includes never before seen drawings and renderings of their work. Perhaps the younger visitors who are not as familiar with the duo's work will be intrigued to see a piece called 'Peas, Carrots, Potatoes' – an American flag made out of colourful jars of baby food labelled with phonetic spellings of baby sounds contributed by parents. Beside these, visitors will be offered work 'Give and Take' (1986), 'Dark on That Whiteness' (1988), 'Feed and Seed (Gelsinger Farm, Buckwheat)' (1989), 'A long Line' (1995-96)… Also on view at Perroten will be several sculptural works and drawings, most of them unseen since Ericson's death. Their finale piece, made from scraps of the wood a neighbour left while building a new home – Making of a House, will also be presented. In the end, visitors will be able to see a documentation of projects such as Camouflaged History (1991).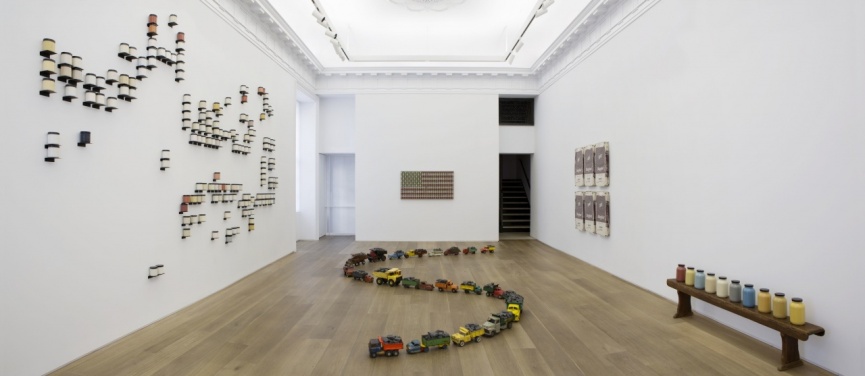 Gallery
Galerie Perrotin is a contemporary art gallery founded by Emmanuel Perrotin in 1990. In France, the gallery currently occupies two floors in Paris' Marais district, with an adjoining exhibition space across the road. In May 2012, the gallery opened a space in Hong Kong designed by architect Andre Fu. Today, Perrotin also owns a gallery in New York.