David Nicholson Erotic Art – Life in Between Eros and Thanatos
When someone views David Nicholson art, the first visual impression he/she might have is naked women or human skulls. Indeed, female nudity and skulls are often been represented on Nicholson's paintings. However, his art goes far beyond these subjects. But, in this article we are focusing on those aspects of Nicholson's art that can be labeled as erotica, or erotic art. As many examples in art history shows, Eros and Thanatos dichotomy was often an inspiration for many artists. Although Nicholson's works does not directly refer to this dichotomy, the subjects in his compositions represent exactly this ancient thought – a constant play between love (life) and hatred (death). This "play" may be represented in different ways, but in the art of David Nicholson, it is usually presented by using female nudity and human skull as main subjects.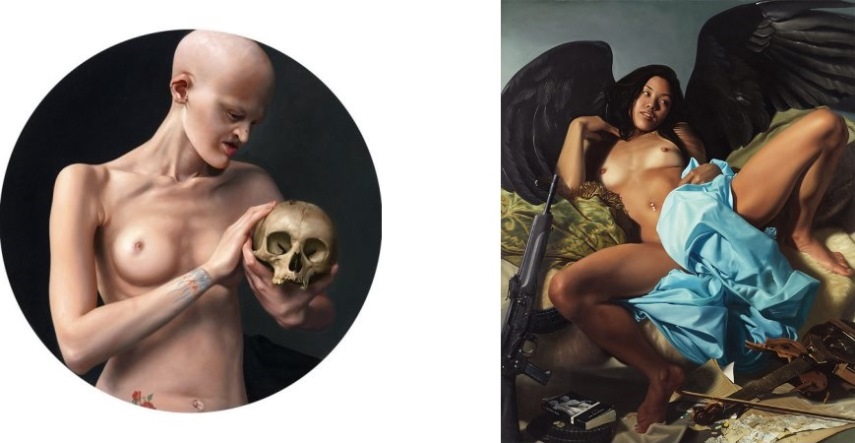 Eros and Thanatos
Eros and Thanatos dichotomy is usually related to Sigmund Freud. According to Sigmund Freud, humans have a life instinct – which he named Eros – and a death drive, which is commonly called (though not by Freud himself) Thanatos. When you watch some of the David Nicholson's paintings, you will notice a presence of naked women. For example, in his painting from 2005, entitled Eros, he depicts six diversely magnificent nudes playfully enjoying in a pastoral idyll. The girls' full, firm figures are complimented by fresh, juicy, fruit scattered around them, tight bunches of blooming roses and swatches of sensual fabric draped from branches and over the table, where food and drink are elegantly arranged. On the other hand, this (a bit) ecstatically driven composition is also characterized by a sexual danger coming from massive black dogs. Similarly, in the artist's Dance of Death, we can see an androgynous person with (naked) breasts, holding a human skull in its hands. It looks like that a play between Eros and Thanatos is one of the main motifs in many works by David Nicholson.

David Nicholson Art
David Nicholson is a Canadian-born and Berlin-based artist. Represented exclusively by the Brussels Aeroplastics gallery, Nicholson has work in some of Europe's top private collections and has exhibited in Europe and the United States. One of the most important characteristics of Nicholson's art is his modernizations of old-master methods and allegorical compositions. Indeed, many of artist's compositions look like those by old masters. But, when it comes to inspirations and influences, David Nicholson's oeuvre is quite diverse. For example, the movies by David Lynch inspired some of the artist's works (particularly Lynch's Blue Velvet).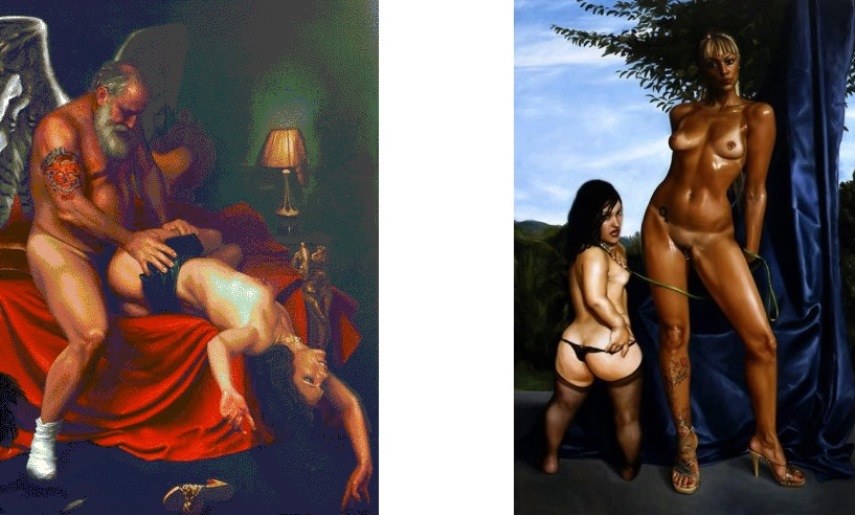 Erotic Art and David Nicholson
Erotic art of David Nicholson can be described as "soft" – you won't find frontal nudity or sexual intercourse represented in his works (for more provocative erotica, you can check out the art of Laura Krifka, Hans van der Kamp, Jeff Wack or Oliver Rath). Still, many of Nicholson's paintings are pure erotica, particularly when it comes to representing female nudity.
Featured Images:
David Nicholson – Untitled (courtesy of curiator.com)
David Nicholson – Bathsheba (courtesy of artnet.com)
All images used for illustrative purposes only.