Anthropomorphized Anomalies by David Welker Coming to SPOKE SF!
Known for his elaborate rock posters, murals and paintings, ranging from fantasy landscapes to urban realism, the New York City-based visual artist and illustrator David Welker mixes depression-era Surrealism with a contemporary take on underground comics. His signature hand-rendered lettering is an uncanny blend of 19th-century sign typography and equal amounts of modern graffiti. The latest David Welker art exhibition will soon be on view at SPOKE SF. Titled Anthropomorphized Anomalies, the exhibition will feature a dynamic range of original drawings and limited edition prints that explore architecture, fish and landscape in the artist's distinctive surreal style.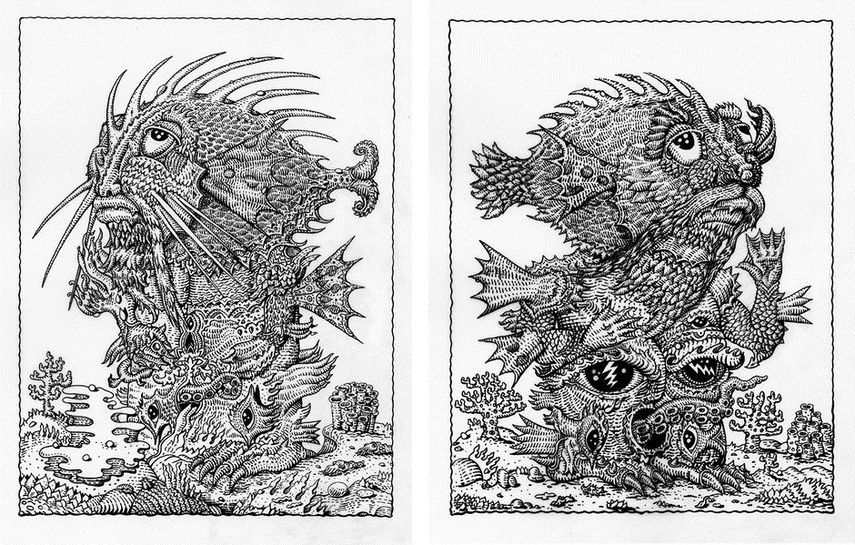 Objects With Anthropomorphic Qualities
Working primarily with ink and graphite on paper and vellum, David Welker has returned to subjects that fascinated him from an early age – the anthropomorphic qualities found in objects in his environment. In this latest body of work, poisonous fish, buildings, landscapes and vehicles are imbued with humanistic qualities, completely having a life of their own. Seeing architecture as an extension of the human form, he combines castles, cottages, coo coo clocks and more into animated structures. These surreal characters are placed within imaginative landscapes. Springing from his imagined realm, subjects such as airplanes, buses and boats take on animalistic and human qualities gathering in flocks and growing limbs.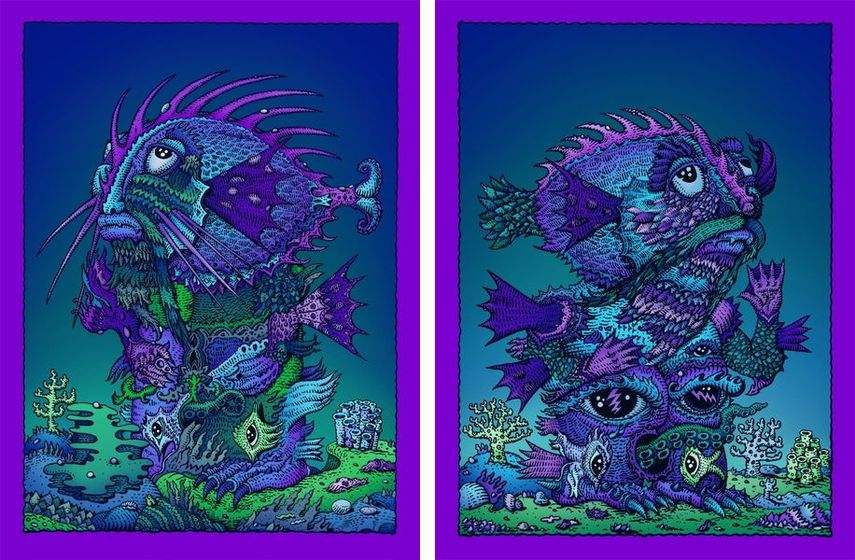 The Practice of David Welker
The work of David Welker expresses all of his varied influences in a unified visual aesthetics that combines his deep appreciation of the early 20th-century Surrealism with his affection for pervasive pop culture. His diverse and prolific career has taken him on a path of experimentation, from the top of the landscape mural scene to the top of the concert poster scene. Working for more than two decades, David Welker has built a devout following from private collectors and celebrities to indie and pop-rock musical acts. Staying true to his distinctive style, the artist continues to infiltrate the gallery world. His work, enigmatic and ever changing is always a challenge to classify, but perhaps can best be described as modern, urban, and even psychedelic.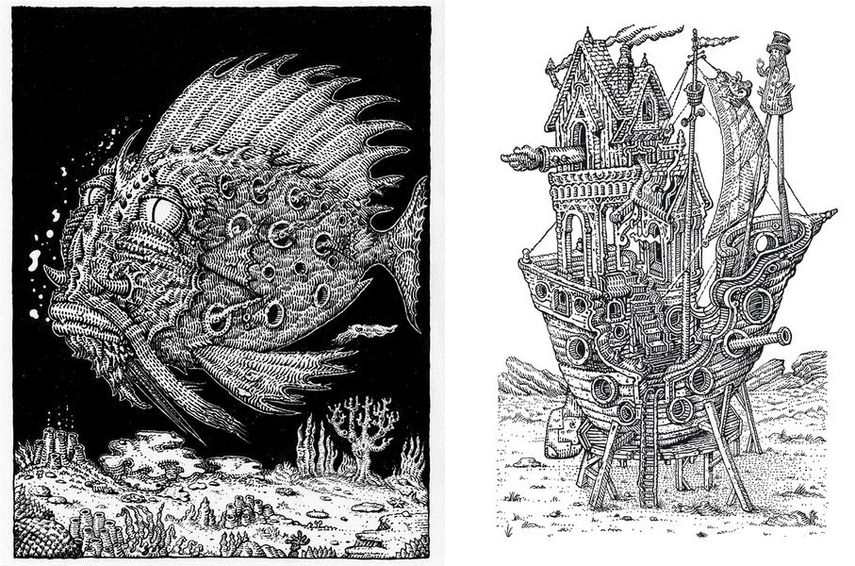 David Welker Art Exhibition at SPOKE SF
Exploring a fascination with inedible fish and placing it in a unique setting, David Welker has rendered a new deep-sea world replete with mustachioed creatures from the Welker lagoon. The exhibition Anthropomorphized Anomalies will be on view at Spoke Art in San Francisco from June 3rd through 24th, 2017. The opening reception will be held on Saturday, June 3rd from 6 to 7 p.m.
Featured images: David Welker – Woodpecker Tsunami, 2014 (Used for illustrative purposes only); Sunset Bus; Emergency Landing. All images courtesy of SPOKE SF.
Follow These Galleries
San Francisco, United States