DEM189 at Backwoods Gallery
Backwoods gallery in Melbourne will soon be hosting Ricochet, the first Australian solo exhibition by artist DEM189. DEM189 had started his career as a street artist in France and his works have decorated many underground passages and walls around the world. DEM189 is essentially a nomad, and the cultural and visual impact of diverse cultures, landscapes, mythologies and architecture of the countries he had traveled to are skillfully incorporated in his works. The experienced street artist continuously explores new dimensions and mediums and at Ricochet exhibition he will feature installations and numerous works on paper or canvas.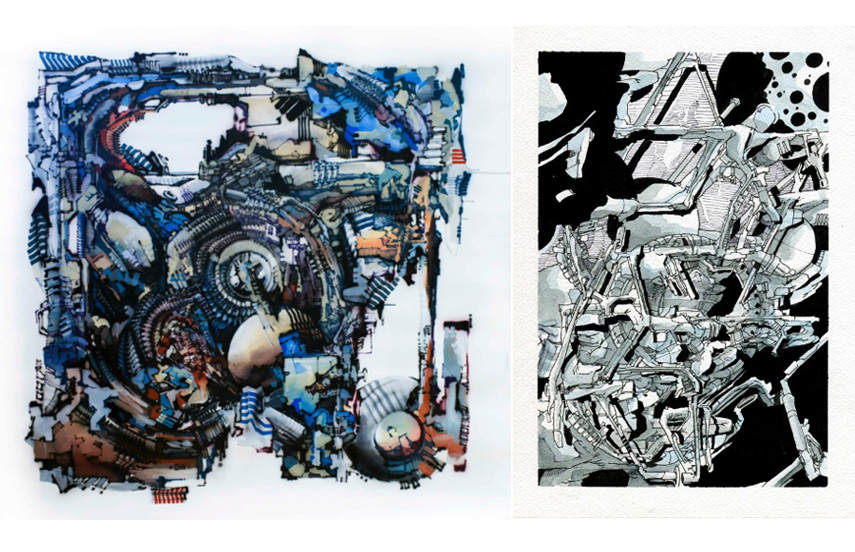 Organic and Mechanical Elements By DEM189
DEM189 refuses to limit himself to any particular style or medium. His artworks are a mixture of interest and fantasies and often deal with juxtaposition of organic and mechanic. While researching various places around the world DEM189 was continuously inspired by non-human element of the places he has visited. His works incorporate buildings, streets, objects and all things that create a human environment except for people themselves. Human beings when depicted are often reduced to bloodless forms deprived of any signs of life while mechanical items take the central stage. Machines and item have proven very inspirational for the artist that has a unique way of learning through his errors. DEM189 often makes deliberate mistakes and creates exiting new forms by decorating and embellishing his missteps and this original technique makes his work evolve in new and unexpected directions.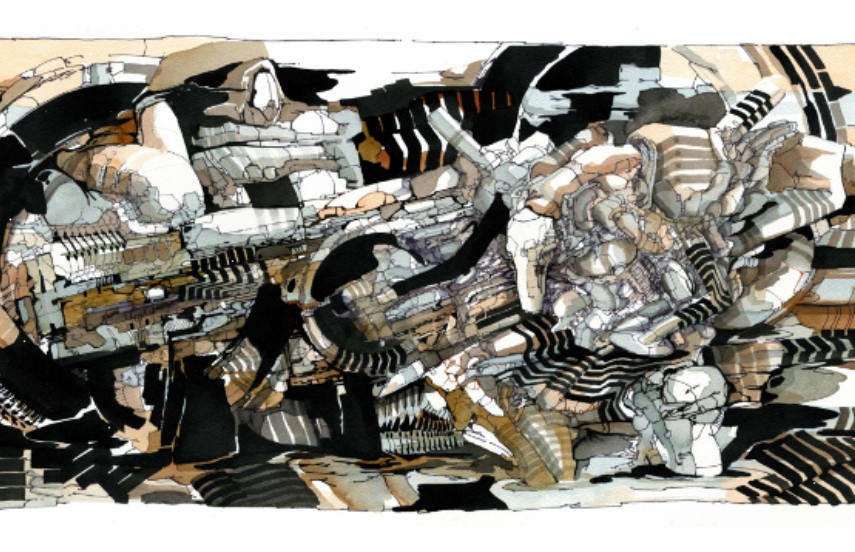 War as an Inspiration for Ricochet Exhibition
For Ricochet exhibition DEM186 created numerous abstract war-inspired imagery that deals with the proliferation of forms and thoughts. The artworks are very personal because the artist has drawn inspiration from his early childhood in Beirut, Lebanon that was marked by the armed conflict and the chaos and hysteria that followed. DEM189's youthful fascination by warfare is noticeable at Ricochet exhibition and it was inherently developed while drawing imaginary weapons and war crafts as a child. Spending most of his time confined at home, the artist had created his own world using Legos and sketches that made the basis for his latest works. Ricochet consists of highly detailed artworks that resembles robots or weapons of the future and appear cold and antagonistic even when colored in bright and sunny yellow shades. DEM139 compositions are complex and dramatic, packed with overlapping lines and mechanisms that are forcing the viewer to take its time and explore the artworks rather than just observe them.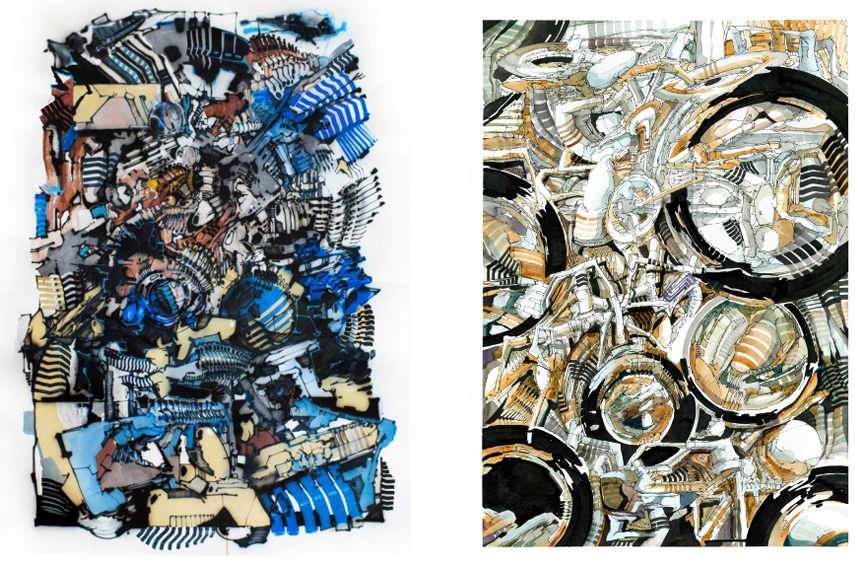 First Australian Solo Show at Backwoods Gallery
Ricochet solo show by DEM189 will open at Backwoods gallery in Melbourne, on Friday June 19th at 6 pm. The artist has recently moved to Australia and this will be his first solo show in his new residency. While looking at numerous interweaving lines that sometimes resemble living creatures and other times mechanical devices the visitors may fell unsettled and slightly confused but it will definitely carry them into a time of the artists childhood. DEM189's unique realm of illustration and abstraction at Backwoods gallery in Melbourne will be on display until Sunday July 5th, 2015.
Find the beauty in the chaos of everyday life by signing up for FREE forMy Widewalls.
All images courtesy of Backwoods gallery
Follow These Galleries
Melbourne, Australia

Paris, France