The Art of D*Face: One Man and His Dog
D*Face is known as one of the most productive and influential urban artists of his generation. Often compared to Banksy and marked as his colorful counterpart, D*Face has been around since the beginning of the urban art movement, and his creativity helped him rise to the stardom of pop culture. Recently, this renowned artist released a monograph titled The Art of D*Face: One Man & His Dog, the rich hardcover volume encompassing much of his oeuvre, all through the 2013, printed of high quality paper with 500 color illustrations. This coffee-table style edition is a real gem, since it also contains stories and amusing episodes from the artist's life and career, narrated by D*Face himself. Foreword to this interesting edition has been written by no other than Obey man, Shepard Fairey, a long time friend and admirer of D*Face art.
D*Face – One Man & His Dog

The Art of D*Face: One Man & His Dog

This 344 page monographic edition covers the evolution of D*Face style throughout his artistic career, including his street art murals and projects, as well as his studio work that led him to realization of successful exhibitions worldwide. One Man and His Dog is packed with photographs and artwork never seen or reproduced before, and some insightful scenes of the artist creating in his studio, rounding up the story of the development and emergence of iconic D*Face imagery. In definition of his own art D*Face coined a term aPOPcalyptic, which described the contemporary consumerist craze of images, brands and superficiality, overwhelming our everyday. His expression leans on pop art stylistically, but is rich in references to contemporary popular culture, addressing all of the ideals and shifted moral boundaries that have lost all meaning in our era.

The Art of D*Face: One Man and His Dog can be purchased at AMAZON

D*FACE – Giant Concrete Spraycans
To the readers' joy, the book includes some of the most interesting street art projects conducted by D*Face, such as 2011 Ridiculous Pool, where a bunch of skaters glided across an empty pool with spray cans attached to their decks, the 2010 Zombie Oscars, reminding us of the rotten-cored Oscar figures were placed around LA by the artists, and the funny Giant Concrete Spray Cans that were appearing all around London in 2008.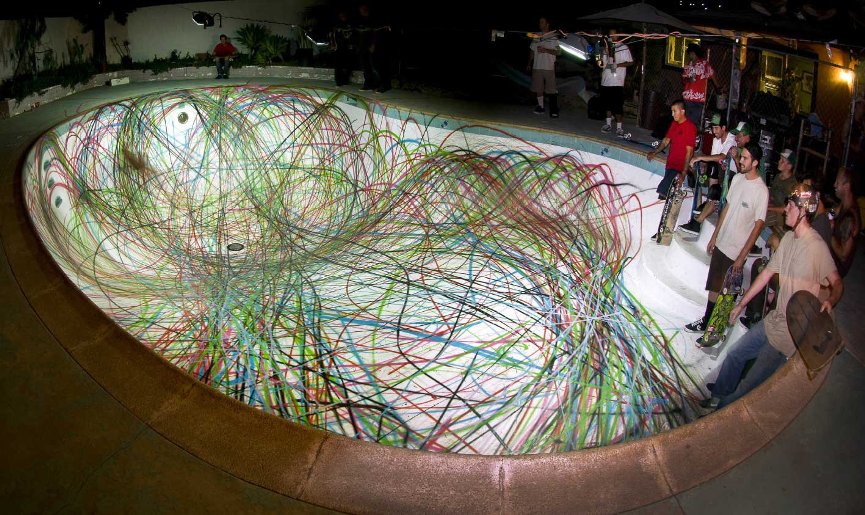 FACE TO * FACE Print with Obey
Book signing is scheduled for February 5, 2014 at 5pm, at a very fancy Stephen Webster Jewelry Store on Rodeo Drive, LA. And this is not all: In honor of the special occasion of the book release, D*Face and Shepard Fairey's Obey released a collaborative 3-color screen print titled FACE TO *FACE! This unique screen print is released in 200 copies only, at a cost of $80. FACE TO FACE will be available exclusively at the book signing at Stephen Webster. Signed by both D*Face and Shepard Fairey, this piece of art is worth the trip to LA alone. Both of the artists will be present at the book signing, so there's another reason to hurry to Rodeo Drive tomorrow.