Create Your Own Mural - Street Art App
As street art is flooding the realm of mainstream, street art apps are becoming not only more popular, but necessary! It goes without saying that the kool kids who dig aerosol are often into tech and gadgets, so this type of useful and fun tool is more than welcome on this quickly developing market. One of the more successful street art apps was developed by a London based designer, Vassilios Alexiou, and it offers a view on the subject with a special twist. This app, named Street Art Project, allows users to make their own virtual urban art area embellished with art pieces of their own liking. Of course, this type of street art prevails only in the virtual world so far, but it offers limitless ideas and possibilities for further growth, and it may even serve as an inspiration to the spraycan creatives.
What launched this fine app project into the foreground is the fact that it won a very handsome prize of £15,000 in the first SoDA Innovation Challenge. SoDA is actually an alias for Global Society for Digital Marketing Innovators, and the project was funded by their partner we all know and appreciate – Adobe.
Street Art Project App
The Street Art Project is a neat application that enables users to capture an image of a building they wish to decorate with a piece, and then to place an art image over it. The option to use an existing image from their own photo timeline is there. The app is basically designed leaning onto the complicated geo-location technology to a great degree.
When the user saves pic of a wall, building or location, they can select an art photo from their photo feed, or another design from Behance, an online portfolio of a vast pool of creatives. The second option requires the user to have an account on Behance. The work can be done immediately or saved and finished later, whenever the user chooses.
The user is free to decide where he/she will put their or someone else's artwork, thus conjuring an imaginative environment, enticing the others to be as artistic by sharing.
One of the app features is a hall of fame option, which allows users to see other virtual street art galleries, and the most liked or viewed imaginary murals on the app.
The Street Art Project App is awarded in SoDA Innovation Challenge because of the innovative and smart approach to street art, and because it encourages creativity worldwide. The app also enables artists around the globe to connect and collaborate in new street art endeavors with suggestions, ideas and designs.
Available on iTunes, the app is still in beta version and it is free to use.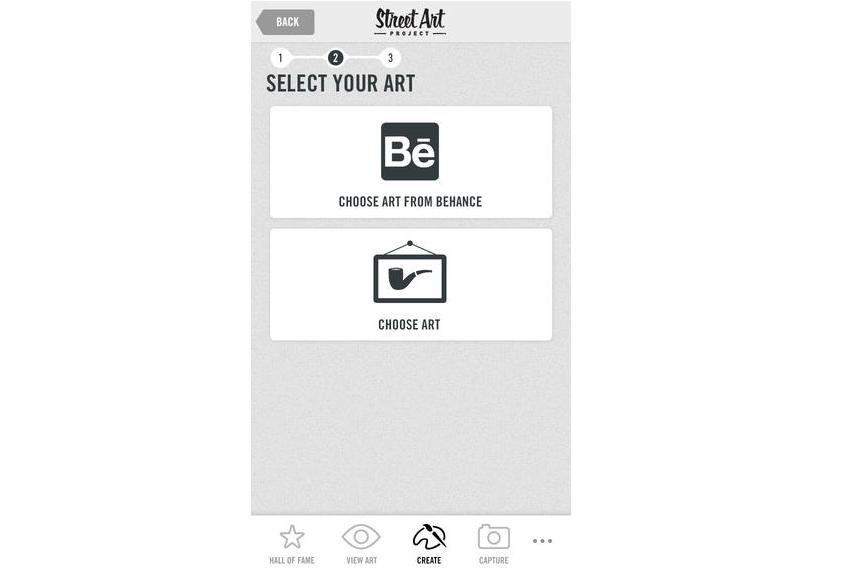 About SoDA
SoDA is a multifunctional international organizations with activities revolving solely on representing prime digital agencies and first class production companies by the means of collaboration, information sharing, support and investigation of new technology limits.
SoDa is the organizer of SoDA Innovation Challenge, which is directed towards supporting and boosting novel ideas and solutions in the field of digital marketing. The program is realized with the support of Adobe, SoDa partner since 2008.