Doctor Who Street Art Pieces You Have to Check Out!
The long lasting British science-fiction show Doctor Who has been airing for over 50 years now. During that time, the programme has given birth to many fan clubs and a loyal legion of followers who worship their favorite adventurer, it has also inspired more than a few Doctor Who street art pieces to pop up here and there. Over the period of five decades, the show has become a significant part of British popular culture and it has amassed acceptance of the viewers around the world. Naturally, a cult status such as this one is bound to inspire a few artists. Tardis, cybermen, Time Lord, Dalek and other iconic characters, objects and terms from the show have made their way to the streets around the world. Who would have guessed so many street artists were actually fans of the show, or as they like to call themselves: Whovians. Some even speculate that the most prominent names of street art are behind these Doctor Who-inspired art pieces, with even Banksy being one of them. Either way, we present our choice of 10 street art pieces inspired by the famous sci-fi drama.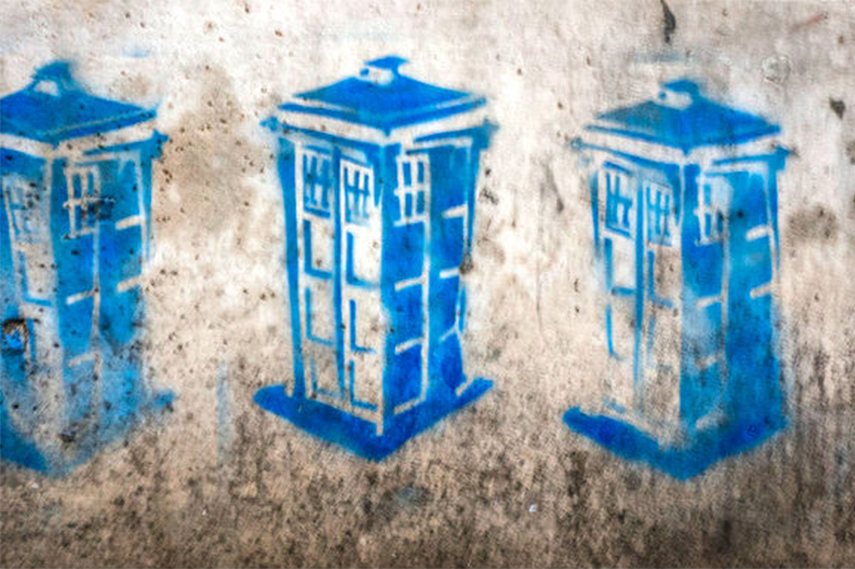 Tardis in Rome, Italy
Time And Relative Dimension In Space, famously titled TARDIS, is a time machine and a spacecraft made by the advanced technology of the Time Lords. Allowing you to teleport to any point in time and space, the TARDIS is an iconic element of the show. And this stenciled form of it has landed in Rome, Italy.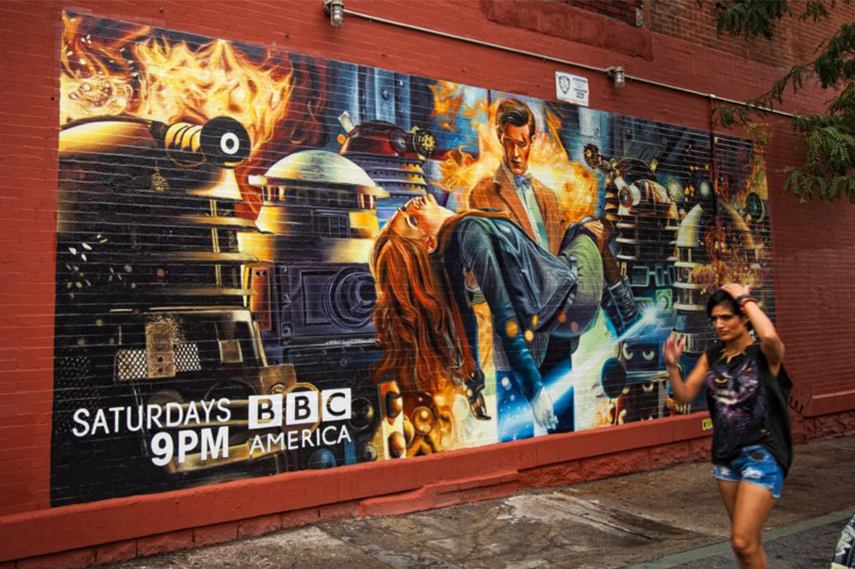 Mural in Brooklyn, New York
The gorgeous hand-painted mural depicts a heroic scene of Doctor Who rescuing the female protagonist while being surrounded by Daleks, fire and lasers. As it contains the information of airing date on BBC America, it was probably commissioned with the intention to draw the attention of passers-by, and an explosive scene such as this one surely does that.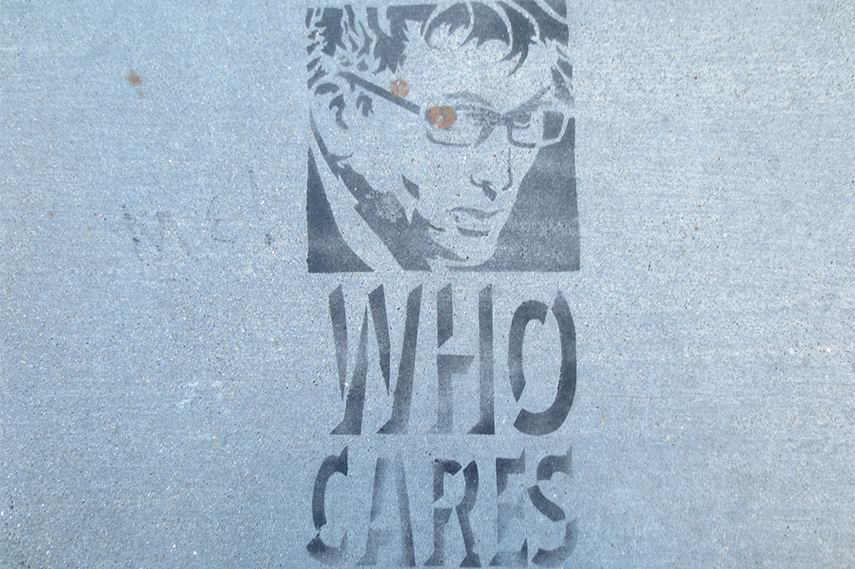 Who Cares
This stencil piece works as a sort of a word play, showing David Tennant as Doctor Who with the big letters underneath reading "WHO CARES". Interestingly enough, there is no question mark at the end of it, so it may be perceived as a statement that Who actually cares about anything that was on the author's mind… Upon a closer look, a faint hand-written "Me!" can be seen at the left side of the stencil, so even if it was meant to be a question, there's the answer.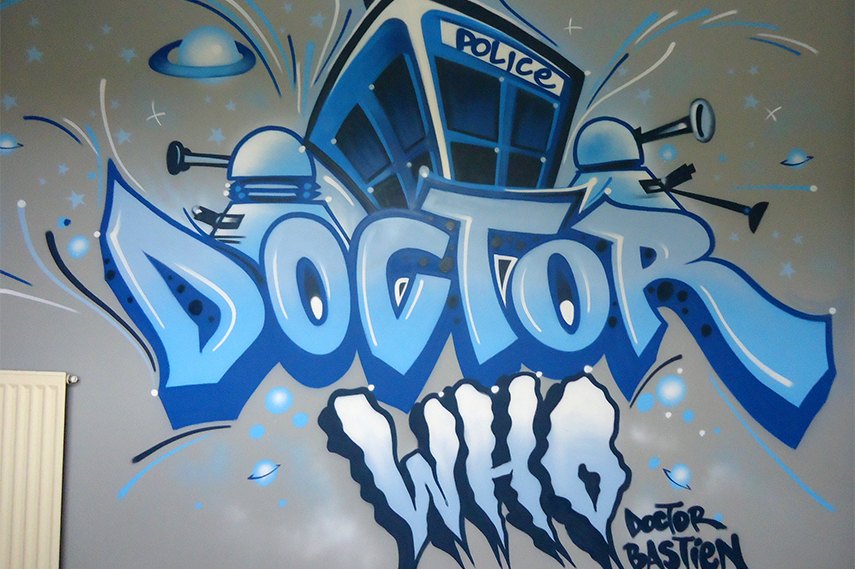 Melbourne Graffiti
This cool graffiti piece from Melbourne, Australia, features a TARDIS between two daleks with the classic graffiti lettering spelling Doctor Who underneath. Embellished with the space-themed elements, the piece really pops out.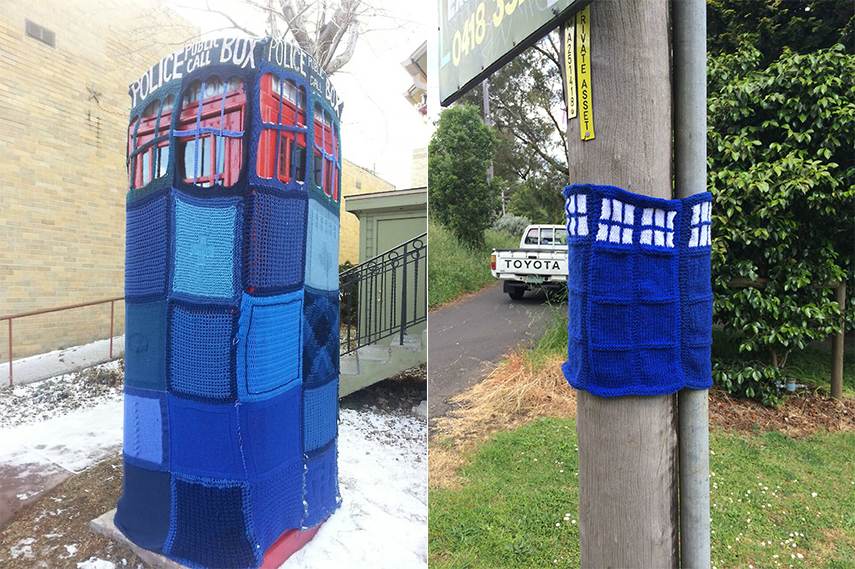 Yarn Bomb Tardis
Guerrilla knitting, kniffiti, urban knitting or graffiti knitting is most popularly called yarn bombing. In these two examples of yarn bombing we see a real-size phone booth completely dressed up as a Doctor Who booth. And on the right is a smaller version of TARDIS wrapped around a sign pole, making the entire sign infinitely more interesting than it was before.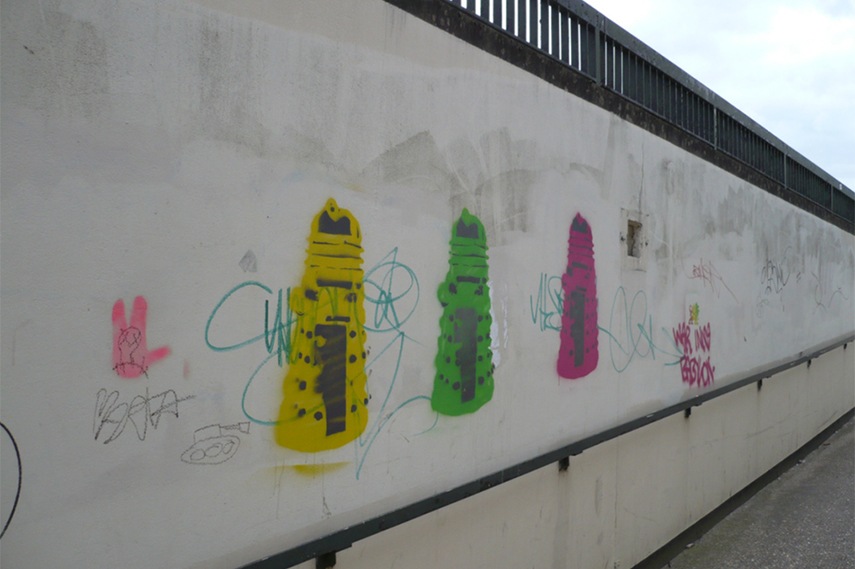 Daleks in Norwich, England
As one of the Doctor's incarnations once described them, Daleks are not just metal, they are alive and inside that shell is a creature born to hate whose sole intention is to destroy everything and everyone that isn't a Dalek, too. They sound pretty mean, but they've become one of the most iconic characters in the show. This pop version of the destructive creatures is located in Norwich, England, and it displays them in three colors looking as benevolent as ever…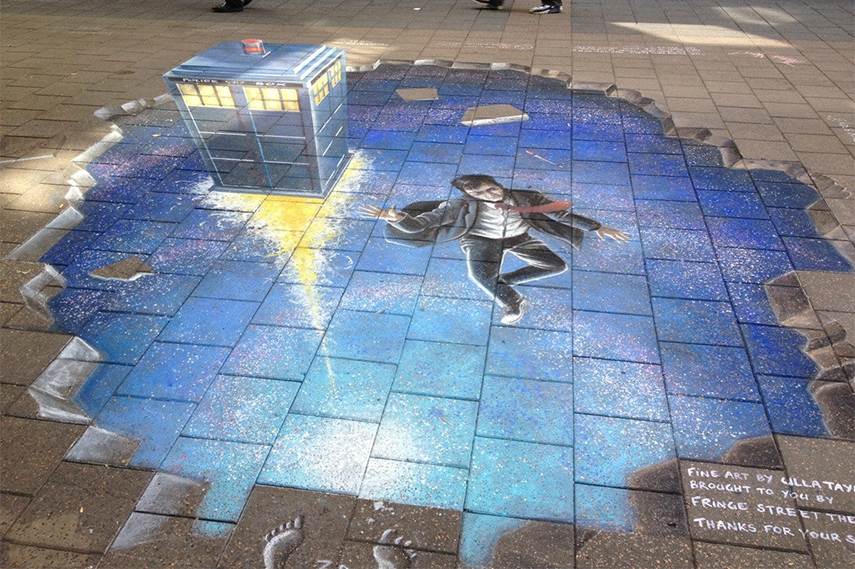 3D Chalk Drawing
This magnificent 3D chalk drawing on a pavement is located in Adelaide, Australia. The Doctor and the TARDIS are captured in motion as if they were bursting out of the ground and the pavement. Be careful not to fall in the hole, who knows what dimension, time or place you may end up in.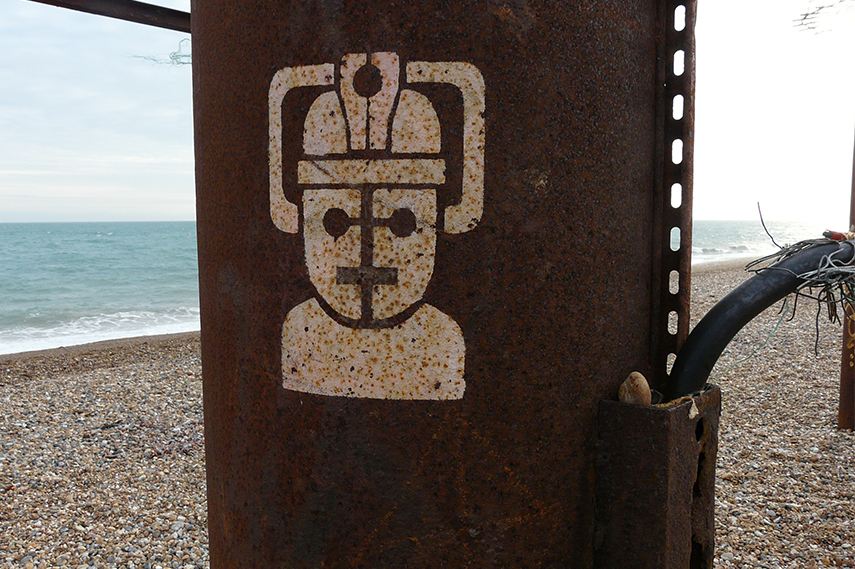 A Rusty Cyberman
West Pier in Brighton, Sussex, England is the location of this lone image of a cyberman. Defined as robotic creatures with no names or emotions whatsoever, cybermen were a race of cybernetically augmented humanoids in the Sci-Fi drama Doctor Who. This particular imagery portrays a cyberman on an old, rusty pole with some wirings sticking out, very conveniently fitting in with the usual appearance of this robotic creature which is inherently a metallic structure with a lot of wires running through his body.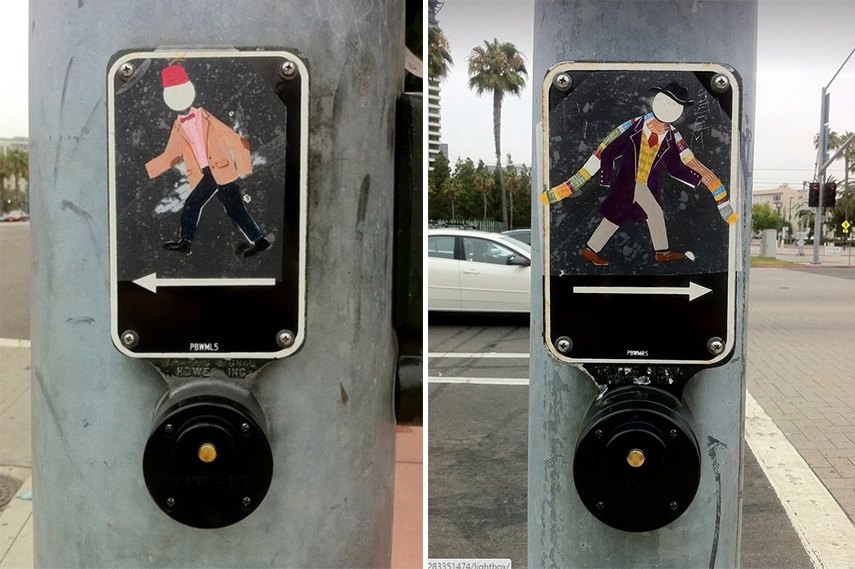 Doctor Who Walk Button Signs
Comic-con attendees are usually quite creative and witty when it comes to dressing up and cosplaying as their favorite characters, but this example of creativity displays a different way of paying homage to their heroes. San Diego Comic-con walk button signs were altered to appear as different incarnations of Doctor Who. On the left one we can see the Matt Smith version, and on the right is the Tom Baker incarnation. A pretty simple but neat detail that can brighten up your day while crossing a street.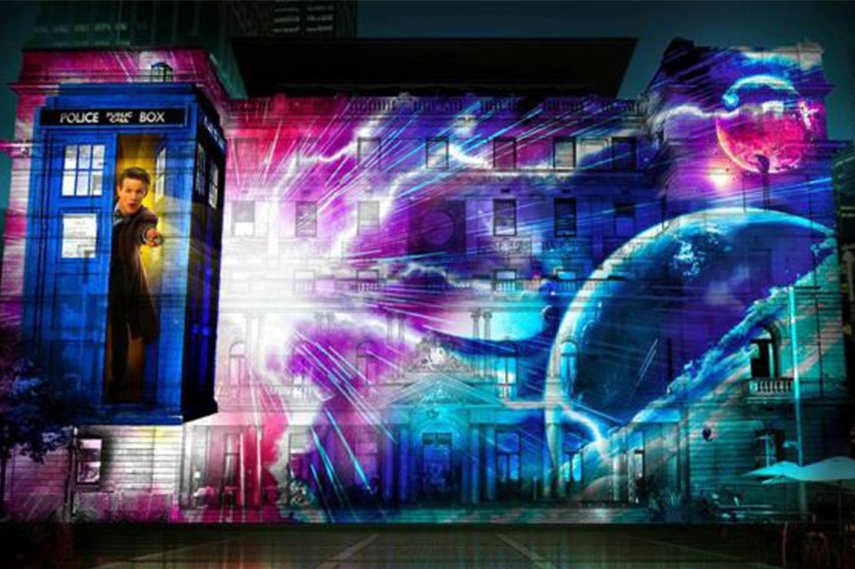 Vivid Sydney 3D Light Display
This particular example can't really be defined as street art, but we'll count it in this list anyway. Vivid Sydney is the name of an outdoor lighting festival which incorporates immersive light installations and projections across Sydney. Various buildings across the city become platforms for multimedia interactive works and projections each year. 2013 was the 50th year celebration of Doctor Who, and for this honor a visual feast of 3D-mapped projections of Doctor Who was displayed at the grand façade of Customs House at Circular Quay, Sydney. The projection included scenes of the famous Doctor traveling through space and time, being pursued by some of his greatest enemies, and it was a true spectacle not just for the fans of the show, but for any spectator.
All images used for illustrative purposes only
Sign up for free to My Widewalls, and discover more art inspired by your favorite tv-show!