Don Nice - Artist Prints and Watercolors Coming to PACE Prints
Don Nice, an artist painting in pop-realist style, printmaker, muralist and art teacher, instinctively needed to paint things. Struggling to emerge from abstract expressionism, he first started painting larger-than-life American motifs in 1963 based on labels and ads. From there, the depiction of Americana has turned into a life-long passion and inspiration. Turning his attention to his own personal life experiences and relationships with art, nature, culture and the environment, he has developed a distinctive painting style that has been evolving for the past forty years. Don Nice exhibition Don Nice: Prints and watercolors will soon be on view at Pace Prints. In addition to his old and new prints and watercolors, the exhibition will also include artist's etchings and color lithographs – totems of American leisure.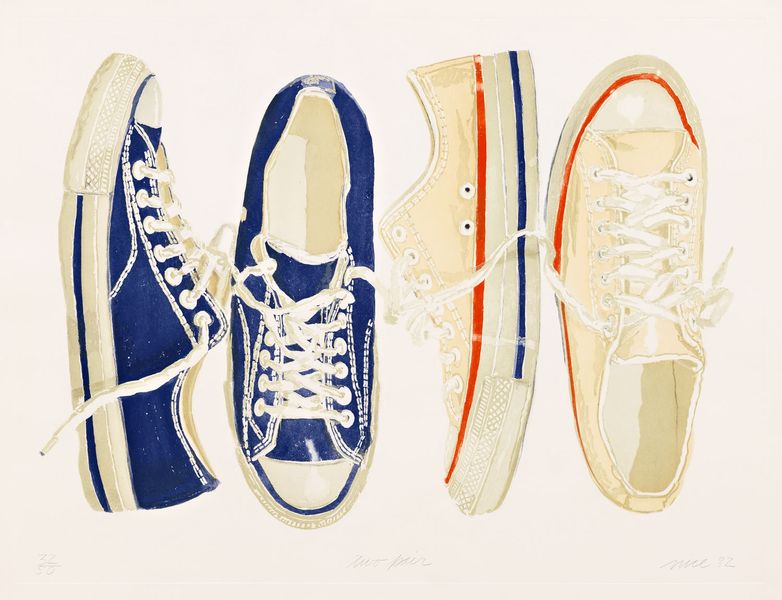 Familiarity And Nostalgia
Evoking the imagery of the Pop Art era, Don Nice's invigorating watercolors portray familiar and nostalgic packaged foods such as Hershey's candy wrappers, Planters Peanuts or Ritz Crackers. Shifting between the personal and the universal, as well as the representational and the abstract, Nice's works are characterized by a highly skilled use of the watercolor medium. Energizing each image and departing from the static nature of traditional Pop Art, these visuals often fill the canvas without perspective or perceptible light or shadow, emphasizing the flatness of the picture plane. Presented without settings or subjective ornamentation, his imagery is true-to-life depiction on the verge of the scientific. He explores similarities between art and advertising and embraces a uniformity of the Postwar American culture.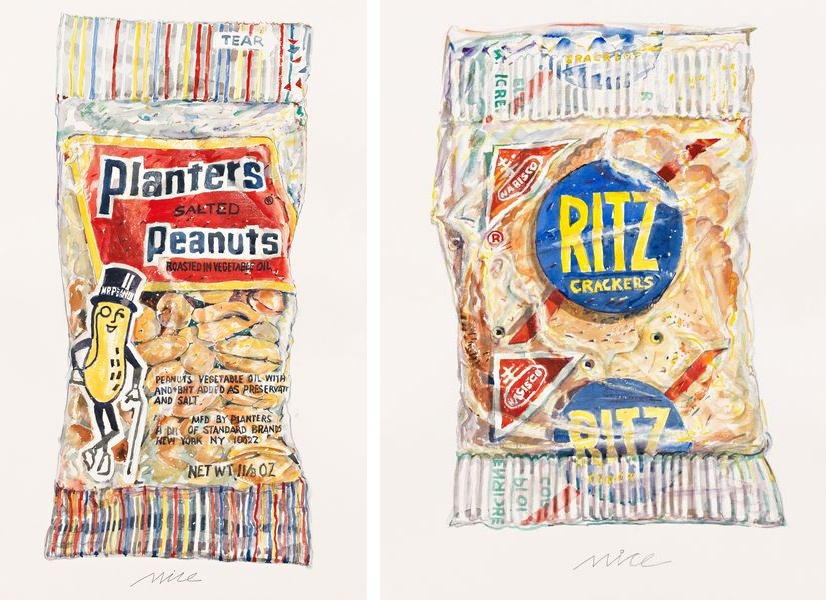 Don Nice, an Artist Exploring Americana
Born in Visalia, California in 1932, Don Nice has developed a unique relationship with the American landscape and iconography. Working in a pop-realist style, he refreshes a classical approach with representations of contemporary Americana. While his early works focused more on single representations, in recent works he started incorporating several subjects positioned to portray his distinctive specimen-like approach. Playing with the homogeneity of mass-produced culture, he often juxtaposes iconic American items such as sneakers, Hershey bars, Coke bottles, popcorn and sunglasses along with a diverse lexicon of flora and fauna.  Bringing a contemporary vision to the American landscape tradition, he is continuously inspired by the Hudson River and the Hudson Valley where he moved in 1969.
Don Nice Exhibition at Pace Prints
The work of Don Nice has been a part of major public collections such as the Metropolitan Museum of Art in New York, Museum of Modern Art in New York and the Whitney Museum of American Art. The exhibition Don Nice: Prints and Watercolors will be on view at Pace Prints in New York from June 23rd until July 22nd, 2016. The opening reception will be held at the gallery on Wednesday, June 22nd from 5 to 7pm.Featured images: Don Nice – York Patties, 2014. All images courtesy of Pace Prints.
Follow These Galleries
New York City, United States