Interview with Dotmasters
In the aftermath of the opening of his solo show 'Trash 'n' Cash' at the Imitate Modern in London, we reached out The Dotmaster to ask him some questions about his exhibition, about his past experience and more generally about issues related to street art. We also tried to find out a little more about his future plans.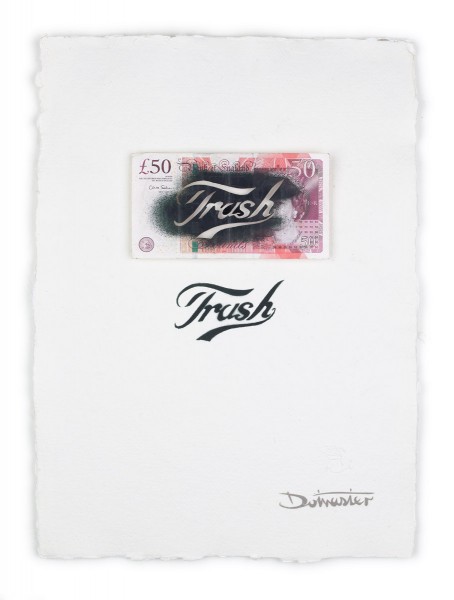 Widewalls: How did your name come about and how did you start as an artist?
Dotmaster: I've always been a bit of an outsider artist, that means wanting to take art outside of the gallery. I used to work under the name C6 producing events that happened on several platforms at once, in the real world, online and through various printed media. It was in this way I met Martyn Reed of Nuart fame and we worked on a new type of street festival. It was here that the Dotmasters project was started. The original idea was to stencil well known masterpieces onto gallery fronts using halftone. As C6 we toured interactive works as well as touring with bands Vj'ing and we used to do this after gigs. You cover a lot of land that way.
Widewalls: Can you tell us more about Graffiti Research Lab and laser cutter? What is the difference with hand cut stencils?
Dotmaster: Half tone masters were born out a visit to the Ibeam lab, in the meat packing district of NYC. Graffiti Research Lab had a residency there, so after an early Nuart I flew over and half lived out of their lab. There were some very innovative guys working out of that space, The Yes Men hot desking while GRL brought half of NYC's hard core graffiti crews into what was essentially an institution. It was a lot of fun visiting. Laser cutting is an interesting tool, but the time spent bent over a laptop isn't often the quickest thing for me. It's only the dot stuff that I use a laser. It was something I couldn't do by hand.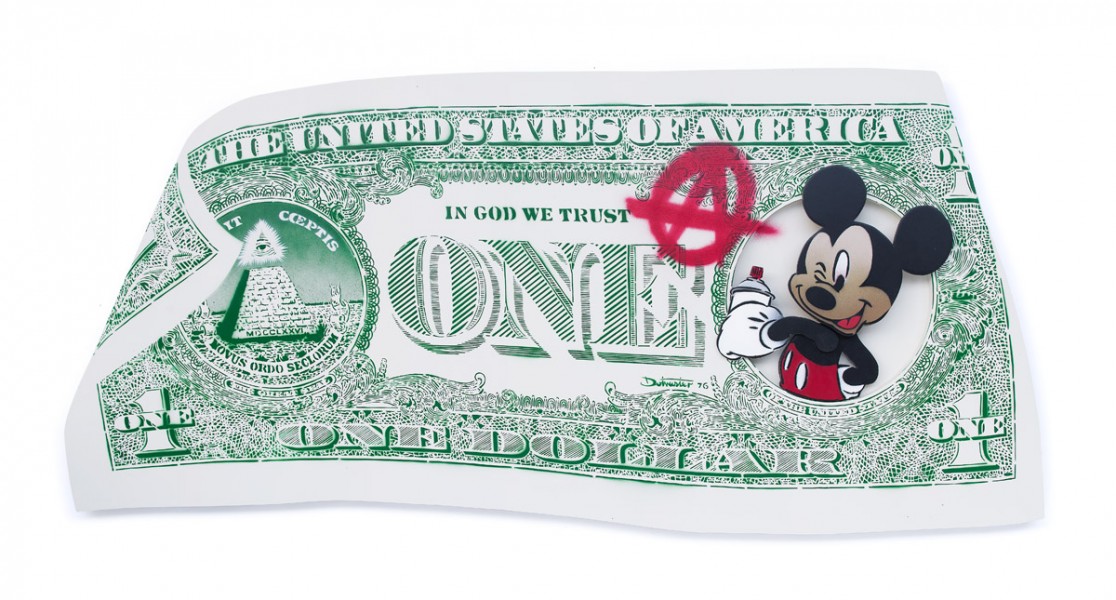 Widewalls: How did you start painting in the street?
Dotmaster: I started in the early 90's painting with some friends in Brighton. There was a real mix of stuff in the free party scene along the south coast. Promotions, parties, graffiti all mixed on the street and that created a lot of crossovers. I started tagging, but with artists like Vinnie Nylon, Pablo Fiasco and BOB. Their stencils really inspired me to try my own out.
Widewalls: Do you think that painting in the street is a form of re-appropriation of the urban space? Dotmaster: Sure, it's people making their locality more their own (in its purest form), ironically not too sharp a move if you're a repeat offender. I am sure that everyone starts out on his or her desk, a toilet door and a local wall. These marks now have a wider audience and appreciation which allows the wider community to express fondness and take ownership. It's no longer just the artist's ownership through territorial marking. People feel a lot for this stuff and it's them that often safe guard and campaign for them to stay.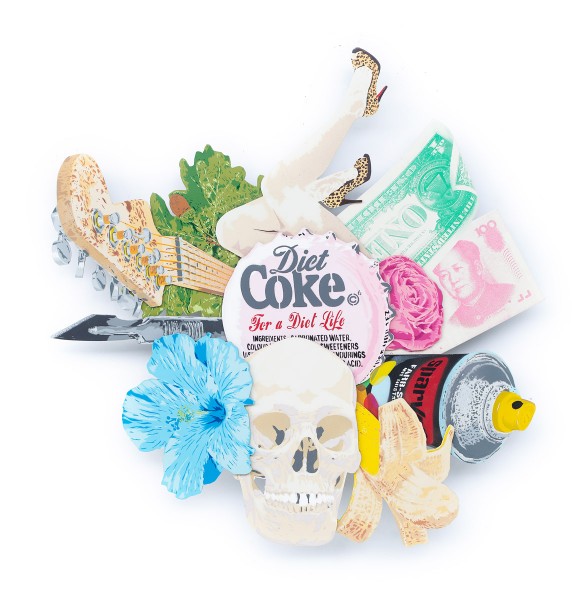 Widewalls: Can you please explain the statement 'There is no subculture only subversion' which is on your website?
Dotmaster: It's an old C6 strap line meaning that there is no secret club or strata of society hinted at by the media. By actively subverting culture you end up being pigeonholed accordingly.
Widewalls: According to your opinion/perception what is the difference between exhibiting in an art gallery and painting in the street? Which one do you enjoy more?
Dotmaster: Art in galleries can be anything, whereas there are more or less successful techniques for getting stuff on the streets. A burn't out car may be easier to keep in gallery in Marylebone than abandoned on the high street. Large scale murals have their place on the streets and I suppose galleries are a place to sell the prints.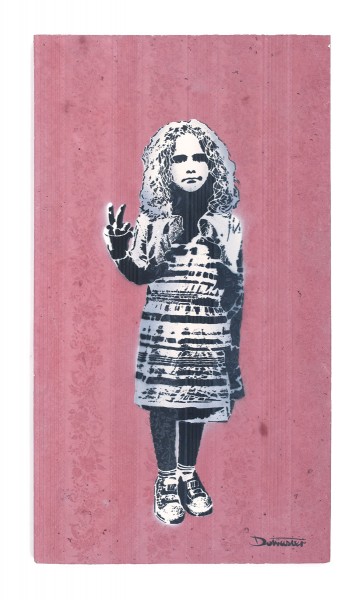 Widewalls: 'Trash n' Cash' at Imitate Modern is an acute social commentary. Can you tell us more about this show? How and why did you pick this theme? How did you create the works?
Dotmaster: The themes of trash, vulgarity and currency are something I have been playing with for some time. To me they're not so contentious, it's the first time I have tried to combine them in a show but think they compliment each other. I think part of the reason for this could be that I started with the location of the gallery and built a show very much for that space place and time. My trash has become a localised traveling piece that picks up branded bags from where it has toured. The trash in Marylebone is of course accompanied by heavy damask drapes and very different from the ones I exhibit next month in Miami. The rude kids are a new series capturing kids close to my family before they turn into teenagers. There is an old fashioned naughtiness to them and a snap shot of kids' pasts. The currency work I've done over years is part of a much larger obsession I have with monetary icons with both the funny money series and Bucks&Doughs. Somehow the gallery, work and themes combine to give a very pop fun irreverent collection of works that reference the title.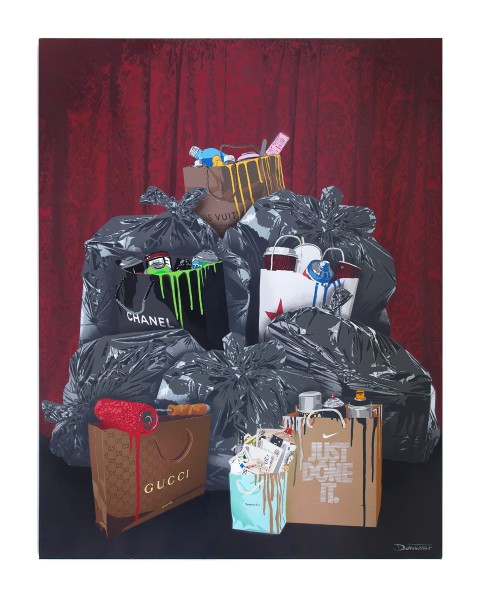 Widewalls: How do you feel about showing such a strong body of work, where the critique of luxury brands is so sharp, in a very rich area of London?
Dotmaster: It seems a bit pointless critiquing these things in Dagenham. It's a very tongue in cheek show. I think at most there is some humour behind these works in W1, that those living there will appreciate as much as those who don't. Imitate modern is a pop gallery and I think between them, the locality and my themes we have created a very accessible and slightly naughty show.
Widewalls: In what countries did you paint? Can you tell us in which place you more enjoyed painting and why?
Dotmaster: This year, the States (west and east) UAE, Dubai, Norway (got arrested), Switzerland. I love painting in L.A. it's so warm and friendly. Looking forward to Miami next month where I will be painting at Collection Privée Gallery during Basel.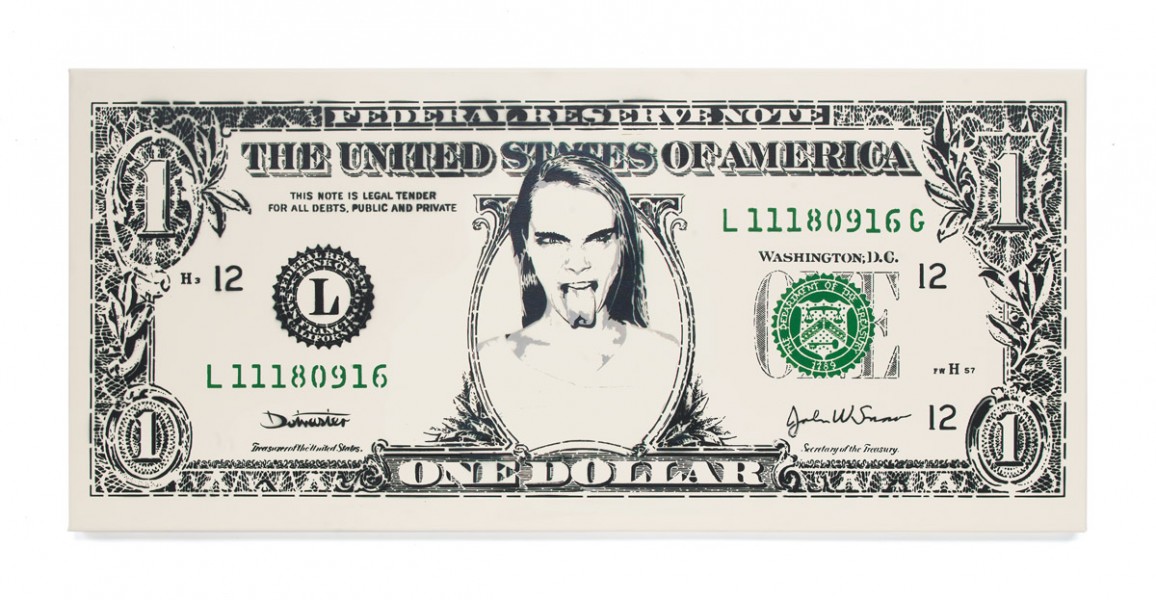 Widewalls: Is your work always or mainly focused on political or social issues? If yes why?
Dotmaster: I think it's personal political issues. I do my trash because it's so mundane, as well and being the biggest problem today. It's an image that everyone has some responsibility, knowledge and understanding of the wider issues. I am not posting a solution just a reminder that it's a thorny one we have to think about. It's visual not party politic heavy.
Widewalls: Any plans for the future you can reveal to us?
Dotmaster: Early in the year I will be plotting again with Martyn Reed and Reed Projects Gallery for some sort of show in Stavanger early in 2015. I am in LA early on in the year working with some pretty creative guys on some projects that I'll let you know about nearer the time.
If you want to find out more about Dotmasters sign up to My Widewalls.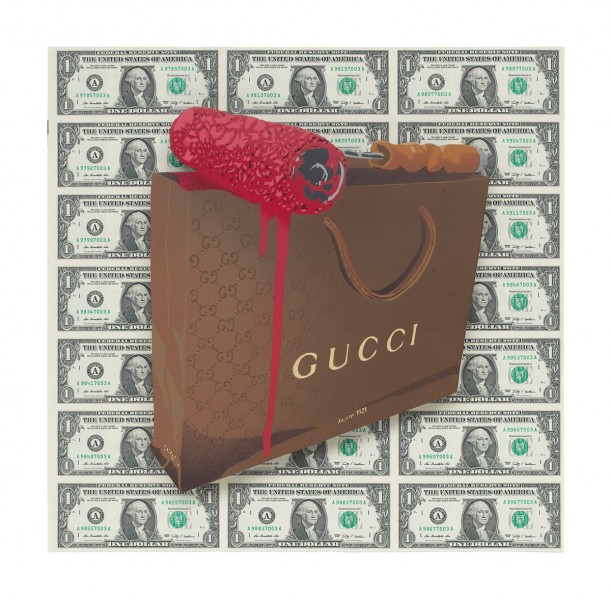 [mc4wp_form]
Follow These Galleries
Paris, France

London, United Kingdom

London, United Kingdom