Dotmasters Resurfaces – Indigo Gets Up, Before and After
It's been a while since we wrote about Dotmasters (or should we say Leon Seesix, one of the most recognized actors of British urban art scene). For all lovers of the Dotmasters' art, we have great news – a print series by this amazing artist has been put on sale. This Dotmasters print release covers the latest of the Rude Kids series, and it is entitled Indigo gets up…Before & After. Prints are available from Imitate modern, but will be on sale at Covent Garden London as well on August 15 2015. In case come prints remain unsold, they will be available online after the initial sale.
Violet Edition Prints Cost £150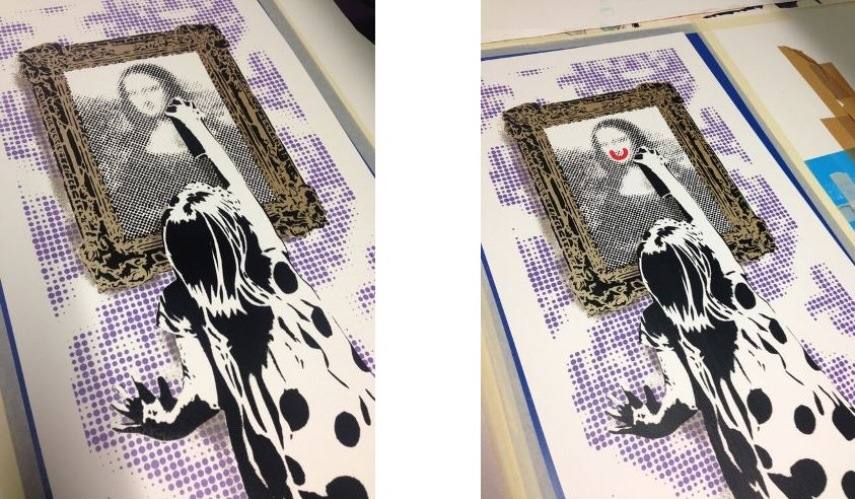 Urban Art At Its Best – Dotmasters
The art of Dotmasters is too complex to be labeled just as urban art. Being active in different fields (i.e. collaboration with grass roots activists, luxury brands, Glastonbury festival, weirdoes, developers and drop outs), Dotmasters is known as driving force behind the Nuart festival in Norway. We have recently written about its exhibition at Reed Projects Gallery in Stavanger, Norway, called Cutting Comments that took place in late spring 2015. You can also check out the interview with Dotmasters we conducted couple of months ago.
Dotmasters Has Always Been Addressing Social and Political Issues
The artist addresses both social and political issues in his art. For example, consumerism appears as a motif in many of Dotmasters' artworks. However, the artist's practice itself is characterized by a strong political statement.
Fluro Pink Edition Prints Cost £190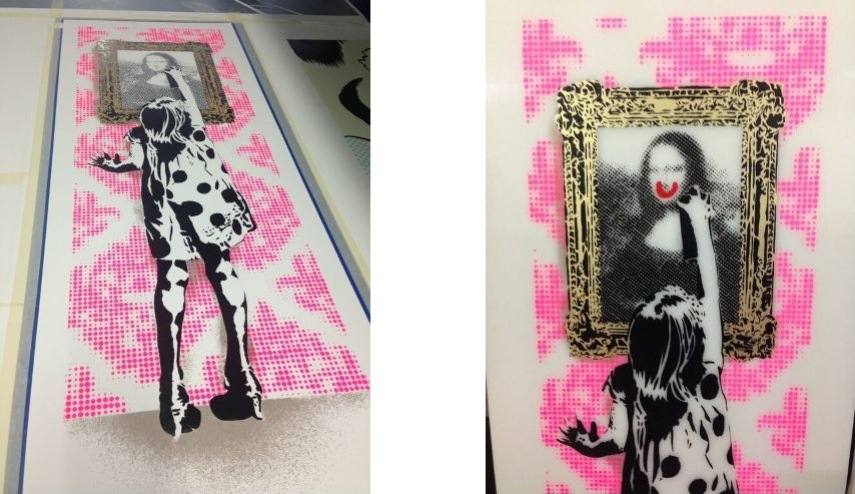 Dotmasters Print Release
The Indigo gets up…Before & After print series is consisted of the works from the Rude Kids series. The characters in this edition are friends and family, all under 12, and with "nice and dissent" look and behavior. However, as kids are getting older, they are starting to question their surroundings, and the prints from the series captures these kids while they're still just "rude kids". The edition includes three color ways of "Indigo", with two versions: a "Before" she (the character) tags the Mona Lisa and an "After". Therefore, it's up to you to decide what you prefer – before or after. The prices of the prints range from £150 to £190.
Orange Edition Prints Cost £170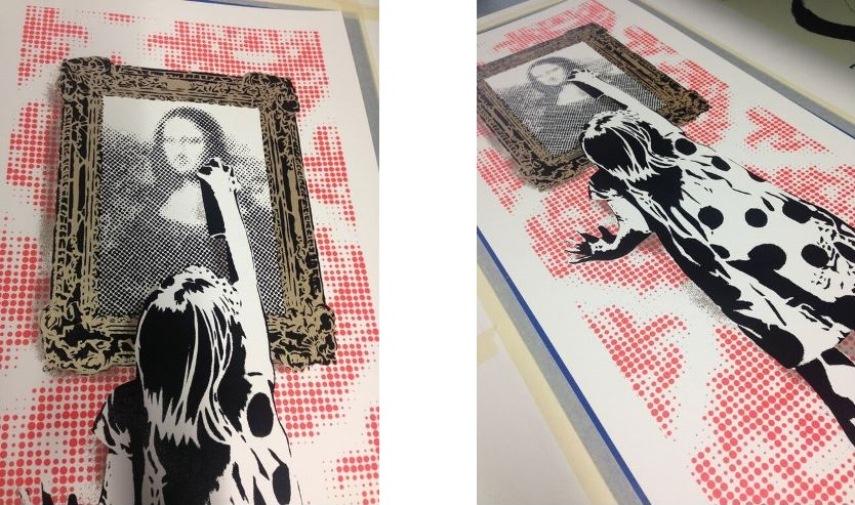 Where To Buy Dotmasters Prints?
A pre-sale event took place on August 11th 2015. Prints will be available from Imitate modern. Three from each colorway both the before and after (a total of 18 of the prints) were planned to be sold during the pre-sale event. If some prints remain unsold, they will be offered online on the August 17th 2015.
For the latest news from the world of urban art, sign up for My Widewalls! It's free of charge!
All Images courtesy of Dotmasters.
Follow These Galleries
London, United Kingdom

Paris, France

London, United Kingdom