Dulk's Broken Thoughts at Galleria Varsi
Landscape and animals draw human attention since the dawn of mankind. Artists were challenged how to represent them independently of their perception of reality. Especially animals were of great interest because of their symbolical depictions as man. Anyhow, composition consisting of these two motives was always interpreted as an allegory or allusion of human behavior.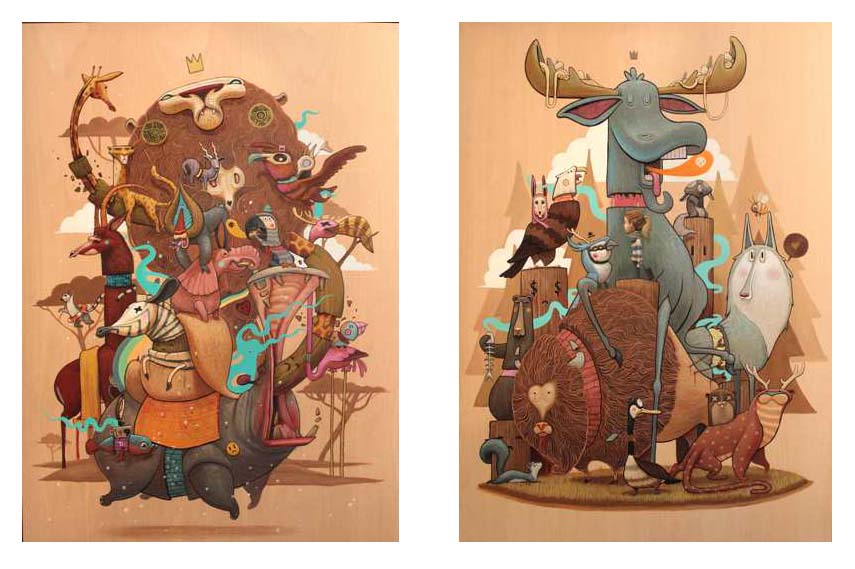 Concept Behind Dulk's Art
Passion for Flemish paintings led Dulk to execute extensive researches on landscapes and their various compo­nents, an experience which is evident in the structure of his art. Since childhood he has cultivated a passion for nature, born when his father first showed him black and white  photo­graphic encyclopedias that immortalized thousands of animal species. So, by mixing Flemish painters mannerisms with bizarre and ironic images, the artist builds fantastic sceneries, with richly detailed fantasy worlds to be explored, in which viewers can lose themselves and dream. Animals and nature represent the core of his aesthetic research, and are always elegantly expressed and portrayed in a funny and paradoxical language.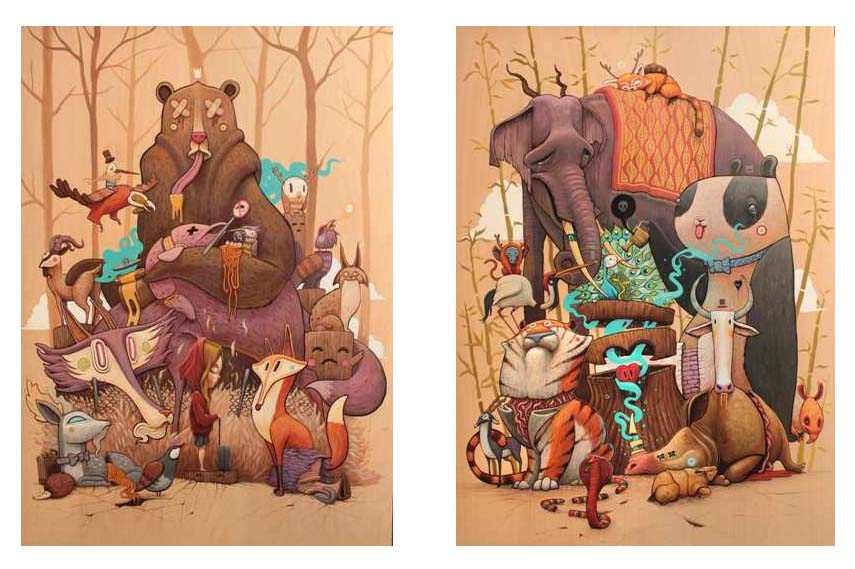 Surrealist Drawings
Since then the artist has never stopped drawing, always receiving inspiration from nature but creating fictional charac­ters, which find their space in a natural and vigorous settings. Nevertheless, Dulk's work takes shape through his approach to drawings. When holding a pencil the artist abandons world of adults, and allows himself to become overwhelmed by the spontaneity that inspires the imagination of a child. He is thus able to focus on an infinite range of details, fundamental to the representation of  mentioned subjects: nature and its animals.
This means of expression has characterized Dulk's surrealist narra­tives from the beginning, in a path that has led him to become an illustrator in today's international gallery circuit and on the walls of the cities he travels to. Artists like Andrew Brandou or Lindsey  Carr posses similar sensibility for displaying animals and nature.
Broken Thoughts exhibition from dulk on Vimeo.
Broken Thoughts at Galleria Varsi
Dulk's first solo show in Italy is realized by the curators Marta Gargiulo and Massimo Scrocca. For this exhibition the gallery has been transformed into a dense vegetation landscape, in which the artist integrates his latest production that derives from his own specific blend of nature, imagination and joy. Titled Broken Thoughts, it is constructed as a precise narrative, a fable,  filled with cynicism and gumption.
Galleria Varsi is a relatively young gallery in Rome focused on urban and street art, and the show will take place there from April 17th to May 24th, 2015.
If you were enchanted with this article, and want to discover more interesting artist let yourself go and Sign up for My Widewalls!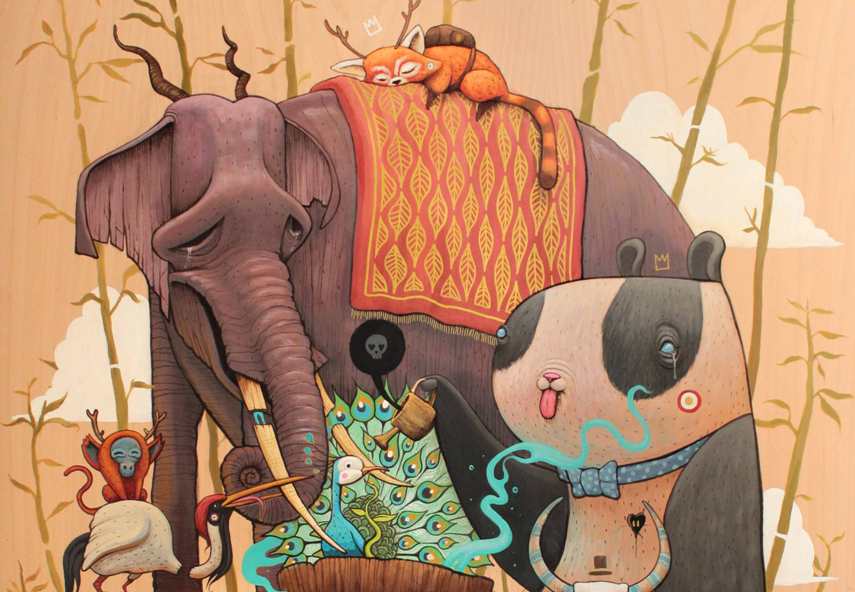 All images are courtesy of artist and Galleria Varsi. [mc4wp_form]