Amsterdam Street Art present the Second Edition of The Dutch Street Art Awards
Last year, in the spirit of celebration and innovation, the team of Amsterdam Street Art, together with creative company Boomerang Create, organized the first ever Dutch Street Art Awards. They gave the public the option to nominate their favorite graffiti and street artists for a number of categories, and the winners got to take home a specially designed award (yes, in the shape of a spray can). Now, the Amsterdam Street Art team is a few days away from presenting the second edition of their awards show, this time with the addition of an enviable list of prizes and taking place in an exceptional Amsterdam location.
On June 2nd, 2017, the awards show will take place in the Posthoornkerk, close to the city's central station. "It has amazing stained glass windows and there's a really cool vibe in doing a street art awards show in a church," says Lars Brehm, coordinator for the event and art director of Amsterdam Street Art. To get a feel for what's to come, we asked Lars some questions, and we also took the chance to ask questions to some of the jury members, a diverse bunch composed of individuals such as Hugo Kaagman, Dutch stencil legend, Mirik Milan, the Night Mayor of Amsterdam and from London, and Wayne Anthony, the founder and curator of London Street Art design (LSD Magazine).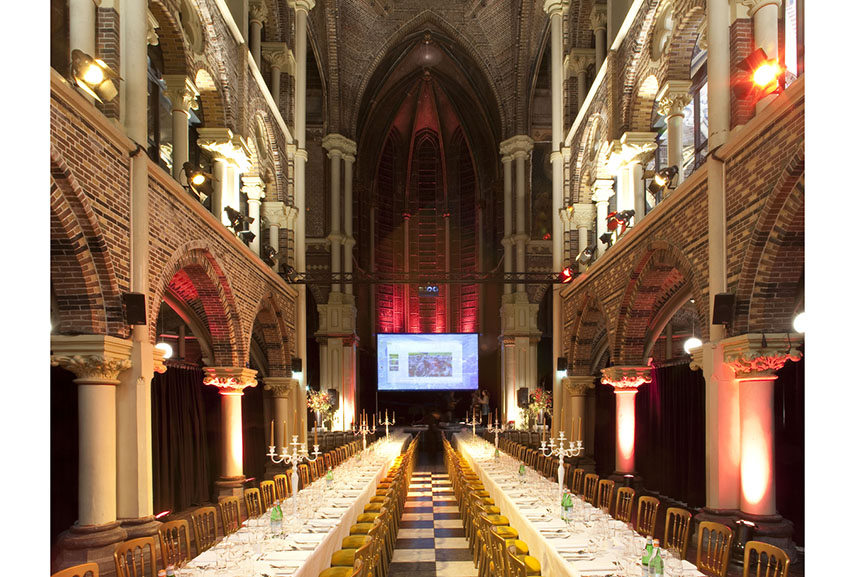 Lessons Learned
Maria Martens: What were your impressions from last year's first edition?
Lars Brehm: Well, we were very positive about it. Before the awards show took place, a lot of people were critical of the idea of having an awards show for street art. But afterwards, they were also talking positively about it. In the end, it was a cool night out – hanging out with a lot of people from the scene, and everyone was giving it their all. So, we decided that this is something that we want to continue. After last year's event, we received requests from abroad, from people who liked the concept, and who'd like to have it in their country as well.
MM: So, can we expect this to take place every year?
LB: Of course, this is something we'd like. ASA is a non-profit organization, so this means that we put in our own time to prepare for something like this, and we do it simply for the love of the whole street art scene. This is something we all want to do, to work towards: to see if every year we can go a little bit bigger, be more professional, add more prizes, add interesting things to the program, and include the participation of more artists.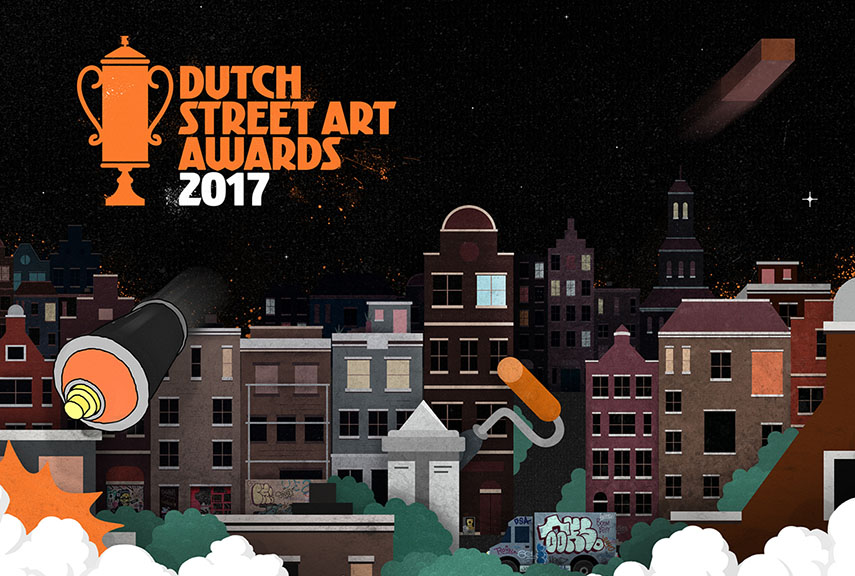 Bigger, Better
MM: I see that you're keeping the same awards, but you've also thrown in a lot of new prizes in the mix. One of the prizes includes a trip to Aruba, for the winner to take part in the Aruba Art Fair.
LB: This was definitely something that we wanted to focus on this year. Aside from the cool awards, made by 2Fast from Zagreb, we also wanted to have real prizes. Last year, ASA was invited to participate in the Aruba Art Fair. It was our first time there, and we were sort of partners -helping with promotion and painting murals. We had a great time in Aruba, and we kept in contact with the organizers. We explained the concept of our awards show and they proposed the idea to have a winner go to the island for the next Aruba Art Fair. This is something we think the winner will really appreciate!
MM: The other prizes are also pretty awesome, such as a solo exhibition at the OD Gallery, and a spot in the city's new Street Art Museum (opening in the summer of 2018). Is ASA involved in the Street Art Museum?
LB: We are not directly involved, although we know almost everyone involved. 
Whenever we have artists over we introduce them to Peter Ernst Coolen, the museum's curator. But we are not directly involved.
MM: How long will the winner's spot in the museum be up for?
LB: Definitely a year, but this is something to be determined with Peter. And it's going to be a large piece.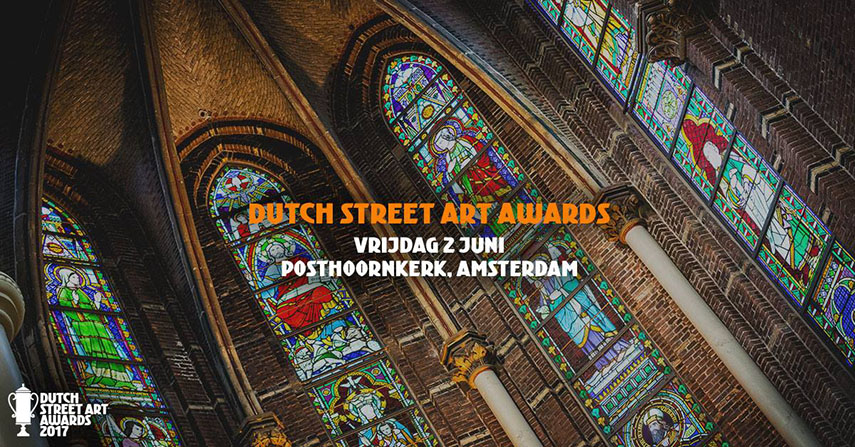 Working Together
MM: I noticed many new categories as well, such as "Best Event" and "Local Government".
LB: Well, last year there was one 'big' winner, so to say: the place Heerlen. There were a lot of nominations and a lot of prize winners from Heerlen. Because street art is very accepted by their local government, and they set aside money to realize murals. We'd like to see more governments doing this. That's why we introduced the 'Local Government' category, to motivate local governments to think about street art, to think about the public space. There are a lot of great artists in Holland, and also from abroad, who would like to paint more here. We've got awesome talent, so let's go one step further: worldwide we see so many street art related festivals and big murals, and in Holland it's tough, it's difficult to make it happen.
MM: Amsterdam must be getting better, though, if they are going to put the huge museum in the NDSM?
LB: Yeah, well, this is still inside. I think Amsterdam is one of the biggest examples of where it goes wrong. Amsterdam is one big open air museum, right? So there are not a lot of possibilities to arrange these big murals or to do some nice things on the streets of the inner city. The big, famous street with lots of street art and graffiti that we had, the Spuistraat, is now gone. Street art is out and Big Hotels are coming in. Luckily, we'll now have the NDSM museum, but still – street art should also be on the street. But in Amsterdam, it's pretty difficult. Only in the suburbs is it easier to arrange these things, such as big murals.
MM: Yeah the city center has been cleaned up quite a bit.
LB: Still, I think there are a lot of difficult 'problem walls', if I can describe them like this, around the city. We'd love to sit with our local government to see if we can do something about these. We have so many amazing artists from here and abroad who'd love to paint these problem walls, so let's go for it. But this is something that's not easy to arrange but we're busy with this.
MM: But now, you have Amsterdam's Night Major as part of your jury. So there are definitely people who work with the local government who are interested in the potential for street art.
LB: For sure, and this is something that we had in the back of our minds when we made a selection for the jury. Ok, it needs to be somebody who is involved and who likes this scene, but also someone who can maybe help the whole scene further. This is the whole idea of the street art awards – we like to help the artists, and we hope that we can give something back to all the people involved.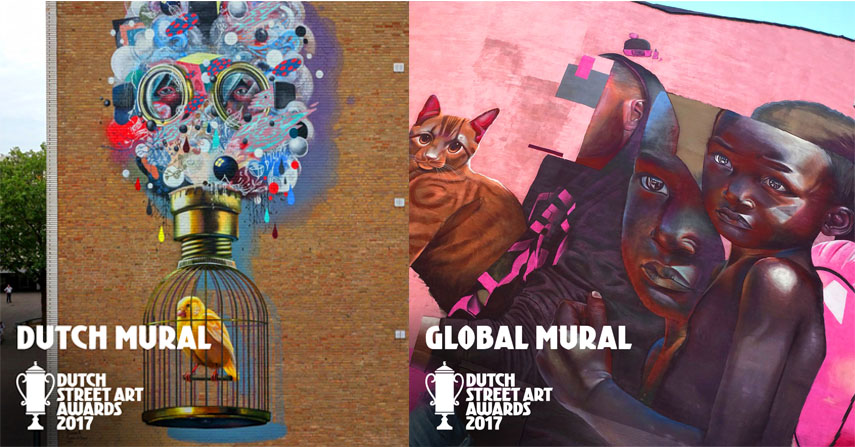 Meet the Jury
MM: Street art encompasses ever-changing materials, ever-evolving techniques, and an endless variety of references. Given the complex combination of elements involved, what do you consider to be the most important/meaningful criteria to evaluate street art?
Wayne Anthony: Art is completely subjective to our personal experiences and cultural heritage so any judgments are based on our conditioning. Personally speaking, I've been actively involved in the business of street art graffiti for ten years now. In that period, I've reviewed thousands of images and interviewed hundreds of artists. Our network promotes numerous artists each week so I get to see fresh global works on a daily basis.
When evaluating submissions, I base any judgments on the same principles as anything else in my world. Is it an original, how does it make me feel, can it be categorized, what's the overall premise, how well is the idea executed, what techniques were deployed in its creation, does location play a role in its placement. I'm also interested in the wider questions such as the communities response to the piece and how the artwork impacts on locals or visitors to the area.
MM: As the 'Night Mayor' of Amsterdam, you take on the role of a 'rebel in a suit', speaking the language of local government to promote nightlife and cultural events. How do you take care of promoting, securing permission, and putting together these type of events without being restrictive (making sure not to stifle the spirit of creativity)?
Mirik Milan: Cities should embrace the creative power of the the night. The introduction of 24h licenses for multidisciplinary venues was a moment in time for Amsterdam. For the first time, the creative content of a night club was leading in giving out a license. By expanding the opening hours, venues are less restricted and creativity can bloom. Nightlife is a bottom-up movement – it is our role to give opportunities to young creatives, to help cross-fertilization spark. De School and Radion and, beforehand, Trouw/verdieping are the best examples of nightclubs that improve the cultural offer in a city and help develop creative talent.
MM: From your perspective as a specialist for creative industries, dealing with concepts of design, branding and communications – what do you find inspiring about street art?
Bert Hagendoorn: The public space is the most interesting place for communications. For creatives to show their skills. At the same time, it's the perfect canvas to express personal views. Like many, my career in the creative industry started because of graffiti and still, I am always on the lookout for art in the streets. Sometimes I'm positively surprised by a combination of forms, composition and colors, sometimes I'm inspired by a message.
MM: Are graffiti and street art inherently political? How do you see the relation between art and politics?
Hugo Kaagman: Graffiti has a tradition of protest, but it doesn't have to be political. It can be anything. As art can be anything. But instead of pure decoration, a message in these times is more interesting. It is good to create a new view. Art is culture and goes beyond politics. In fact, it is good when the artwork is surprising and goes beyond the concept of the artist. New thoughts lead to a new way of life.'
The Dutch Street Art Awards will take place on June 2nd in Amsterdam.
Written by Maria de Los Angeles Martens Serrano.
All images courtesy Amsterdam Street Art.