Ecstasy in Laura Krifka's Art
It is sometimes difficult to determine whether some body of work is to be defined as erotic art (erotica) or not. The term "erotic art" is primarily related to those artistic expressions depicting scenes of sex or that evoke erotic arousal. Erotic artworks are usually very provocative, full of nudity and with representation of naked figures; sometimes they may be kinky, as in the art of Hans van der Kamp; almost always controversial and provocative as photographs by Oliver Rath shows; and sometimes more sensual as in beautiful paintings by Cynthia Westwood. Erotic art (of all forms) can also provoke an ecstatic visual perception. The term ecstatic is probably the perfect word for describing the art of Laura Krifka. Her amazing work can hardly be described as erotic art; however her paintings, drawings and sculptures of naked or half-naked bodies (mostly female) represent something more than unconscious sexual satisfaction: it's not only about nudity and erotica, about naked breasts and genitalia. Laura Krifka is dealing with issues of identity and power, primarily through the representation of the nude. When we look her drawings or paintings, we may pose questions such as: How does our identity change when we take off our clothes?; Are we equally powerful when we are dressed and when we are naked?; How does society restrains our identity? Her compositions depict human fantasies and dreams, and ask viewers to imagine what level of power and what sort of identity he or she would like to possess.
Featured Image: Laura Krifka, Kiss Off (detail), 2013. Oil on canvas (courtesy of laurakrifka.com)
Image in slider: Laura Krifka – Pink Predator (detail), 2013.  Oil on Canvas (courtesy of laurakrifka.com)
Ecstasy and Erotic Art
Ecstasy isn't inherently linked with sex. Of course, one of the greatest ecstatic moments one can have happen during sexual intercourse or sexual fantasies. But, it's not all about sex. Apart from sexual provoked ecstasy, there is also religious ecstasy (or spiritual), and many other types that could be deliberately induced using meditation, music or by consumption of psychotropic drugs (the artist Chemical X created two murals with 10,000 ecstasy tablets in 2014). Ecstasy is quite rare and difficult-to-define loss of self-control. The subject's experience is totally involved with an object of his or her awareness (on psychological level). In art, particularly in painting, ecstatic experiences can be noticed by facial expressions of the figures on composition – they seem like they are not quite aware of the reality, but their mind is totally overlapped with the object of desire. A person seems to be in a state of trance. In art history, there are so many examples of artworks depicting figures in ecstatic situations. Let us just recall renaissance paintings and sculptures by grand masters. In many of them, the figures are experiencing a moment of ecstasy (in the case of renaissance – religious ecstasy). Erotic art opened a door for representing subjects in ecstatic moments during sexual intercourse, for example. Without any moral or religious constrains, contemporary artists create figures experiencing ecstasy in many other situations other than religious ones. Laura Krifka's art is dealing with these situations, creating beautiful works where subjects are passing through an extraordinary and altered-state-of-consciousness moments.
Featured image: Laura Krifka – Berry Pickers (detail)[courtesy of dailyserving.com]
Laura Krifka: Ecstasy and Erotic Art
The art of Laura Krifka is like a mixture of renaissance style of depicting ecstatic situations and humans' attempts to understand their own identity in the post-modern world. People love to dream, to imagine, and to fantasize. Her figures look like those from Rembrandt's or Botticelli's compositions, yet their ecstasy is sexually-oriented. And here is a link between the art of Laura Krifka and erotic art. There are many sources causing her subjects' excitements, yet all of them seem to have some sexual connotation.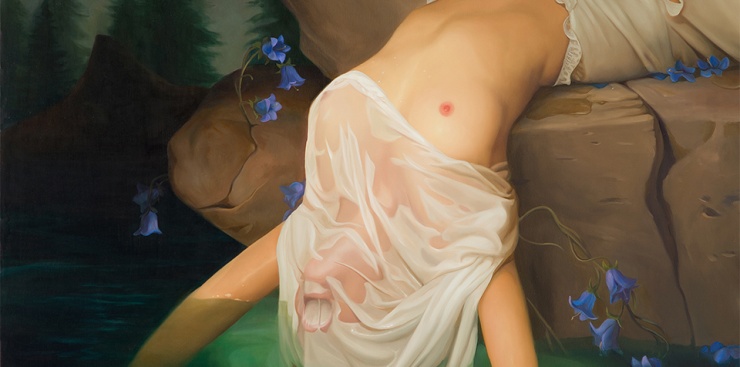 Ecstasy in Laura Krifka's Art
Yes, you will see naked bodies in Laura Krifka's art, and maybe even sexual tensions between the figures. However, it would be more precise if we link her art with ecstasy rather than pure erotica. Her drawings and paintings are quite realistic. Many of her paintings are full fruits and sharp objects (knives, arrows, needles). The objects on her paintings are only stressing out the ecstatic moments the subjects are going through. And even with sexual connotations and naked bodies, it's won't be correct if we classify Laura Krifka's work into erotic art. Because, ecstasy is something more than pure sexual experience. Ecstatic moments absorb sexual excitement itself, and therefore it depicts deeper emotions from those erotic art is dealing with. And that is the beauty of Laura Krifka's art – the beautiful representation of people in the state of ecstasy.
Don't forget to check out 10 Widewalls Hottest Moments!
If you like erotic art or erotica, sign up for My Widewalls, and follow our Provoke! section!
Featured Image: Laura Krifka – Lambs (detail), 2014 (courtesy of courtesy of laurakrifka.com)
All images used for illustrative purposes only.