Eduardo Kobra is the Olympics Mural Champion and our Artist of the Week!
We are only a few days into the Olympics, and the urban art world seems to be deeply involved and fascinated by the happenings that surround them. Eduardo Kobra is one of the most renowned graffiti artists coming from Rio, this year's home of the Olympics and his latest endeavor was definitely inspired by the adventurous spirit that this quadrennial manifestation so earnestly promotes – so we thought that this was the right time to talk about this diligent muralist and to officially make him our top artist of this week. Kobra's attempt at a Guinness World Record in the mural category has been fruitful in many ways, since it has become his personal record as well, a meaningful experience for an established artist that he is and a wonderful decoration painted on a 190 meter long piece of wall in Rio de Janeiro. The mural covers a large surface of a little less than 3000 sq meters, and it aims to be the biggest mural created by one artist thus far. He did have some help of course – 4 of his colleagues that took part in the realization of this street art masterpiece, but the concept was made consistent thanks to one devoted artist.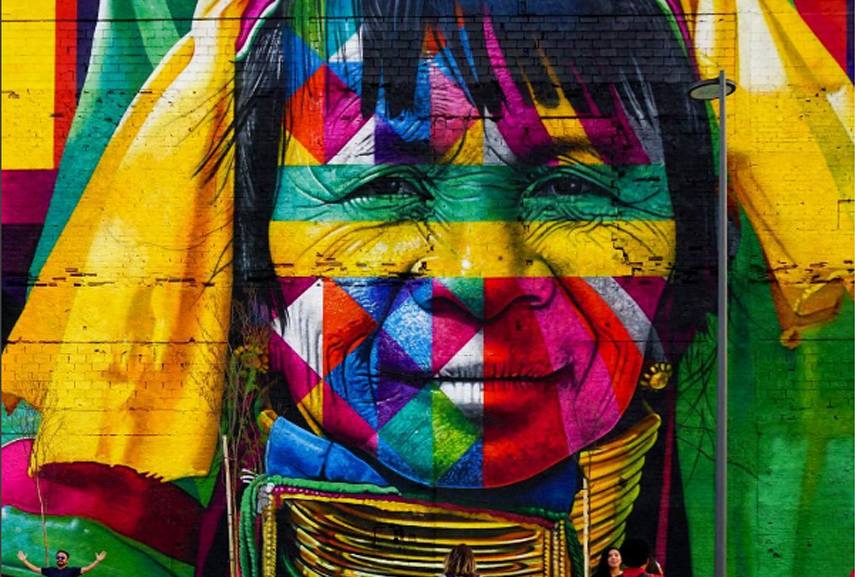 Eduardo Kobra Illustrates the Olympics
The mural was completed on July 30th, after days and weeks of hard work that included around 12 hours of work per day. Everything related to this mural is gigantic in some way, especially if you consider that there were around 100 gallons of white paint, 1,500 litres of color paint and at least 3,500 cans of spray paint used to complete this work. Furthermore, it materializes the spirit of the Olympic Games not only in terms of its size and the bravery of the venture, but also as a visual composition consisting of five faces that resemble typical indigenous people from five different continents. The symbolic notion of a wide spectrum of colors is characteristic for Kobra's work, and in this case it also signifies the inclusive nature of the games. All the pictorial motives remind us of unity, at a time when it seems to be most needed. The artist intentionally displays human race in its diversity, in order to show how differences can bring us closer together and make us become one that we fundamentally are. Kobra notices that "we're living through a very confusing time with a lot of conflict", and explains that his wish was to show that "everyone is united" and that "we're all connected".  The mural was titled Ethnicities, or Etnias in Portuguese, and as suggested by the artist it is part of a bigger series called Visions of Peace or Olhares da Paz.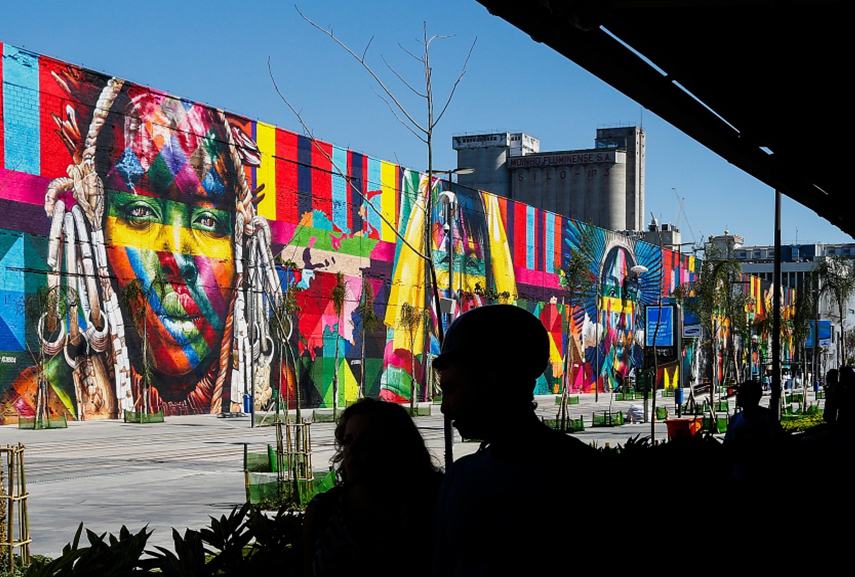 Shiny and Colorful Murals That Make the World Brighter
Here at Widewalls, we've been following Eduardo Kobra's work regularly, and we're always happy to share the best of it with you. Kobra is no stranger to large murals – although this is definitely the biggest so far, and perhaps the one that will gain most recognition, in relation to the context. It is, however, important to mention that he has been handling this genre with great proficiency for years, paying special attention to portraiture and giving honors to important figures and persons who inspired him. In 2013, Kobra made a special mural in Sao Paulo, dedicated to the eminent Brazilian architect Oscar Niemeyer who passed away in 2012. The mural attracted much attention and it was widely recognized as a gem of muralism. The bright colors and the vivid character of his works are beautifully complemented by the realistic precision which he deploys in his portraiture. This inimitable style is what we always look forward to when it comes to Eduardo Kobra, and we hope to see more of his uplifting public artworks in future.
Featured images: Eduardo Kobra next to his artwork in Rio, image via Yahoo; Etnias via wired.com; Eduardo Kobra – Etnias (Africa). All images used for illustrative purposes only.