Kobra in Rome
Wonderful strips of color are intertwined in a pixelated rainbow spectrum depicting luminaries of human history, the most iconic characters or images throughout urban areas of the world in fantastic murals painted by a Brazilian street artist Eduardo Kobra. Stylized odes to iconic figures are rendered on the foundations of photorealism, while their geometric pattern provides new life, vibrancy and immediate visual accessibility. His huge compositions become alive, multi-dimensional, giving out a kaleidoscopic tangible feel as if they were gateways to different dimensions. Eduardo Kobra will present his latest body of work consisting of 10 portraits of historical leaders who all stood in the name of Peace in Dorothy Circus Gallery in Rome. The exhibition opens on May 9 and it will run through June 25, 2014.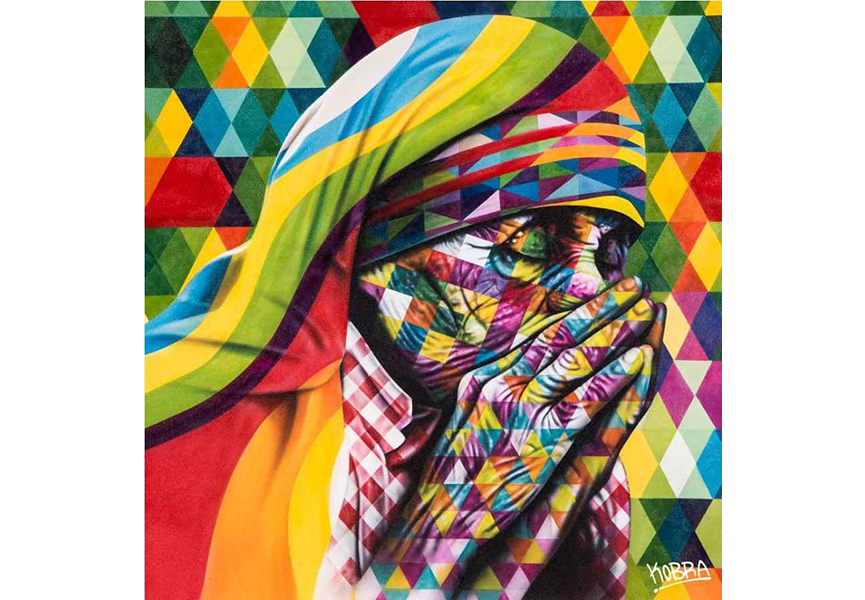 Eduardo Kobra
Eduardo Kobra was born in Sao Paulo, Brazil in 1976 where he presently lives and works. He started his artistic career in 1987 at a tender age of 11, following the trail of developing urban art in Sao Paulo. In 1990s he founded a Studio Kobra where he began with his artistic experiments in design and hyperrealistic painting. He is the developer of "Walls of Memories" project, which is directed towards transforming the urban landscape by re-introducing the memories of many cities back into the daily life of their inhabitants. Kobra's interventions are scattered around Brazilian cities, from Sao Paulo to Rio and others, but in American and European metropolises as well, encompassing New York, Los Angeles, Athens, London and Lion.
Kobra Style
Historic imagery is the signature trait of Kobra's work, targeted towards revisiting and breathing in the new life into important historical moments, rendered with a distinctive personal touch of the artist. His painting is particularly interesting because of the great chromatic values spanning over his large scaled works, which Kobra executed using different techniques, from airbrush to spray paint. His artistic method allows him to achieve photorealistic effect in portraying his subjects and at the same time to juxtapose its vivacious character to the grey and ordinary urban landscape. His grand murals are fragmented into small quadratic and triangular fractions, resembling kaleidoscope, which combines uniquely with his intricate linework and texture given to the depicted faces.
The core message of Kobra's street art is the fight agains pollution, global warming, destruction of forests and war. He often combines his personal moral proclamation in rendering of famous figures of Brazil, such as Oscar Niemeyer, the father of Sao Paulo and Brasilia, and by depicting various daily scenes from his surroundings. All of these themes are woven into the fantastic world of his murals, with a simple, but maybe a little nostalgic, desire to embellish the metropolitan environment.
Some of Eduardo Kobra's most famous works are his interpretation of Mount Rushmore, his rendering of Albert Einstein and Mother Teresa in Los Angeles.