El Gato Chimney: De Rerum Natura
El Gato Chimney is an Italian artist born in Milan, where he lives and works. He started his career as a self-taught artist, developing an early interest in graffiti that made him pursue a successful journey into street art. Over the years, while gaining new knowledge and continuously improving his technical skills, El Gato began to prefer to work in the studio, dedicating his time to an introspective research to depict immaterial things, such as emotions and inner visions. Currently, his studies range over a wide variety of subjects, such as alchemy, ancient and modern art, magic, mirabilia, occultism, popular folklore, primitive art and spiritualism.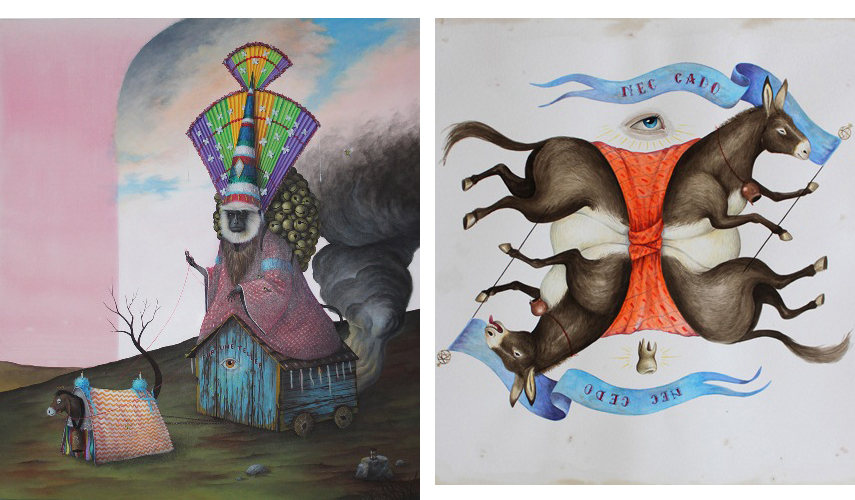 On the Nature of Things
Borrowing it's title from Lucretius' ancient poem, De Rerum Natura (On the Nature of Things) leads us into a world of imagination, created by El Gato Chimney. It may seem recognizable at the first glance – like an image from a book of children's fairy tales, or Medieval manuscript, but as we look further the sights get more and more complicated, leaving us puzzled, without a code to interpret them. Figures are hidden in the clouds, seemingly common objects abandoned forever or left waiting for something or someone, and a multitude of heterogeneous symbols whose decipheration reveals new meanings at every reading. El Gato Chimney, instead of giving us a definite answer, fills his works with clues and appeals to our imagination and to our sensibility, keys of interpretation of the world. Perhaps this constant search for meaning that manages to escape us, or that we cannot be certain of is what makes one feel deeply drawn to these images.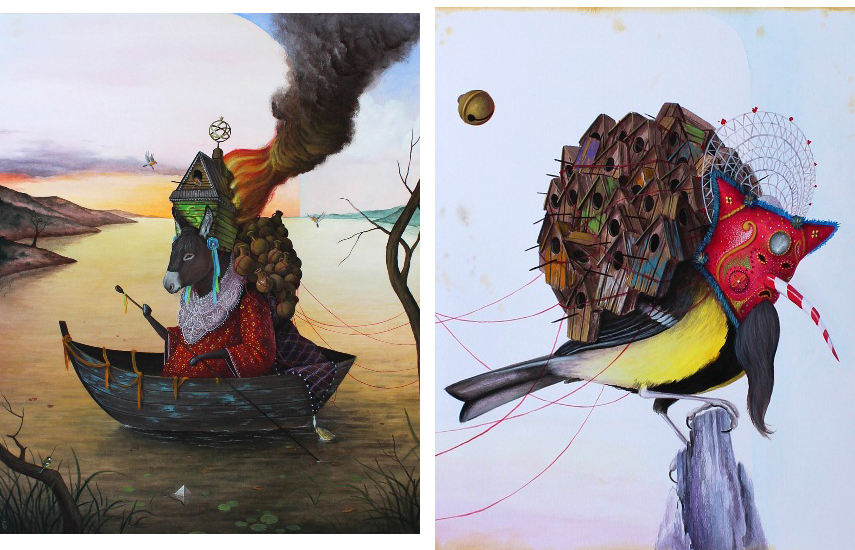 El Gato's Fantasy World
Following the steps of famous storytellers, El Gato Chimney uses animals, made-up or real, often hiding behind masks and always wearing ceremonial clothes from European folklore and Oceanic tribes cultures, to depict the vices and the virtues of the world around him. The universe he portrays is dual and deceptive, like a good horror story. The animals are drawn in vivid colors, but the details on them, the colourful clothes and masks that adorn these mysterious characters,  act as a kind of warning, making them look likeable and scary at the same time. A magical and religious syncretism is what livens up the inhabitants of these lands, a well-turned mixture of cultures and eras, as the artist wants to assert that celebrating life and escaping death is what joins all beings.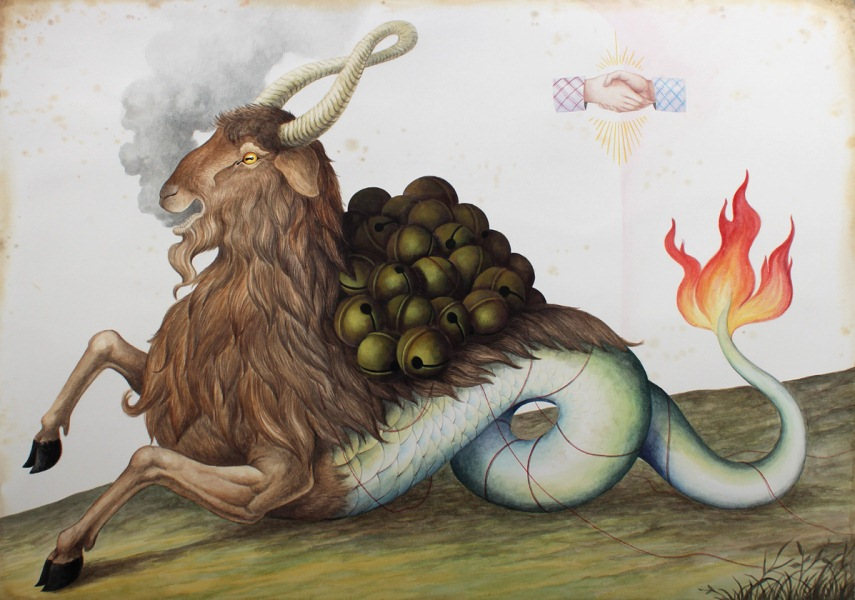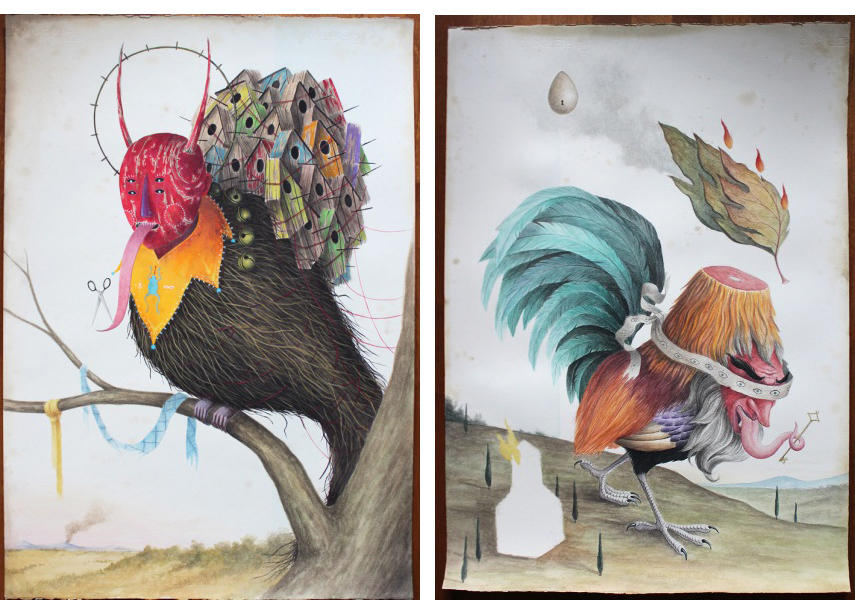 El Gato Chimney  at Stephen Romano
The Stephen Romano Gallery has shown El Gato's work before, but this is to be his first solo exhibition at the gallery, and at the same time in the United States. His new body of works includes paintings, large-format watercolors on paper, and a site-specific installation. All works are available at prices ranging from $1500 to $3500.
De Rerum Natura opens March 5th and lasts till April 30 2015, at Stephen Romano Gallery in Brooklyn.
All images are courtesy of Stephen Romano Gallery.
Make sure you stay informed about more exciting shows and artists by signing up for My Widewalls!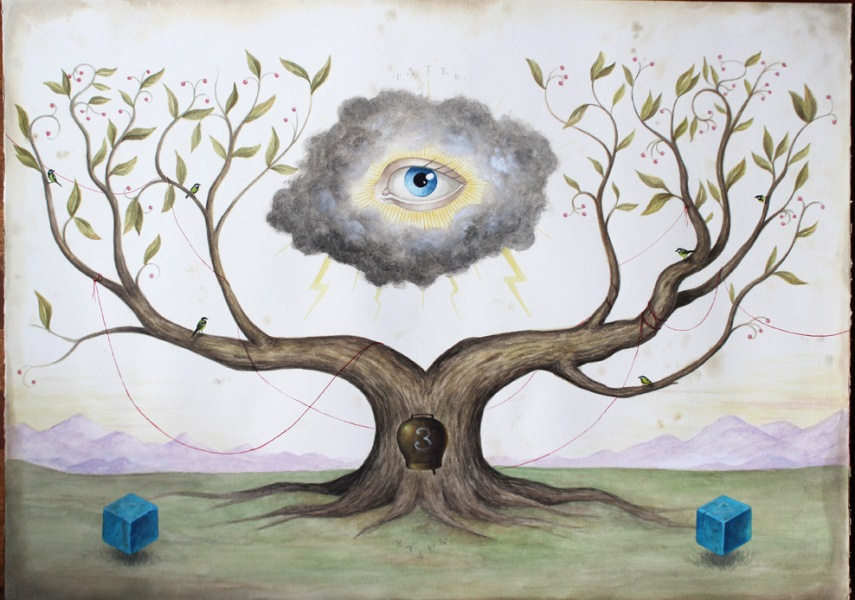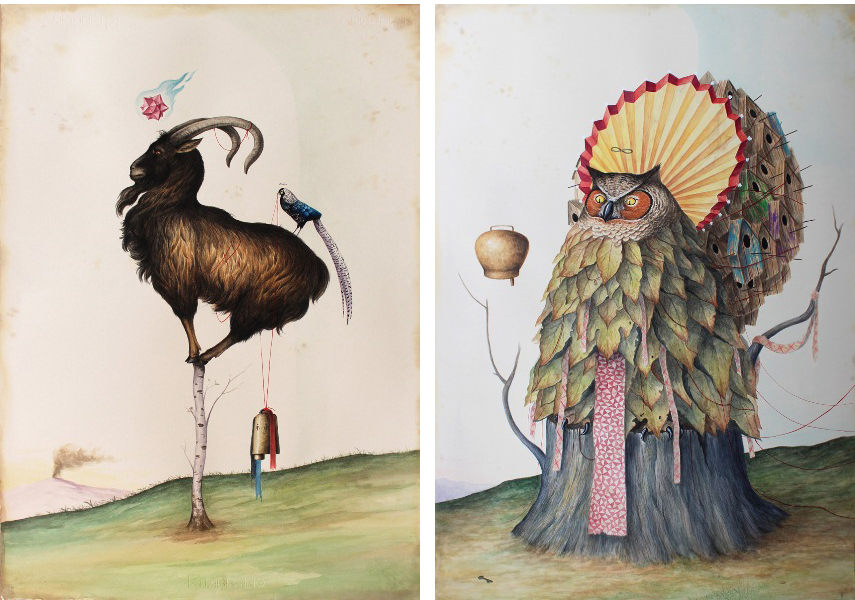 [mc4wp_form]
Follow These Galleries
New York City, United States