London's New Elizabeth Railway Line Gets Public Artworks, Thanks to These 9 Artists
The city of London will be getting a brand new underground line. Running through the city to the home counties of Berkshire, Buckinghamshire and Essex, the Elizabeth line will not only transport and connect people, but also expose them to some outstanding works of art.
Nine internationally renowned artists have been commissioned by The Crossrail Art Foundation to create major public artworks along the line, relating to the locality, history or functions of the stations. Forming a string of cultural interventions across central London, these works will be installed in a variety of locations including halls, escalator shafts, platforms and other public spaces from December 2018.
A current exhibition at the Whitechapel Gallery (through May 6th, 2018) brings together sketches, maquettes and prototypes to reveal the artists' ideas transformed into deliverable public art. Artists participating in the project are Spencer Finch, Darren Almond, Douglas Gordon, Richard Wright, Simon Periton, Yayoi Kusama, Conrad Shawcross, Chantal Joffe and Michal Rovner.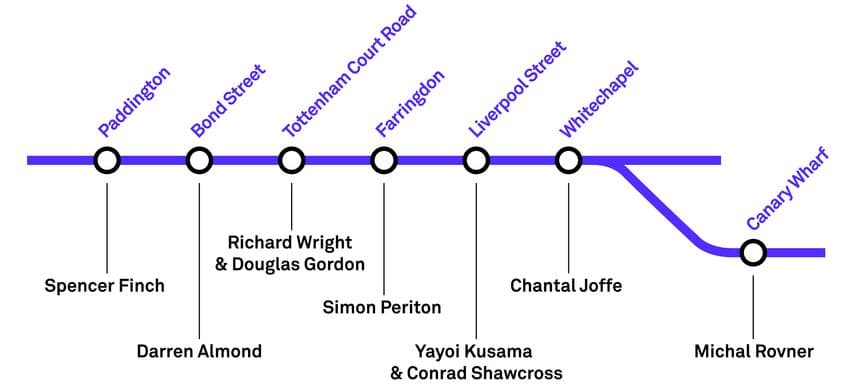 World Class Art Straight from the Tube
As Terry Morgan, the Chair of Crossrail explains, these leading artists are working together with Crossrail's architects and engineers to integrate public art into the very fabric of the new Elizabeth line stations.
Thanks to the imagination and determination of the Art Programme team, sponsors and supporters, the Elizabeth line will be the single biggest addition to the capital's public art scene in a generation and will cement London's place as a global capital for arts and culture.
Founded in 2014 with support from the City of London Corporation, The Crossrail Art Foundation has a mission to promote art for the benefit of the public by establishing and maintaining a public art programme that will enhance the journeys of the millions of people who will use the Elizabeth line. Combining disciplines of art, crafts, architecture, engineering, transport, civic government and corporate sponsorship, the ambitious art project will transform the underground line into a gallery to the widest of audiences.
Let's take a look at nine works of art that will adorn the Elizabeth line.
Featured images: Installation view at the Whitechapel Gallery, Art Capital, Art for the Elizabeth line. Photos by Stephen White. All images courtesy of Whitechapel Gallery.