Ella and Pitr Leave Their Mark in Stavanger in Melt Down - A Collaboration with Nuart
Busy and exciting days in the Norwegian city of Stavanger – truly unique place for street and urban art lovers that tends to become one of the European centers of public art. As the city slowly becomes one big open-air gallery, Nuart invited famous French street art couple Ella & Pitr to create new works in the city. The latest collaboration between Nuart and Ella & Pitr follows the overwhelming success of Ella & Pitr's collaboration with Nuart Festival in 2015. Actually, Ella & Pitr created the world's outdoor mural in Klepp, Norway, as part of Nuart's 15th Anniversary celebrations. This time, the great street art duo came to Stavanger and painted a new mural during a two-day snowstorm on a dilapidated four-story building in Stavanger center. But, that's not all!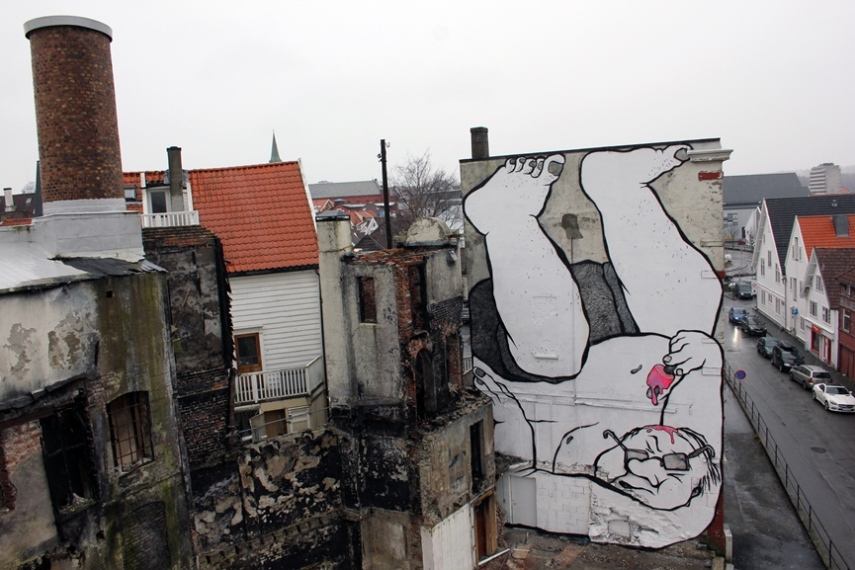 Ella & Pitr in Stavanger Again !
The new amazing piece by Ella & Pitr is entitled La fonte des glaces or Melt Down. The piece shows one of their trademark giants having taken a tumble. They also ventured to nearby Sola beach to wheatpaste two German bunkers built during World War II, captured beautifully during a recent aurora by local photographer and "aurora chaser" Brian Tallman. The piece perfectly matches with Norwegian spectacular Aurora Borealis. The duo also found time to experiment with light painting in collaboration with friend and photographer Eirik Halvorsen, who was inspired by Ella and Pitr's love for each other, love for their work and their childish, quirky humor.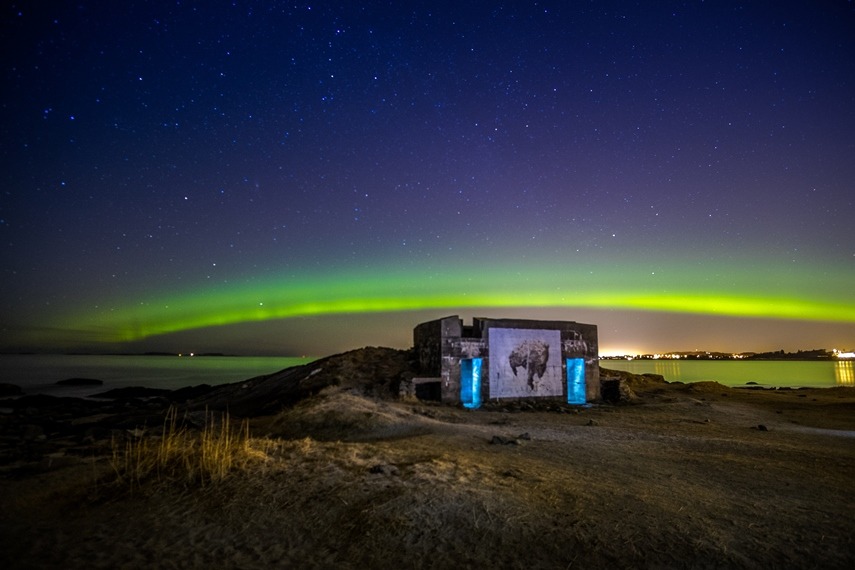 Ella & Pitr and Nuart Festival
Despite being based in St Etienne, France, Ella & Pitr are fast becoming local favorites and already plan to return to Stavanger in mid-August to continue their Nordic love affair. Nuart festival 2015 was probably marked by their amazing piece entitled Lilith and Olaf. The mural was the first project to emerge at Nuart Festival 2015, on a 21,000 square meter roof surface in Klepp, Rogaland and in just a few days it became the biggest town attraction. An astonishing fact is that the whole piece was created in four days. Entitled Lilith and Olaf, the mural depicts one of their signature female characters with a figure of Norwegian King Olaf falling from her hand. This tribute to Norwegian cultural heritage seems to be even more impressive if we have in mind that the birthplace of this medieval king was just a couple of meters away from the location of the mural.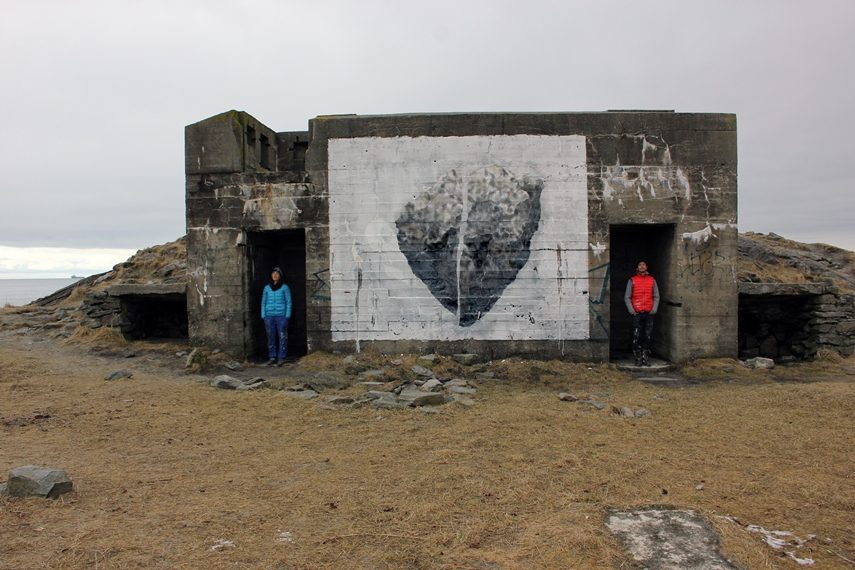 The Art of the Famous French Duo
French based artists Ella & Pitr specialize in creating large-scale murals of fairytale-like characters. Their playful and poignant artworks have brought them international acclaim, and can be found on rooftops, runways, houses, shipping containers and even entire fields. Their practice is defined by an innate playfulness and unique style appropriated from influences as diverse as children's books, comic books and graffiti. As well as producing their trademark murals with prodigious energy the world over, Ella & Pitr have exhibited extensively at art galleries in France and in selected exhibitions internationally.
We would like to hear your opinion! Please comment on our Facebook Page!
Featured Images: Brian Tallman – Ella & Pitr; Ella & Pitr – Melt Down;Eirik Halvorsen – Ella & Pitr. All Images courtesy of NuArt.