Kneecaps
Little city, big art. This little saying could be used as a moto for Auckland, New Zealand, a place from which many an artist emereged. One of these creatives is the street artist and muralist Elliot Francis Stewart, who creates vivid, entertaining illustrations of his days in his hometown, at the same time sending a frequently harsh critique to the social situation of the city by the means of his art. A number of topics are repeated throughout Elliot's body of work, from insinuations to constant heat, concrete and traffic jams, to difficulties of falling into a rut, living on the verge of the planet and mental escapes from the depressing reality. Still his work is not all that depressive, but dynamic, witty and enlivened with bright colors, telling the story of the artist's life, but also warning us about the treacherous paths we could take in our own.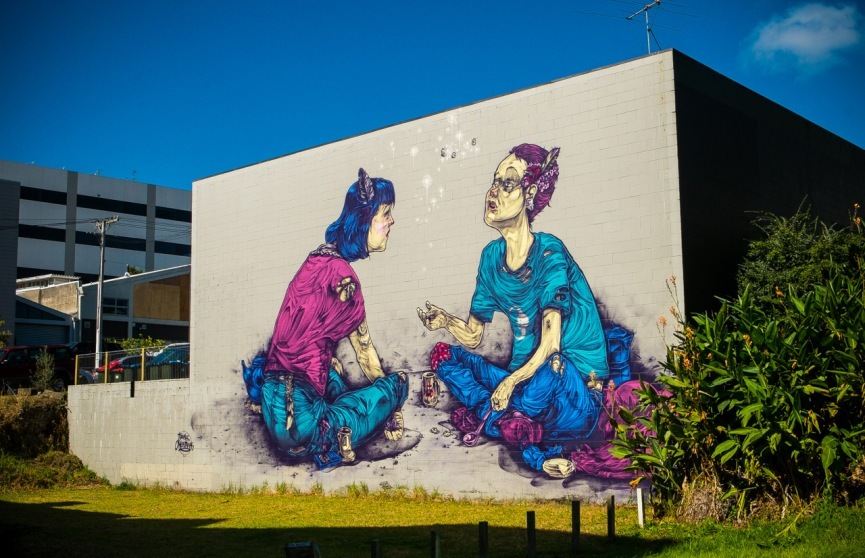 Stewart and Askew
New works by Elliot Francis Stewart are currently on view at Known Gallery, concurrently with the Diaspora exhibition we already announced. The show is titled Kneecaps, pertaining to leveled urban symbolism, and it will continue through May 3, 2014.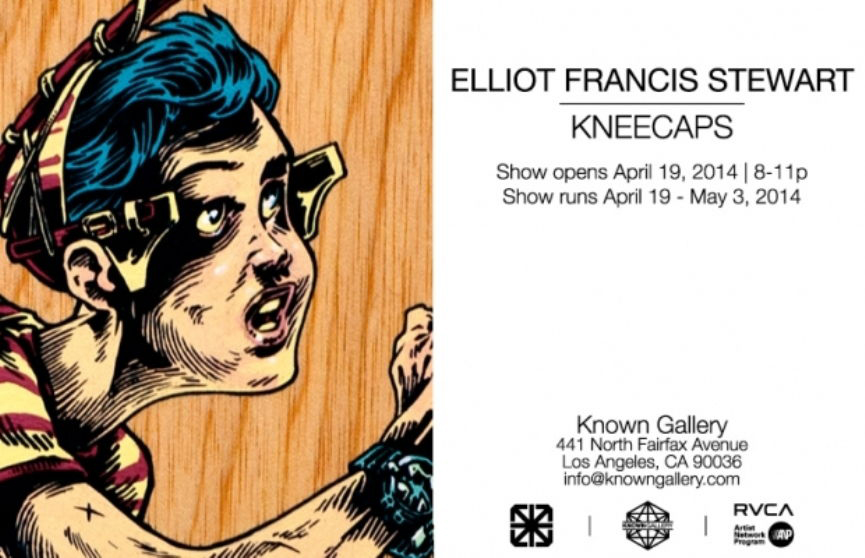 Kneecaps
The style of Elliot Francis Stewart is easiest described as illustrative, but viewing his work from either conceptual or pictorial angle, deeper tier of meaning are revealed. His characters are ordinary people, perhaps even friends, sometimes animals, featured within various genre scenes. Occasionally, their bodies are distorted, deliberately portrayed with strange alterations to limbs or expressions, in order to depict their mental or emotional state. Palette is bright, pure, with tones varying in relation to the emotive seriousness of the depicted. A range of influences is read in Elliot's paintings and prints, from comics (shading and characters), to childrens' book illustration, or pop art. The narratives of these works are short, familiar, and honest in all of their bleakness or irony.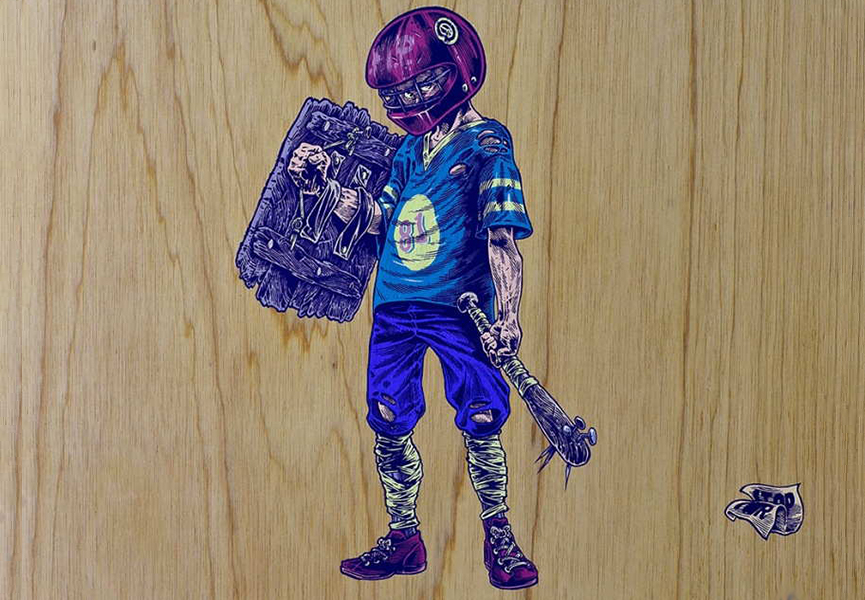 Elliot Francis Stewart
Elliot Francis Stewart was born in 1982 to a large family, as the ninth child. He grew up in the suburban area of Eastern Aucland, New Zealand. Since childhood he enjoyed drawing, picturing numerous scenes of war or galleon, while passionately absorbing comics. His family moved to the city in the mid-90s, where young Elliot enrolled into the Aucland Metropolitan College, today a non-functioning alternative school, where he got connected and befriended a group of similar young creatives, which then became the RFC (Rat Fink Club) crew.
Evidently allowing the comics to dictate his stylistic development from the beginning, Elliot, a.k.a. Deus, gained a reputation for his odd-looking thematics. He joined The Most Dedicated, TMD crew in 2001, and quickly became a prominent member of the street art creative community, displaying significant talent in spray paint work. His first shows in Auckland enabled the artist to display his complex compositions and illustrative potential he frequently executed on recycled and found objects in house paint or ballpoint pen.
Elliot Francis Stewart exhibits worldwide, but is officially based in Auckland, where he works as an artist and illustrator.