Emma Hack and Her Body Painting Camouflage at The Cat Street Gallery
The ancient art of body painting appeared at the very beginning of human cultural development. This form of body art has its roots in the face painting practice established by prehistoric tribesman thousands of years ago. Artist Emma Hack has reinvented the ancient tradition with her unique body art camouflage technique that she uses to create colorful crisp photographs, prints and art installations. An artist, whose body of work is featured at Savina Museum of Contemporary Art and in the famous music video for Gotye's song Somebody That I Used to Know, will exhibit her latest camouflage pieces at Chinoiserie exhibition in Hong Kong.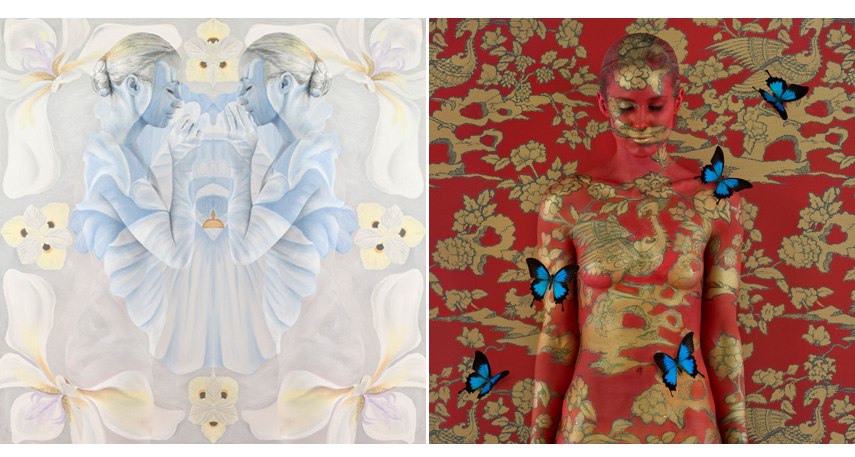 Mind – bending Body Art Camouflage by Emma Hack
Artist Emma Hack has built a world of her own by employing body paint and female models to create what some describe as three-dimensional wallpapers. The Australian camouflage master produces her intriguing imagery by applying layers of paint onto human skin that's then blended into a surrounding background. The body paint serves as a unique camouflage that simultaneously hides the model's body and reveals the beauty of the surrounding environment. The immersion in the surrounding patterns conveys the strong environmental message of the artworks that best portray what's it's like to live away from busy city centers and to be one with the surrounding nature. The environmental undertone is further highlighted with the use of elements such as flowers, owls and butterflies as main motifs in a majority of the artworks.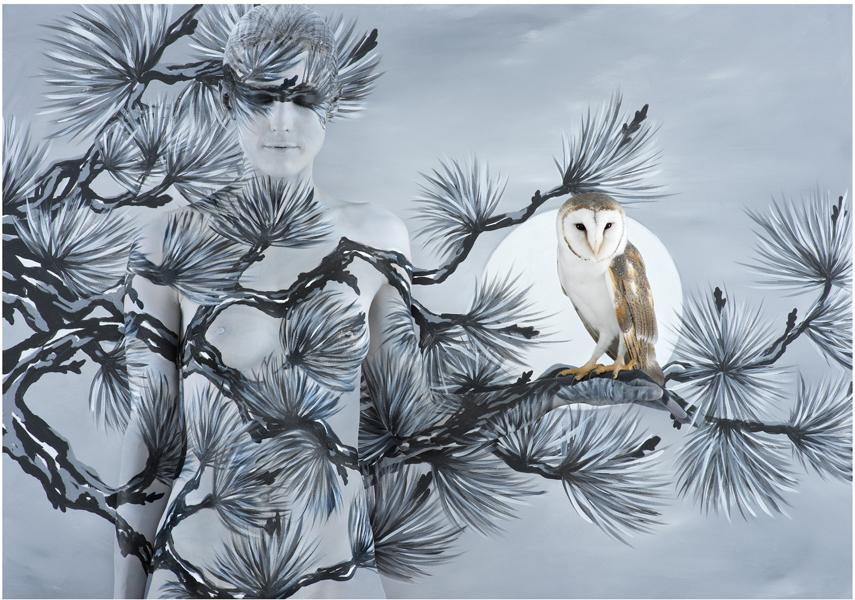 Using Human Skin as Canvass
The upcoming Chinoiserie exhibition gets its title from the French word Chinois that literally means Chinese but is often used to mark the European interpretation of Chinese and East Asian artistic traditions, in numerous art genres such as architecture, theater, music, literature and visual arts. The exhibition will include the artist's new Yin and Yang series, inspired by nature, that was created by carefully positioning nude models next to the decorated background. The patterns on the models corresponded perfectly with the embellished backdrop and as a result, their bodies obtain an extraordinary camouflage and become almost invisible on the images. Yin and Yang series of works feature an array of lively colors and natural motives such as plants and animals that collide together to create calming and captivating imagery. Apart from the Yin and Yang series Chinoiserie exhibition will also feature Emma Hick's previous series of works entitled Bloom where the artist's naked muses blend with the backdrop of the images in order to highlight interesting, oriental patterns in the background.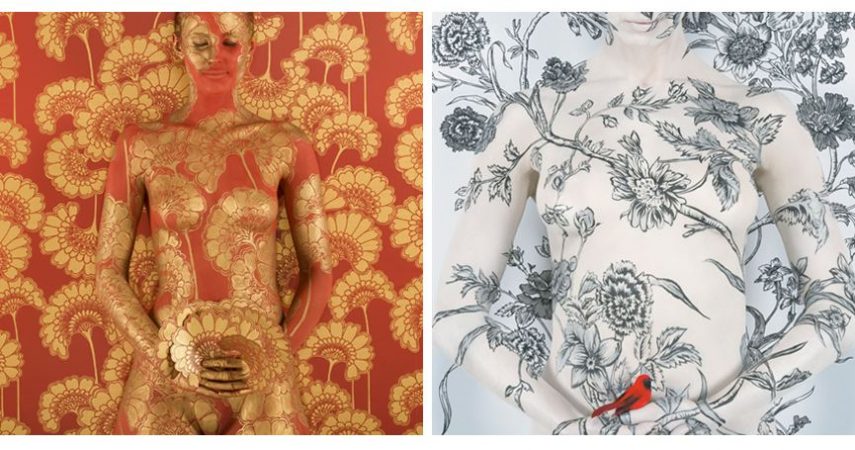 Solo Show and Live Painting Session
New body of work by Emma Hack will be on view at Chinoiserie exhibition starting from August 25th, 2016. If you're interested in the artistic process of creating these captivating body art pieces, then make sure to visit the exhibition's opening night where Emma Hack will camouflage one of her stunning models during a one-night-only live painting session. Orient-inspired camouflage artworks by Emma Hack will remain on view till September 12th, 2016 at The Cat Street Gallery in the city of Hong Kong.
Featured images : Emma Hack – BLOOM – Royal Hanging Garden ; Emma Hack – Midnight Secret Garden – Bloom Lenticular Collection ; Emma Hack – Oriental Bouquet Cradled Ringneck – diffusion ; Left : Emma Hack – China, 2012 / Right : Emma Hack – England, 2012 ; Emma Hack –  YIN I ; Emma Hack – Utopia-Blossom cradled butterfly, 2013 ; Images courtesy of The Cat Street Gallery