FEAST by Emma Richardson
The Outsiders gallery currently has the solo exhibition FEAST by Southampton-based abstract painter Emma Richardson on view at their London exhibition space. This is Emma Richardson's first solo exhibition with the gallery and includes a large-scale paintings and drawings that explore the world of psychoanalysis, behaviorism and humanist psychology. She found an inspiration for this series of works in the writings of Georges Bataille and Sigmund Freud.
Band of Skulls
Emma Richardson is one of those multi-talented creatives. She is best known as the female singer and bass guitarist from rock group Band of Skulls, but she is also an accomplished visual artist. While studying human consciousness and the subconscious, her favorite subject, Richardson plays with symmetry and abstraction balancing between harmony and chaos. Using her preferred medium of oil paint and charcoal loosely applied to linen, she creates abstract yet suggestive forms that are simultaneously visceral and evocative. The unpredictability of her preferred medium matches the elusiveness of the subject matter. Richardson engages with her materials in a very intuitive way, shaping these tools of color and movement into forms laden with multiple allusions.
Erotic Human Desire
With her paintings, Richardson draws attention to fluid nature of the human psyche with a focus on the erotic human desires. Moved by questions about sexuality and the fine line between human nature and animalistic behavior, the artist prompts us to re-examine what drives us, querying notions of what is socially acceptable and what is taboo.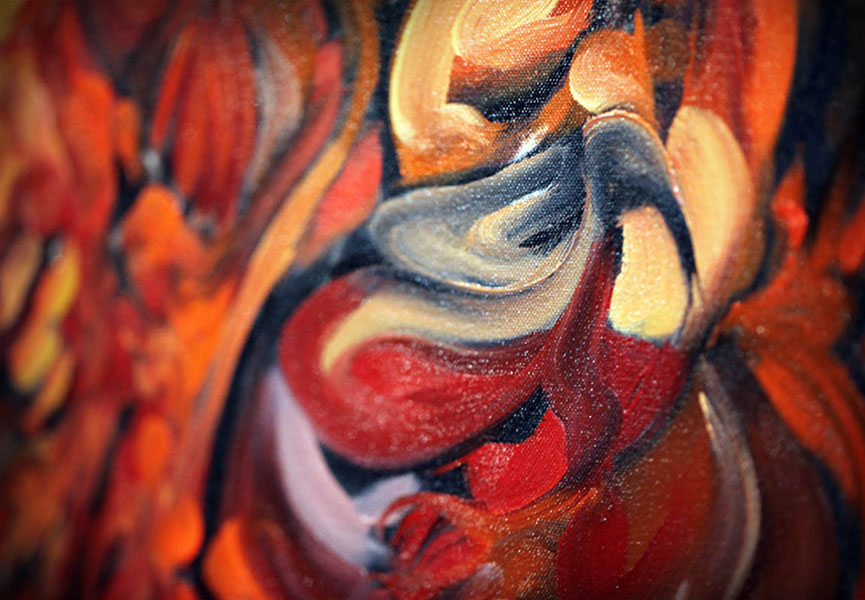 About Emma Richardson
Born in Southampton in 1982, Emma Richardson is a pioneer of contemporary abstract art. Since graduating with a BA in Fine Art (Painting) from Wimbledom School of Art in 2004, Richardson has split her time between her fine art practice and performing in the band, Band of Skulls. Among her artistic influences she counts Francis Bacon, Hans Bellmer, Ralph Steadman and Jenny Saville. Richardson's paintings exploit the medium to explore the nature of the human form, whilst making use of the physical quality of the medium against the rough texture of the linen on which she often works. She currently lives and works in her hometown.