Eric Fischl: Art Fair Paintings
Eric Fischl is an internationally acclaimed American artist. A productive painter, photographer, and sculptor since 1979, his artwork is represented in many distinguished museums throughout the world, including the Met and the MoMA, and has been featured in over one thousand publications, and has been featured in over one thousand publications. Fischl's extraordinary achievements throughout his career have made him one of the most influential figurative painters of the late 20th and early 21st centuries. In the 70's, before he became a full-time artist, he used to work as a guard at the Museum of Contemporary Art in Chicago. Today, Fischl is a senior critic at the New York Academy of Art and a fellow at both the American Academy of Arts and Letters and the American Academy of Arts and Sciences.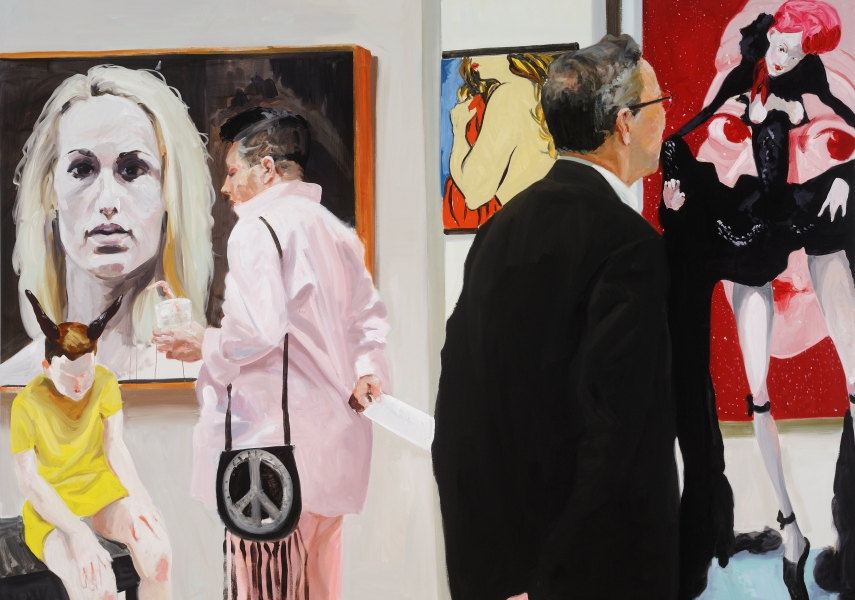 Eric Fischl's Art Fair
The shorthest way to describe Eric Fischl's Art Fair paintings is: looking at people looking at paintings and at people. The Art Fair paintings demonstratethe artist's acute observation of body language and the small details that reflect social relationships, particularly in the heady environment of the art fair, known for its charged atmosphere of financial and cultural capital. The artist wants to show us his experience of the art fair spaces as something that has essentially abstract nature. For Fischl "they are nearly cubistic in their flatness and their jarring collaged constructions. For a painter, it is a rich environment to try to capture. Layers of consciousness on top of layers of cross-purposes."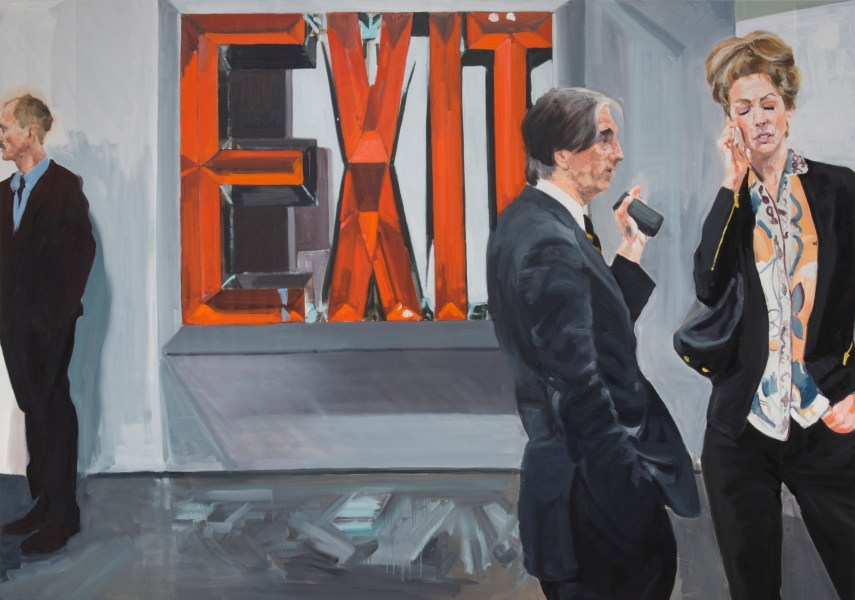 Eric Fischl's Painting
Fischl first received critical attention for depicting the dark, disturbing undercurrents of mainstream American life. He made his reputation in the 1980's with large-scale figurative oil paintings depicting ambiguous, erotically charged scenarios set in the American suburbs. Fischl has always been a keen observer of the relationships between people, and between people and their surroundings.His suburban upbringing provided him with a backdrop of alcoholism and a country club culture obsessed with image over content. Fischl's early work thus became focused on the rift between what was experienced and what could not be said. In 1979, when he had his first solo show suburbia was not considered a legitimate genre for art.  Despite the diversity of subject matter, his work is consistent in its exploration of human relationships.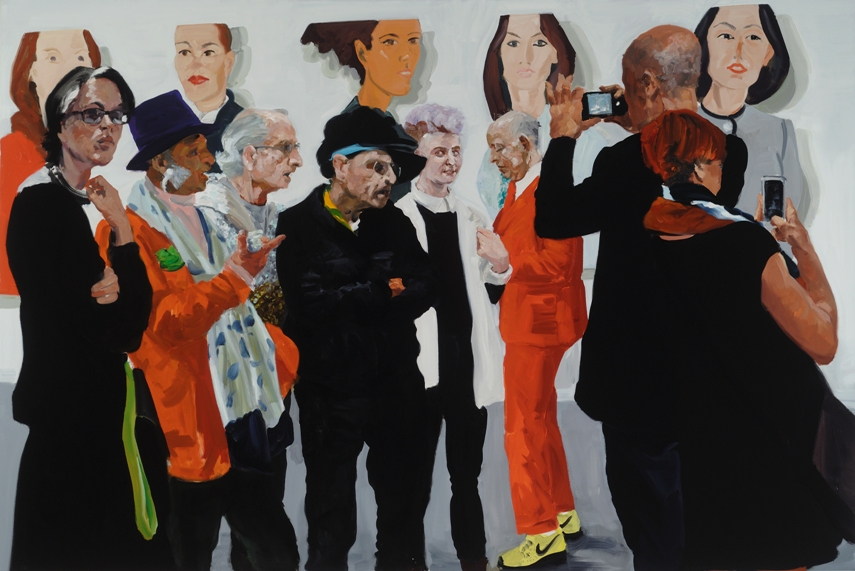 Art Fair Paintings at Jablonka Maruani Mercier Gallery
The solo show at Jablonka Maruani Mercier Gallery in Brussels will show the latest series of paintings by Eric Fischl. Visitors will have the unique experience of entering the gallery to look at paintings of some other people entering some other galleries to see artworks, and have the usul drink and a chat. One thing is certain, this is a show that will make the artlovers, curators and collectors more conscious or even self-conscious about their behaviour than any other.
The exhibition Art Fair at Jablonka Maruani Mercier Gallery opens on April 24th and lasts till June 1st. Eric Fischl will be present at the opening reception on April 23rd.
Make sure you stay informed about more exciting shows and artists by signing up for My Widewalls!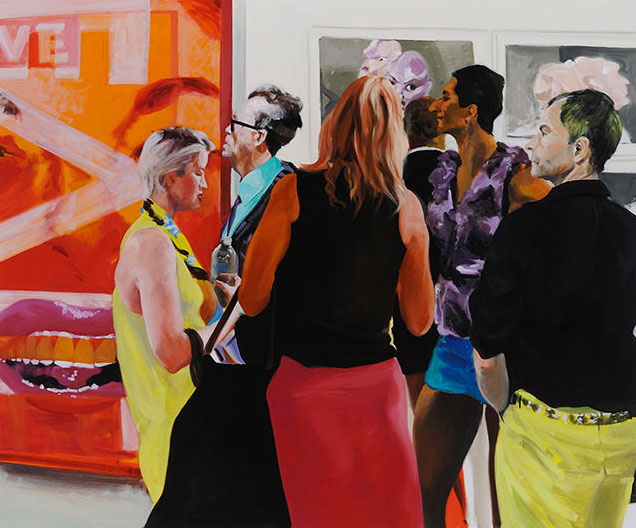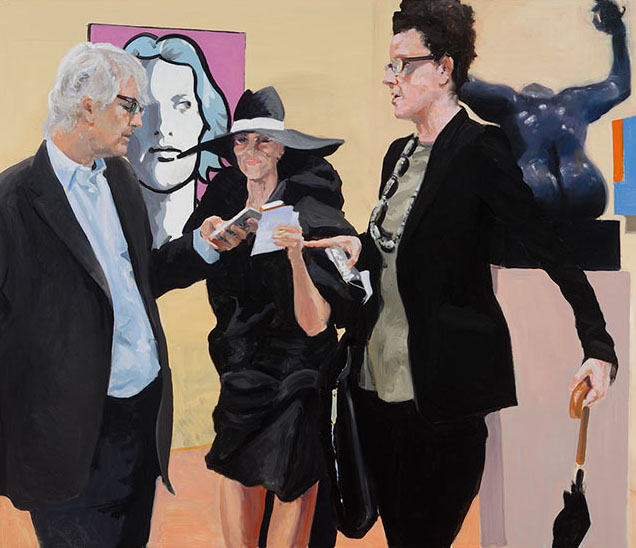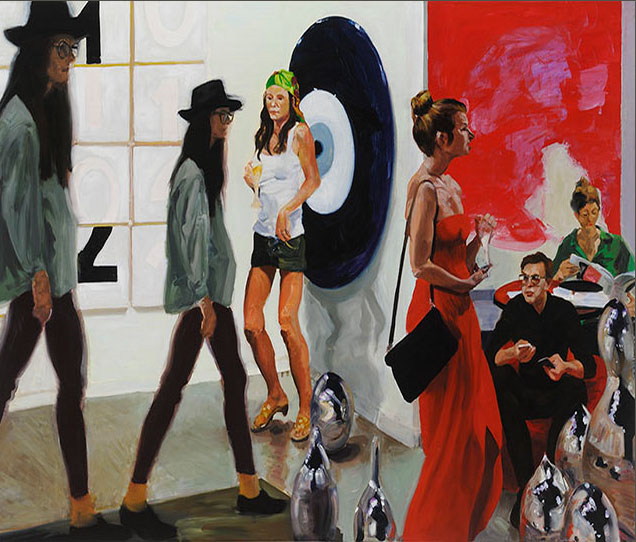 Featured image – Eric Fischl, Art Fair Booth #4 The Price [mc4wp_form]