Eric Lacombe Exhibition Presents a Bleak Artwork Series at Last Rites Gallery
Eric Lacombe, in the art world better known as Monstror, is a French artist originating from Lyon. This is a man of supreme competence, consistently retaining those unspeakable and ambiguous qualities of emotional brunt that artists scarcely possess. We never seem to be able to put our finger on what those qualities exactly are, but we feel them when we see his art. There are nuances incorporated within his works that can be comprehended only when one intently studies the elaborate details and gradations that make up his artworks. Last Rites Gallery is pleased to announce The Weight of Silence. The title of the exhibition is referring to the unspeakable perceptions from which we conjecture bereavement.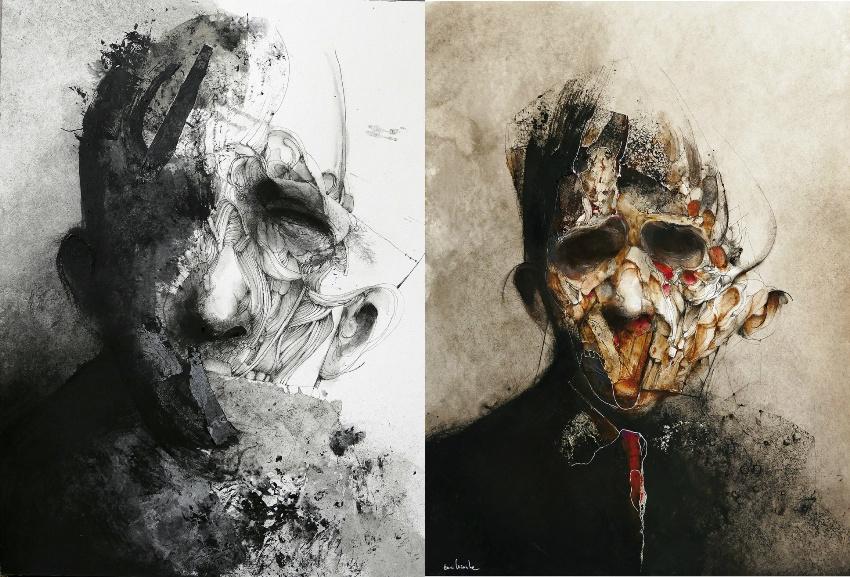 Eric Lacombe Contemplates Death
Lacombe will present a new series of 20 works inspired by the subject of awareness at the very cessation of our existence, just before "we have shuffled off this mortal coil". At the intersection of life and death, the artist's vision brings us to a new kind of cognition. He transforms these end of life reflections into anatomies aching with dispersal. Still, the artist grants us privilege to analyze the relations between apprehension, stillness and demise. "I love the quiet drama the living exude whenever they are asleep, or tired of life, or even dead" he says. Further paraphrasing of his words brings us to a conclusion that the artist commemorates the very moment before death, when life drifts away and something unfamiliar begins. This moment is truly precious to Eric because everything is silent. He wants to evoke that stillness, loneliness, that sensation of fear, melancholy and happiness.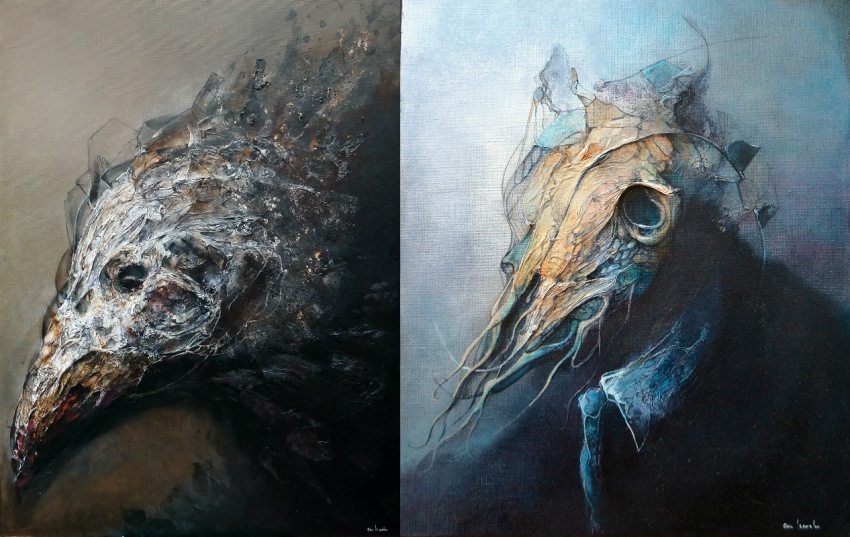 Focus
With biggest potential for allowing the artist to express anguish, Eric favorizes painting over other forms of expression. Focusing on sensations of dissolution in his proposals, his arrangements associate the multi-dimensionality of the facade to the discarnate void of the territories in which the characters act. The advocates in his creations are neither animated nor dead, lingering amid two contradictory renditions of reality, beguiled by the reflective junctures of contemplation. The alterations acting out in this austere surroundings are not ominous or vicious, they heave in adumbration and secrecy.
Crossbreeds of hominids and beasts are depicted using broad and texturized strokes of paint, usually in gloomy and vivid colors. Wide brushstrokes are utilized in such a way, that they almost directly exude the drama in which he dismantles his subjects' mournful juxtapositions of designs, colors and perception. Lacombe's modulations are meant to arouse in us reflections on repercussions of time on our carnal and metaphysical selves, our flesh and collective archetypes. The populace in his works are in eternal discourse with their faculties of dismay and reprieve, whilst the observers are urged to walk inside the artwork and cohere with the turmoil.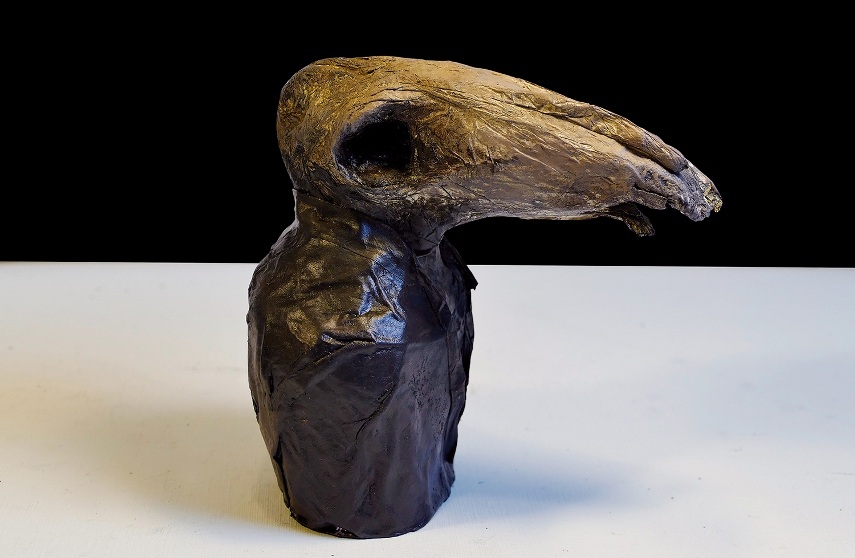 Last Rites Gallery Presents Eric Lacombe
Eric Lacombe is a graphic designer, digital artist and self-taught painter. He mainly focuses on depicting the mangled faces of both typical people and fictitious humanlike beings. The cognitive prospects of these portrayals echo the divergent emotions of human beings, experienced when facing the boundaries existing between waking life and Hamlet's sleep. Lacombe utilizes acrylics, paper, oil, pens, glue and other mediums to create his drawings and paintings. His works will be on display from March 5th to April 15th, 2016, at Last Rites Gallery, New York.
All images courtesy of Last Rites Gallery