Ernest Pignon-Ernest Interview - The Power of Memory and Space
Ernest Pignon-Ernest's latest exhibition at Galerie Openspace in Paris is dedicated to Italian director, writer and poet, Pier Paolo Pasolini and the question of his brutal and untimely death. A haunting drawing, which shows the artist carrying his death self in his arms, appeared in many Italian cities that remain important for Pasolini's life and legacy. What have you done of my death?, asks the eerie look in his eyes, as his life-sized figure is pasted onto public walls. The streets have always been home of the art of Ernest Pignon-Ernest, ever since his first interventions in the 1960s, and the French legend hasn't stopped exploring the memories of the world's prominent characters and intriguing locations ever since. We've had an amazing opportunity to talk to Ernest Pignon-Ernest in the latest of our artist interviews.
As modest as ever, he talked about the inspiration behind his works, the ways his art should be perceived and what it means to choose, examine and get attached to a certain place through art. How did Ernest Pignon-Ernest connect and relate to the life and work of Pier Paolo Pasolini? How did people respond to his tribute? What does he think of the work of JR, who he also mentored and had great influence on? This more after a quick scroll down.
Revealing the Presence of Space
Widewalls: You are known for speaking your mind about many world issues in a particular way. Why is urban art your "weapon of choice" in doing so?
Ernest Pignon-Ernest: The public space, as Georges Perec once wrote, is "the space of the species", a space that we humans share, it is both the material and the subject of what I propose. I'll be more specific in my answer to your second question, in which you will notice that "I am very attentive to the choice of location of my works."
Widewalls: Your work consists of a lot of research. In particular, you put a lot of effort into choosing the right place for the display of your work. Could you describe the process of choosing it and the criteria it needs to meet in order to become a part of your project?
EPE: Contrary to what your question suggests, my "works" are not my drawings, but the locations themselves, which become works once I put my drawings within them. This means that they are essential, that I choose these sites for both their visual characteristics (space, light, texture of the walls etc…) and for their symbolic potential (their history, buried memory…). It all starts with the understanding of a certain place, its reality, things that are visible, invisible or not there anymore, and after that I develop my drawing, and decide what I will draw and how. Once the drawing is created for a specific place, it becomes inseparable from it; its construction and interior space are determined by its presence, which turns the location into a plastic space and, at the same time, evokes the work as symbolic, disturbing, reactive with suggestive potential, attributing a new meaning to it all. To be more precise, they say I do artworks in locations, but really I make artworks out of locations. It never occurs to me to go and put artworks on the street; rather, by incorporating my image outside, I create a reversed ready-made – the street becomes the work itself.
Widewalls: Seeing that your art is public and that it tackles many burning issues, you often get help from residents themselves. How would you describe this relationship with your audience and the spectators of your work? Can you recall any particular experience with them, good or bad?
EPE: The perspective of this relationship is constant at each stage of the realization of my projects: the creation of my drawings, graphic works that don't depict but rather reveal a presence; the choice of "life-size" imagery, a certain equivalence between the subject and its depiction, that is about both the quality of the image within a place, but also the fact that the meeting with the depicted character is like face to face, it's something physical, sensual…. It is obvious that the encounter with the artwork that we choose to go see in a museum is an essential and intense thing… the unexpected encounter in public space is another experience, and when it is successful, it should suggest a dense and new understanding of the place to its "viewer", the sense and sensibility of those who live there; show, for example, how the sensation the viewer feels is responsible for the site's revived history.
Pasolini as Inspiration
Widewalls: I'd like to give special attention to your latest project, about the life and the untimely death of Italian film director Pier Paolo Pasolini. Could you tell the story behind your fascination with Pasolini and the image you're using in the work? It is based on a photograph by Sam Nzima, if I'm correct.
EPE: Ever since I discovered his poems, the first being The Ashes of Gramsci, Pasolini has been my inspiration. The reasons for my admiration are many: his work as a poet, filmmaker, image maker, the way he was committed to it all, that vocabulary item we have in common: the body, the naked body, the choice of painters that inspired him, like Masaccio, Duccio, Bacon, Caravaggio, Giotto, whom he himself plays as the disciple in Decameron… his references to Roberto Longhi, his unique way of speaking of great myths in our time that are still forged our consciousness (Medea, Oedipus, Jesus…), the way he explored Greece, Africa, the two sides of the Mediterranean… A visionary, he was torn by the desire to transform the relationship between people and the acute lucidity through which he foresaw acculturation, dehumanization, the norms that would define the consumerist neoliberalism, that he compared to the new form of barbarity. While he warned us about the diversion of physical and spiritual aspirations of emancipation that this society was going to undertake for the sake of commodification, he also pointed out the monstrosity of communism, unable to consider a human being as sacred. As a Marxist, he knew that his quest to find absolutism and brotherhood was in the gospels.
In Naples, I started my collage series by combining the image of his severed head with that of Caravaggio, promoting both their legacies. Not only did that share the same lifestyle, fed with passion and radical demands, or the love of Naples and its people, but also the will to examine the great biblical rites as if they were experienced by people in the street, as if they were something in the air… For his latest image, I created my drawing from police documents, and whoever saw the pictures of Pasolini's broken body lying on the gray sand of Ostia will recognize it – a drawing of a clinical realism to depict the pieta of Christ, like a Pasolinian quest meant to highlight the sacred within the most prosaic of realities. Pasolini is carrying and showing his own corpse, asking: what did you want to keep quiet by killing me? What have you done of my death? My drawing represents these questions, still unanswered, peddled in the streets and on the walls of Rome and Matera, Naples, Ostia, in places that have links with his life, his work, written or filmed… and his death.
Widewalls: Have you received any reactions from the inhabitants of Rome, Naples, Ostia and Matera about the work? It sure received a lot of attention from the local media.
EPE: You know that I always proceed in the same way… I ask for no help, no authorization… I paste my work at night mostly, quietly, and my drawings are never signed … yet I have indeed had reactions – there was a group of people who filmed some collages overnight and then I discovered their recordings the next day and they were very interesting… Pasolini was always easily recognized and his double image was seen by all, even by young people born well after the death of Pasolini, and they thanked me several times for creating this and for raising the "Pasolini" question once again, with "what have you done of my death"… There was a tribute to him in Rome on November 2nd and the event was announced with a picture of my collage … The local newspapers in Rome and Naples assigned the work to me, despite the the fact there was no signature or any contacts… later, I also got a lot of feedback from my website and via Facebook.
(No) Opinion on Politics
Widewalls: How different is the situation in the world now, compared to when you first got involved in its events? Is it, perhaps, harder to talk about certain things today than it was before?
EPE: I'm sorry that I cannot make a geopolitical analysis as part of our interview .. it's true that when I started my career, there was still the Berlin Wall, despite the virulent anti-Americanism provoked by the horror of the Vietnam war. I never thought that Soviet totalitarianism would bring a brighter tomorrow and, unlike many artists of my generation, I had the same rejection of the Chinese Cultural Revolution… and in terms of my practice, given the independence of my ways of working, I did not feel real change.
Widewalls: What are your views on the current migrant crisis in Europe, and the world? Throughout your career, you've dedicated yourself to this topic many times.
EPE: Like in the previous questions, I'm not able to answer the questions about these dramatic events. The fact is that already in 1974 I worked with the topic of immigration, but my work wasn't just about that – it talked about people and inflicts upon them.
On his Legacy and JR
Widewalls: What do you think of the work of JR, another artist who gives a voice to individuals and communities in a particular way?
EPE: His is probably the best proposal of both singular impact and the one that demonstrates the most effective and intelligent assimilation of techniques and the effect that communication has today. This ability to make the Internet and social networks the very tool of a work in progress, the ability go back, to see an artwork come to life… Take his achievements in the favelas or Africa for instance – he created images within those places, of its people, of their lives, their history, and that's what the work is about. I know from experience that without a true connection with the inhabitants, such intervention is impossible.
Widewalls: Your art is present on a global level. It has known no boundaries for over half a decade now and your legacy is already quite remarkable. What do you think the future holds?
EPE: I sincerely think you exaggerated my legacy… and in any case, that doesn't make me a good prophet for the future. You know, when I began to intervene with images in real space the way I still do today, it was on the Plateau of Albion, protesting the installation of the atomic strike force… there was an exciting mobilization, led by the poet René Char, songs and poetry performances from village to village, I remember almond, lavender.. the Benedetto theater, these new artistic practices… everything seemed to carry great promise: it was in 1966 in Provence, right where the National Front had just won 50% of the election voters…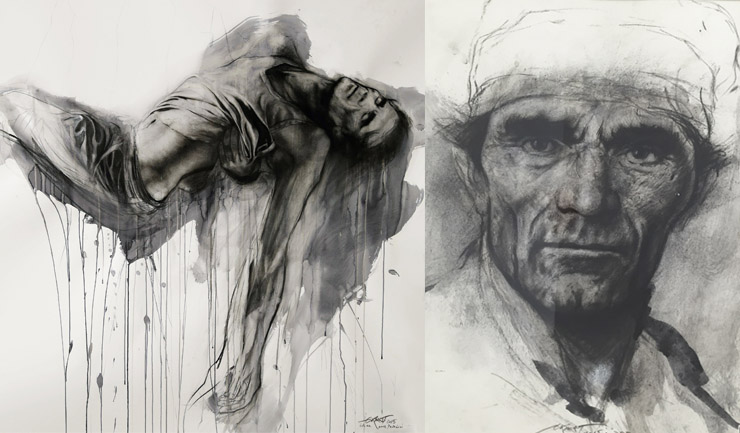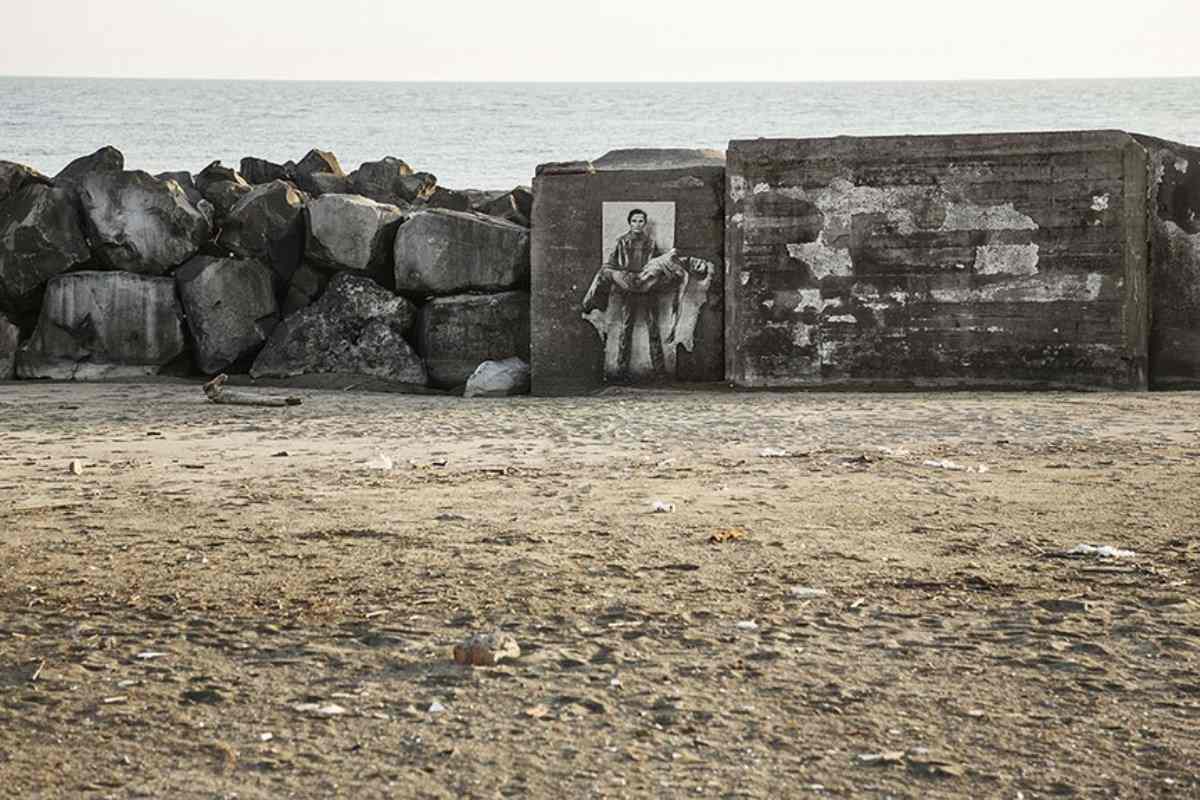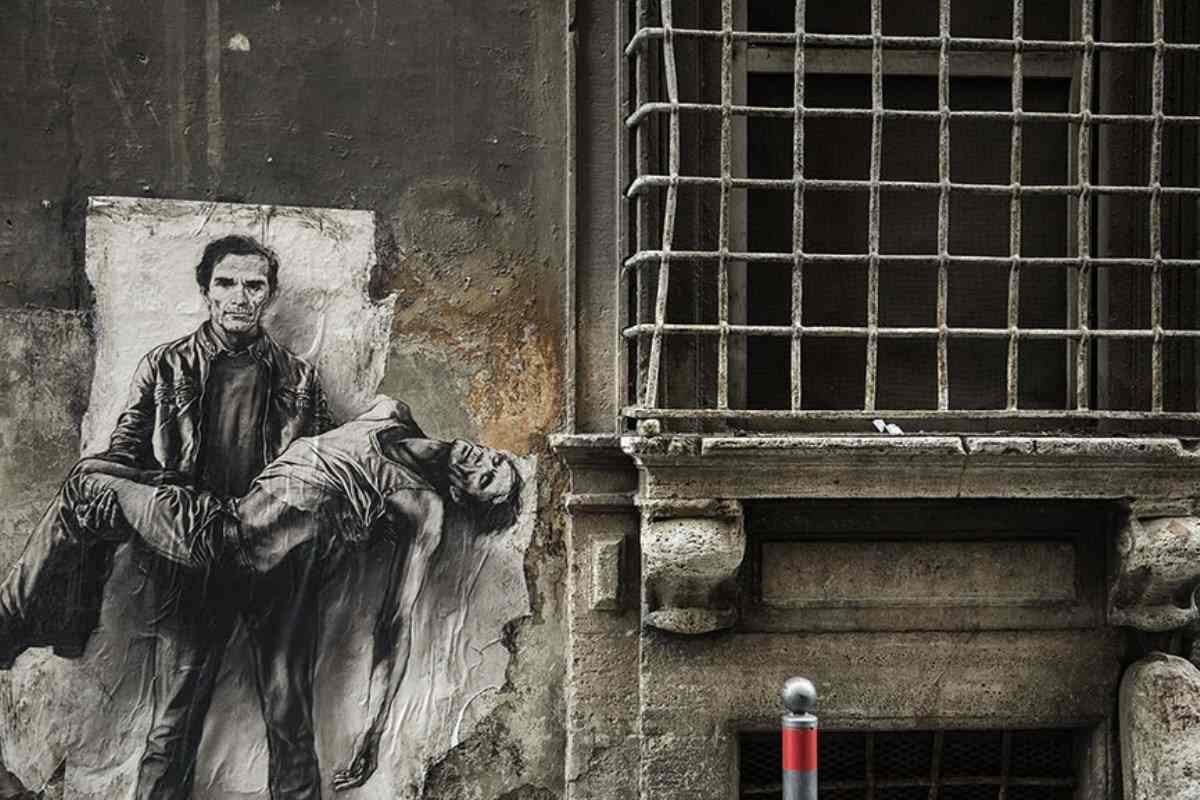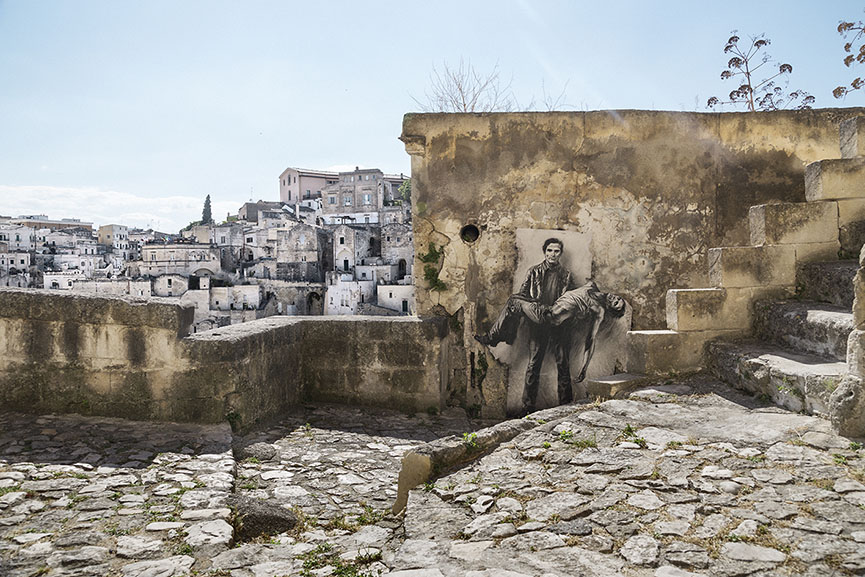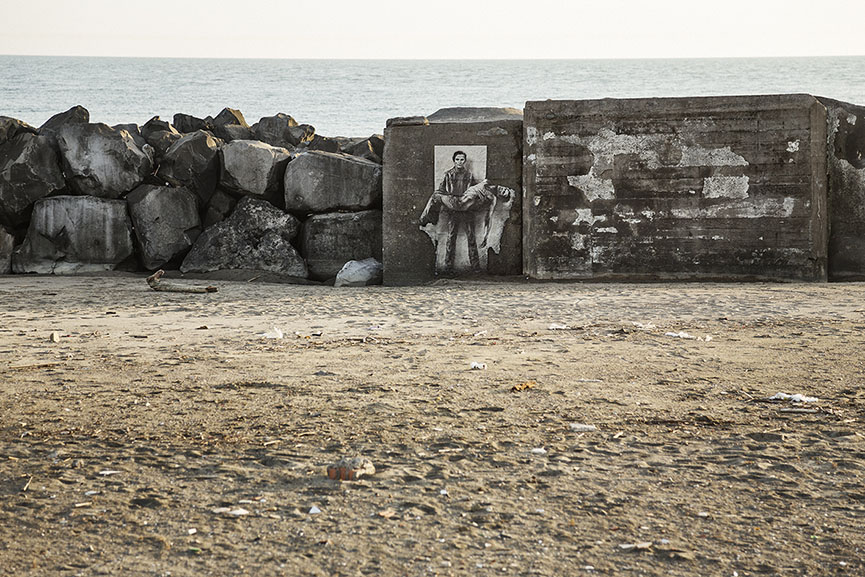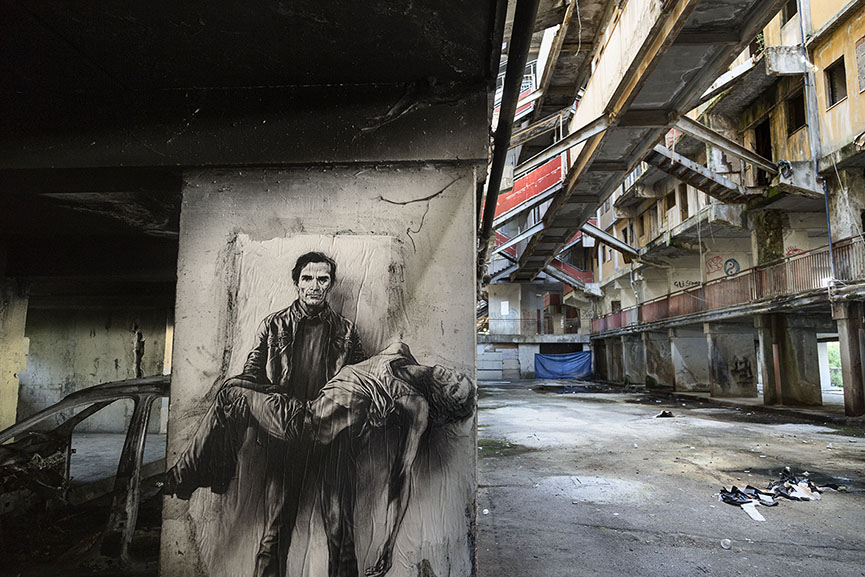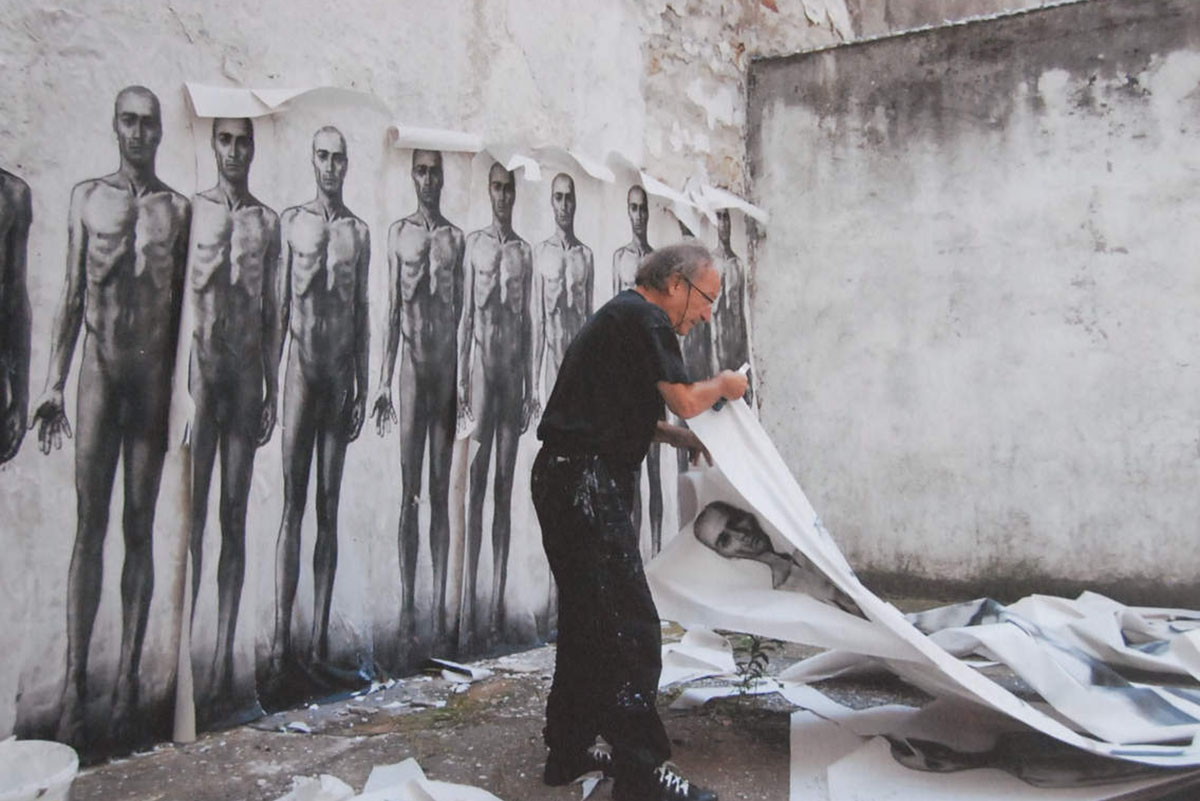 All images courtesy of Galerie Openspace
Follow These Galleries
Paris, France

Paris, France

Paris, France