Artist of the Week - Fintan Magee
With so many great artists around the world, it is sometimes so hard to pick a week's favorite. This time, however, we didn't have to think as much. Fintan Magee, our new Artist of the Week, is one of Australia's most prolific talents with a growing army of fans across the globe. With his new solo show starting soon in Melbourne and a group show in Chicago currently on view the choice came naturally. More than often, Fintan Magee has been called the Australian Banksy for his particular sense of humor, but there are so many differences in their style that the title doesn't seem to do him justice and even overshadows his highly unique and original approach to art. Growing up in Brisbane in his teens, he became part of the city's graffiti scene but later on turned towards the mural works – something he is now best known for. Fintan Magee mostly draws the inspiration for the world that surrounds him, recreating what he sees and bringing to the surface the extraordinary nature of everyday experiences.
Explorations of Memory and Emotions
It was back in 2009 that Fintan Magee entered the world of contemporary muralism and after six years, he became one of the most famous names on the scene. His murals can be seen across the globes and are widely appreciated by local communities and art lovers alike. Both figurative and surreal Magee's murals explore emotional depths and intricate human relations which make them so relatable and engaging. It is sometimes said that unlike other street artists whose work is rooted in politics and activism Fintan Magee's work lacks political message, but it isn't completely true. His ways of addressing the societal issues are subtly interwoven in his work. He might not be an activist, but in the past he has been drawing attention to many important environmental problems like waste disposal, consumption and climate change. His art is also inspired by the perplexity of human emotions and relations. Therefore, it is no wonder that many of his works deal with social and existential topics, collective and individual memory, exploring a range of emotional states.
Water World in Melbourne
It's been two year's since Fintan Magee had his last solo show. Therefore, the exhibition Water World about to open next week comes as a real treat for all his admirers. The exhibition at Backwoods Gallery in Melbourne displays Magee's latest series of work inspired by the devastating Brisbane floods in 2011. The consequences of the natural disaster are explored on various levels, artist's own experiences and empathy for his fellow citizens as well as the environmental issues and relationship between humans and the natural world they inhabit. In a series of artworks, Fintan Magee narrates the stories of struggle, loss, and renewal with emotional vigor and compassion rarely seen in contemporary art production. The artist's altruism was also revealed in another great show currently happening in Chicago entitled The Power of Paint which gathers an array of renowned international talents to contribute to the charitable cause. Working primarily as a public artist, Fintan Magee maintains his strong connection to the community, which is a praiseworthy quality, considering the artist's growing popularity and influence.
Sign up for My Widewalls and discover world's outstanding talents every day!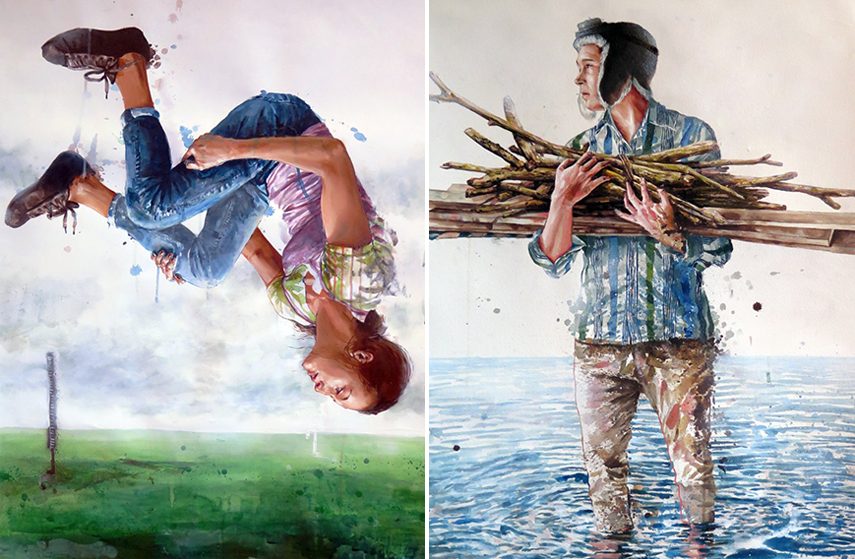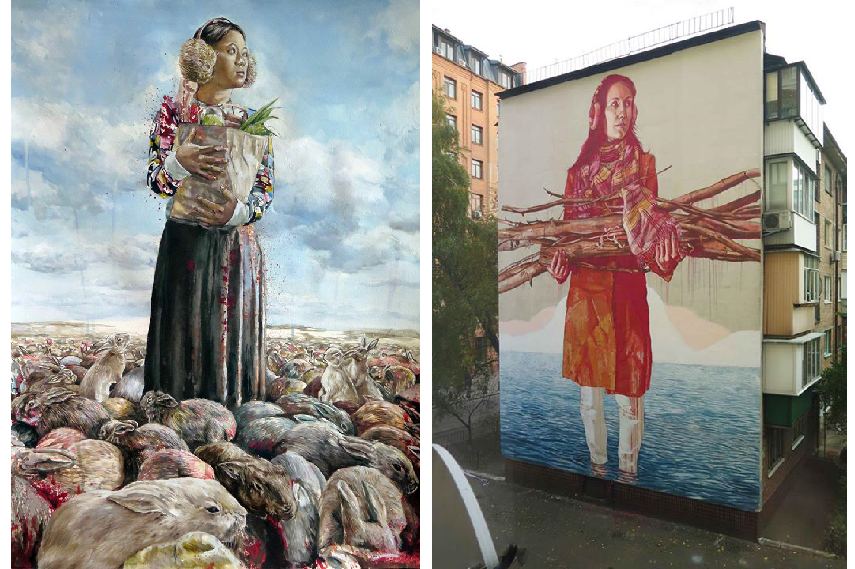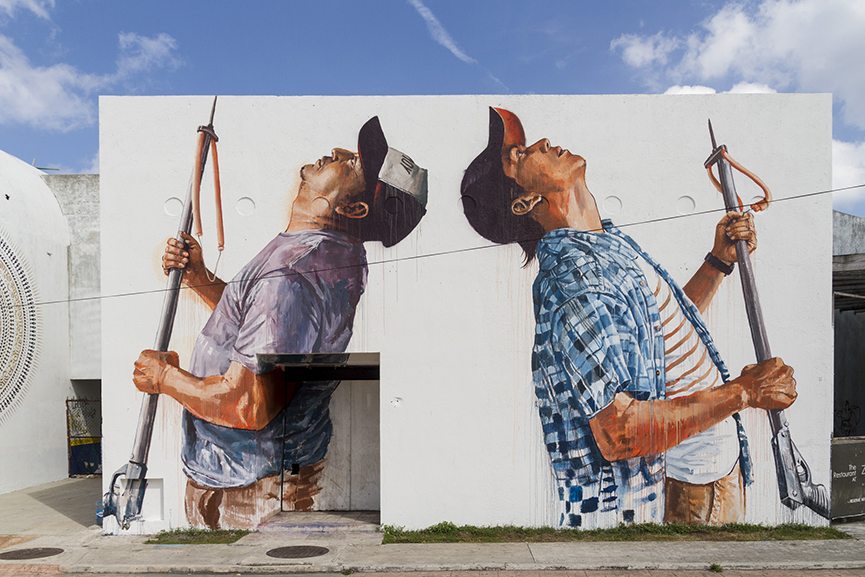 Featured images: Fintan Magee Portrait. Photo credit: The Stills Agency; Fintan Magee – Moving the Pointless Monument, Belgium, 2015 (via streetartnews.net); Fintan Magee – Road To Nowhere. Public Festival 2015. (via streetartnews.net); Fintan Magee – The Fishermen, Limerick, Ireland; Fintan Magee – The Removalist (Courtesy of Vertical Gallery)
Follow These Galleries
New York City, United States