F**k Venice - Brooklyn Biennial Submissional
For everyone in the Art World the term Biennial means something. It's like the Oscars of art just that's its longer and much cooler. The best-known Biennial is the art Biennale in Venice. Now there's a new runner up. Cotton Candy Machine is hosting the first ever Brooklyn Biennial Submissional, a show dedicated to submissions that arrived at the gallery throughout the year. CCM people decided to invite these artists to deliver more submissions for the December exhibition, and the new biennial was thus created. The response to the invitation was grand, as the proposed artwork encompassed a lot of talented creatives. Because of such a great reaction, the CCM had to be very selective due to their limited exhibition space, and has chosen the very best to present at this occasion.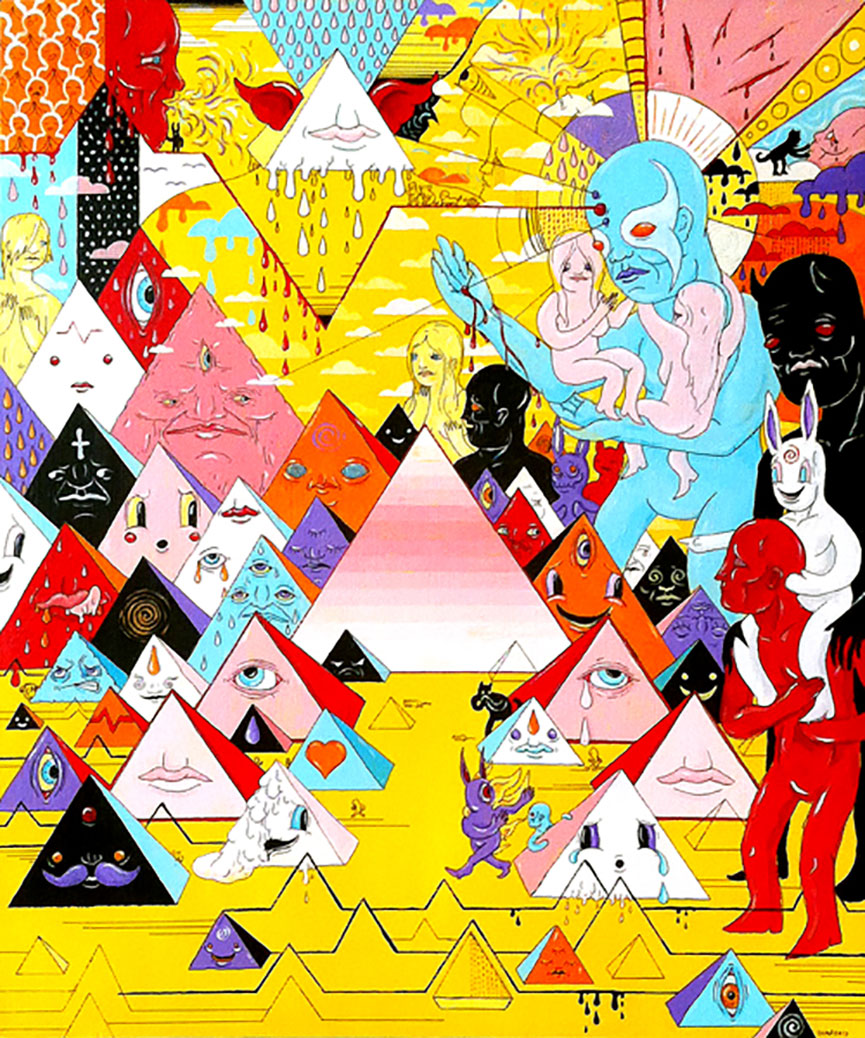 Street artists
Artists announced as the submissional features for the first Brooklyn Biennial are: Dima Drjuchin, Allison Sommers, Tina Lugo, Emroca, Cory Benhatzel, Sean Mahan, JoKa, Ronnie Ray Mendez, Hanna Jaeun, Amar Stewart, Wizard Skull, and Gabi de la Merced. Out of the presented curious line up of creative expressions, one in particular captures the attention. That would be Dima Drjuchin, a Russian American, who creates imaginative, colorful, schizoid, imagery.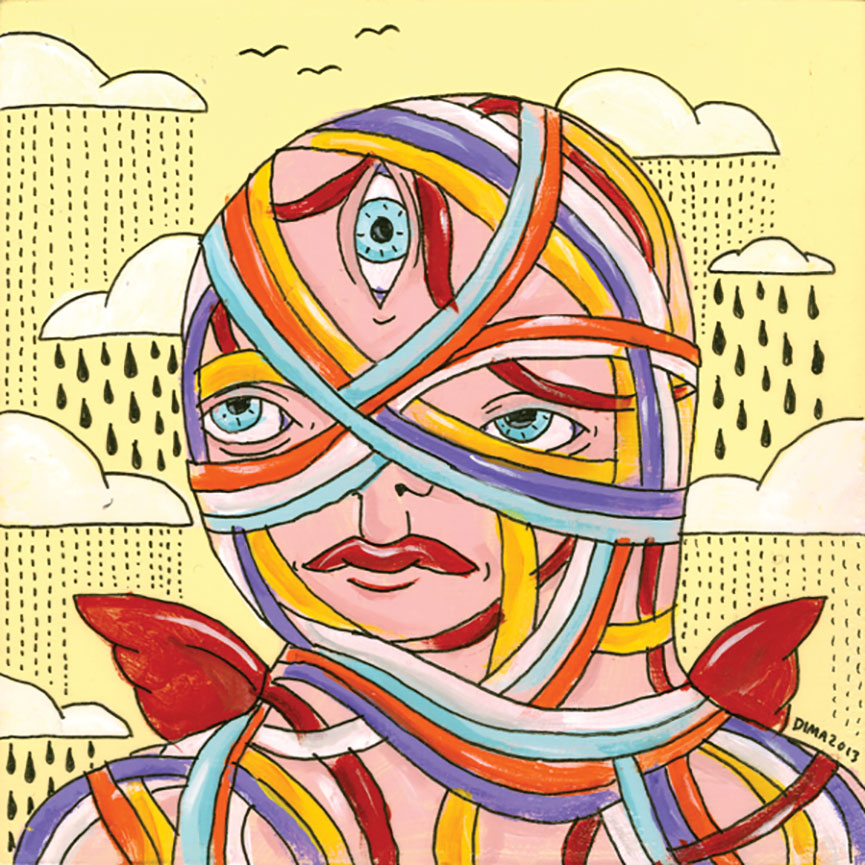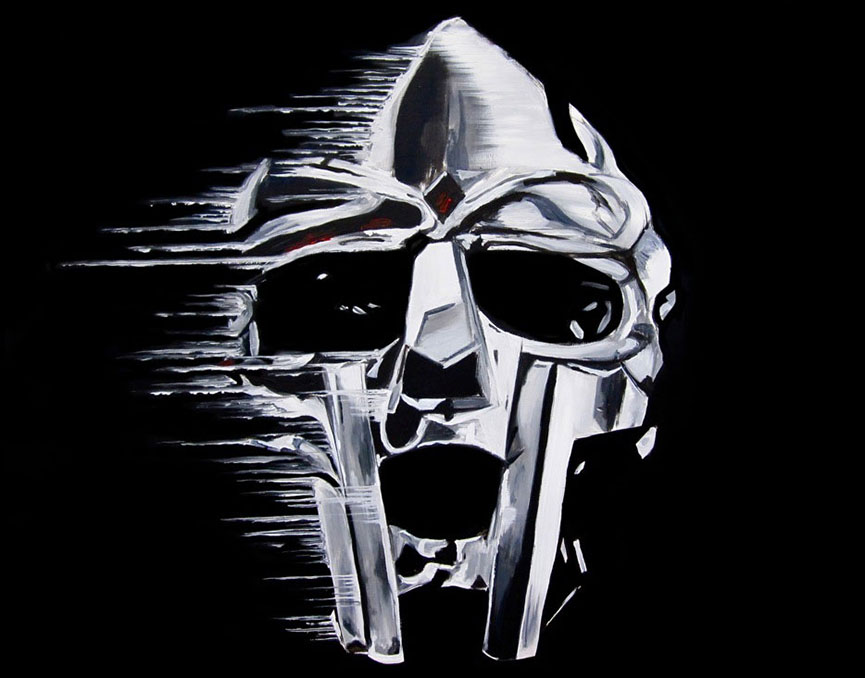 Dima Drjuchin – Background
Dima Drjuchin is a visual artist and a musician, born in Moscow, who grew up on the streets on New York making pictures and sounds. He has a degree in Illustration from Parsons School of Design. Dima collaborated with Cotton Candy Machine this past October, when he painted live at NYCC, and created a piece that now hangs at the gallery. The Cotton Candy Machine has already announced further collaborations with this artist, and his work was featured on national TV, by Jay Leno, Conan O'Brien, David Letterman and Jimmy Kimmel.
Drjuchin's creatures
The crazy parade of creatures conjured in the deepest angles of the artist's imagination marches forward within the frames of Drjuchin's multi dimensional paintings. These beings are defined as the Incarnated Symbols of the Multiverse, disclosing their surreal eclectic nature, while their presence suggests multiple spectative angles of existence.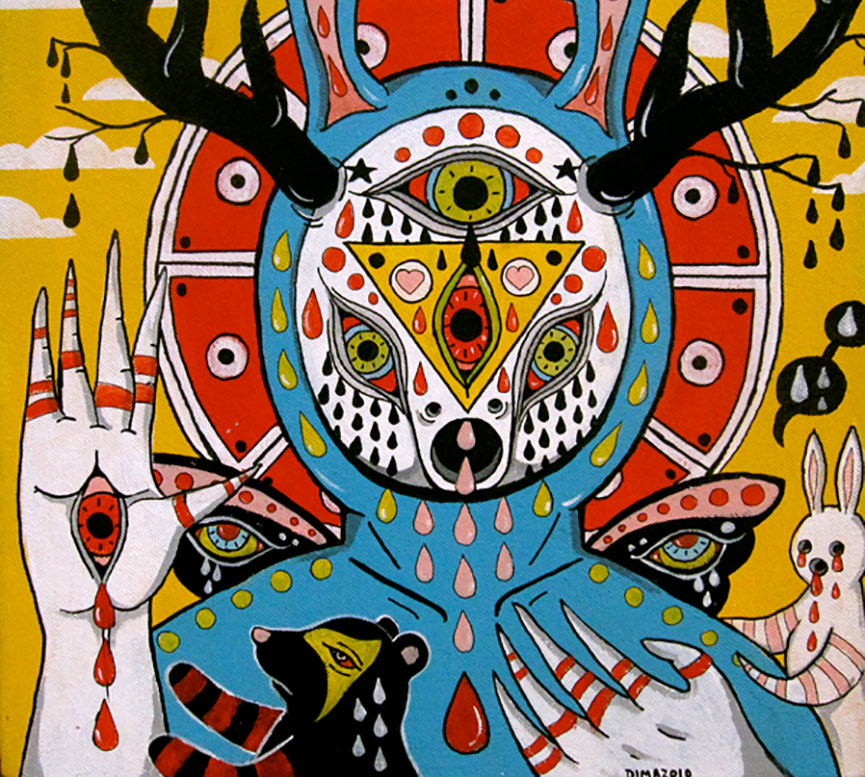 Drjuchin's inspiration
"My work channels different points of reference from my Russian background, to pop culture, to comic books, to fine art, to spirituality, to the occult. I can't truly say that it's a commentary on anything, because I am not interested in judging anyone or anything, states the artist adding that his beliefs are reflection of the many outer influences filtered through his thinking."Although Drjuchin's paintings may seem to attack the observer with their numerous layers of meaning, they are actually very entertaining and intriguing at the same time.
Pictures retrieved from: Cotton Candy Machine