Glory of Two Dimensions: Flat World at David Kordansky Gallery
For most people "flat Earth" model is a myth, an archaic concept of the world's shape that was once considered to resemble a plane or a disk. But for the participants of the Flat World group exhibition at David Kordansky gallery in Los Angeles the world is still as flat as pancake. The exhibition will consist of artworks made in the 1960s, 1980s, and 2010s, which use flatness as a focus point. The exhibition seeks to discover the evolution of flat imagery through the passage of decades, centuries and millenniums.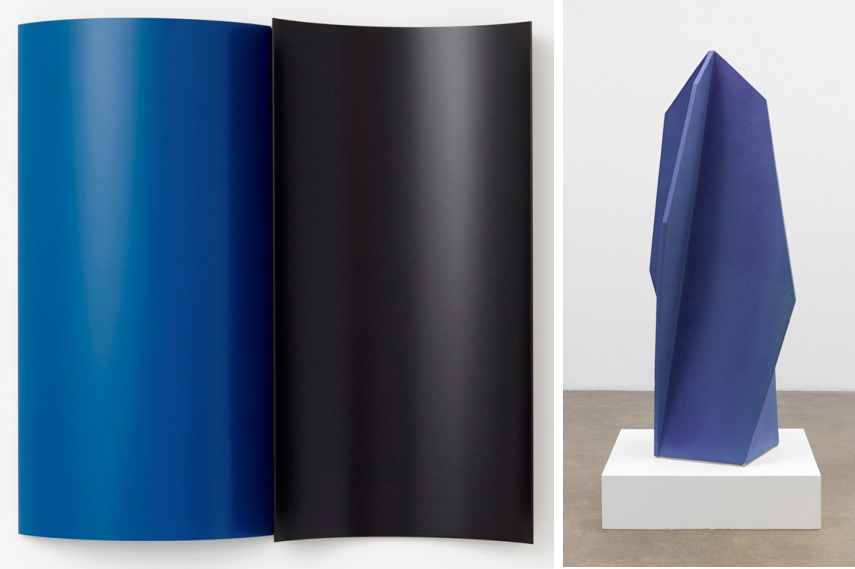 Form and Content at Flat World exhibition
Rectangular Prison with Smokestack painting by Peter Halley is a piece in which form and content are inseparable. Peter Halley's prisons and cells represent at the same time contemplation on sociological issues of living in a crowded urban environment and a mathematical study in geometry. Unlike Peter Halley's artworks, form is content in the large clay sculpture by John Mason. For Shifting Blue Spear sculpture the artist employed a series of engineering strategies, to administer a high level of abstraction and tactility to a challenging material such as clay. Wall paintings by Jeff Elrod are often first generated in a digital format which supplies them with the potential for rapid change, so characteristic of the digital world. His works are strongly related to other objects in the room thus underlining the importance of tangible experience.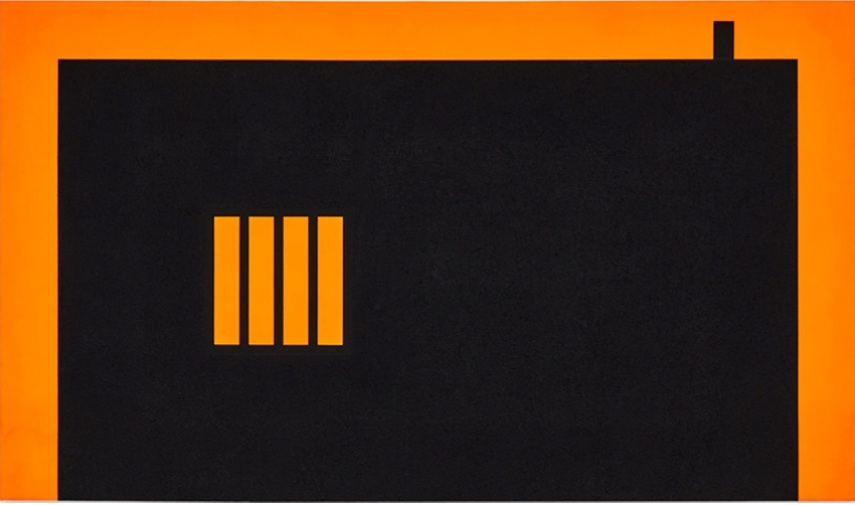 Flat Sculptures at David Kordansky Gallery
The central conception of Flat World exhibition is perhaps best embodied by the Robert Grosvenor's vehicle sculpture. Sharp, straight lines of the sculpture appear as the antipode to the curliness and softness of human body. The pyramidal structure of the artwork takes minimalism to the extreme, while the assembly of flat green panels only reveal the part of its story, considering the vehicle was built as a functional automobile. Richard Artschwager separates art objects from the functional items while creating chairs from wood veneers. Their use is forever subverted by their shape that makes them far too uncomfortable for anyone who ties to sit on them. Tauba Auerbach, an artist known for questioning the limits of structures and logic will be presenting The New Ambidextrous Universe V. Tauba Auerbach's plywood sculpture is a reference to the enormous quantity of information that can be contained and transported on a flat surface of a printed page.
Two Dimesional World at David Kordansky Gallery in Los Angeles
Group exhibition that celebrates versatility of two dimensional artworks will open on Friday, June 26, at David Kordansky gallery in Los Angeles. Flat World exhibition is organized by Karma from New York that is a publisher, a gallery and bookstore. Flat World group show will present various artworks and diverse styles connected by their appreciation of flatness. Group exhibition that explores various levels of flatness and compression will be on display at David Kordansky gallery till August 15th, 2015.
Urban and Contemporary art world may not be flat but it sure is interesting so find out more for FREE by signing up for My Widewalls 
Featured images: Robert Grosvenor – 3 Wheeled Car, 1969 and Tauba Auerbach – New Ambidextrous Universe V, 2014 Images courtesy of David Kordansky gallery
Follow These Galleries
Los Angeles, United States