Will Spray for Good
Flying Förtress is a Munich born street artists with deep roots in graffiti. Since 25 years the artist, known for his precise spraying technique, is part of Germany's graffiti elite. Flying Förtress rose to fame with his iconic Teddy Troopers. He developed these characters to move away from graffiti writing and toward a more imagery based graffiti. He wanted to reach viewers outside the graffiti scene by creating a comprehendible icon in public space. The Teddy Troopers were more direct and more accessible to the public. These figurines became his signature, however, his repertoire is not limited to them. For his latest exhibition at Hamburg's Affenfaust Galerie, the artists prepared a series of works anthropomorphic spray cans.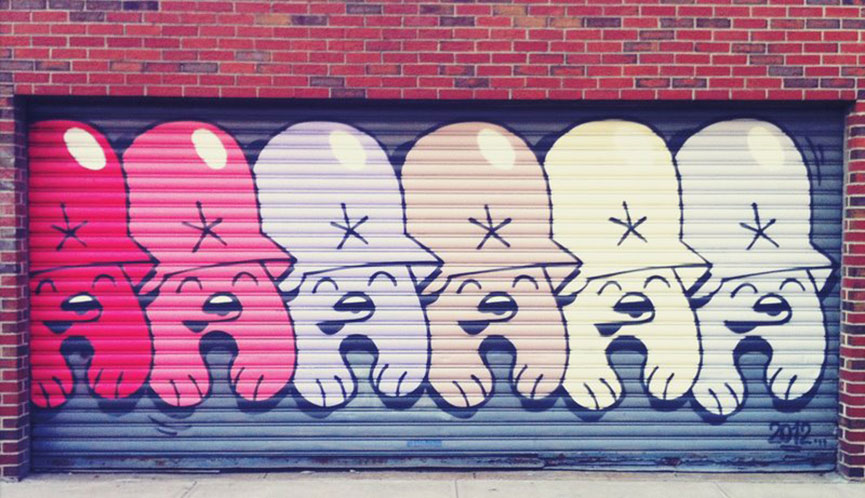 Spray Cans
With the title Will Spray for Good Flying Förtress expresses his loyalty to graffiti. He was and always will be a graffiti sprayer. In the exhibited works he remembers his beginnings. With brush and acrylic paint he brings the spray can to canvas. The spray cans, which are technically difficult to transfer to canvas, become his alter ego. Many of them fulfill clichés of the graffiti culture and are presented humorously. Viewers may catch the spray cans urinating colorfully against clean walls or as a posing crew with the stereotypical insignia of sprayers, like bolt clipper and opening spikes for cans.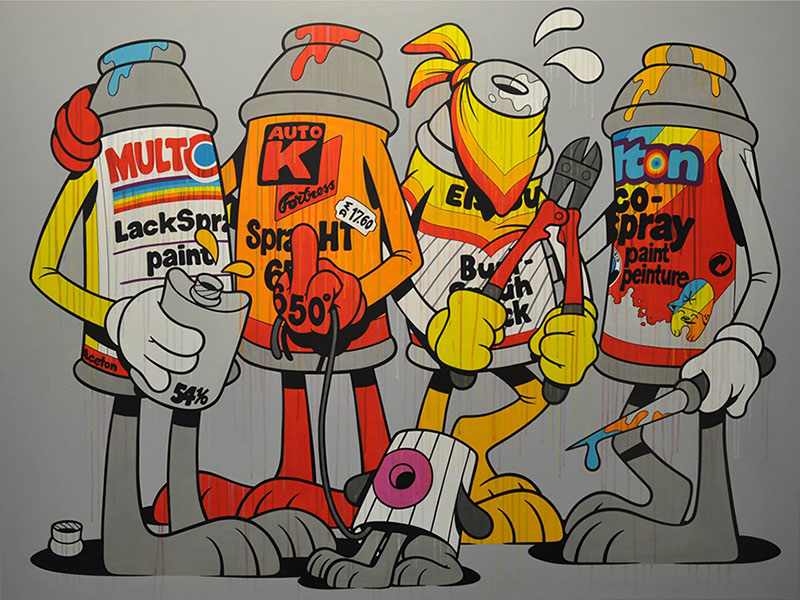 They also act as big game hunters on the hunt for their preferred prey: trains, one of the traditional and most dangerous subjects of this art movement. The spray cans again make reference to the artist's beginnings. When Flying Förtress began with graffiti, there where no specially made spray cans. There diverse cans of old industrial brands, some still with Deutschmark-price labels. Next to medium format works, Flying Förtress also features another icon of the graffiti scene in small-scaled works: The Fatcap. It poses as a likable animal-like spray nozzle that is the always-loyal companion of the spray can.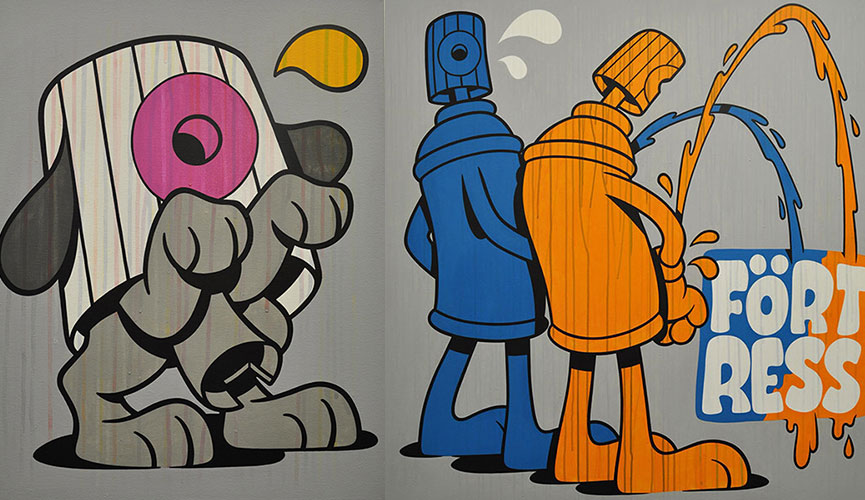 Streets to Gallery
Flying Förtress places a lot of value on exact and clean outlines in his works, but in the background he leaves the drips of the acrylic paint to their uncontrolled path. By doing this he creates his own patina on canvas that can only find on weathered exterior of facades. Thereby he maintains the dirty look of the street and something of the aesthetics of the preceding sketches. In his exhibition, Flying Förtress shows what graffiti represents for him. Away from elaborate techniques and away from the rulebook of styles, he focuses on the trappings of graffiti, the community but also the competition, the risks, the protest and the presentation in public space.
Will Spray for Good opened on November 8th and will run through November 29th at Affenfaust Galerie in Hamburg, St Pauli.
[mc4wp_form]