Fredster Drawings Explore Gender Identities and Virility at Burning Giraffe Art Gallery
Turin-based Burning Giraffe Art Gallery is organizing an exhibition featuring new Fredster drawings that explore gender identities and the archetypes of virility. The works by this French artist and illustrator are drawn with marker on paper. They are usually depicting homoerotic scenes, focusing on male sexuality and gender. Subjects are presented like silhouettes, often looking like ghosts, with covered faces. The naked skin is colored in pink, while the light blue and yellow pastels of the fabrics of short pants and shirts make subjects appear more intimate to the viewer. The show is curated by Giuseppe Savoca.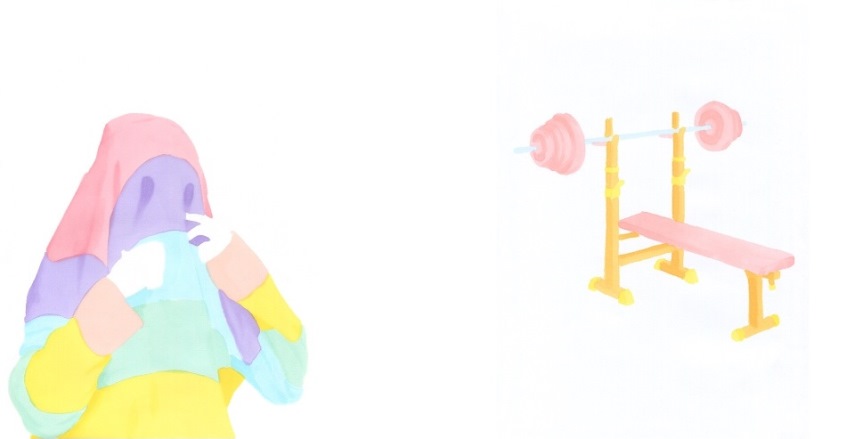 The Art of Fredster
Fredster is Nantes-born French artist and illustrator who has been exhibited widely in art galleries and on art festivals in France, Canada and Germany. Recently, Fredster exhibited in a group show titled Queerodrome, at Lieu Unique, in Nantes and in exhibition entitled TRAUM, Le cas Y, at Bel Ordinaire, in Pau, in the Pyrenees Region of France. Inspired by a post-punk and melancholic Cocteau, Fredster's drawings are dealing with creation, obsession and fantasy and with relationship between desires, reality and fascination. He questions these issues by developing hallucinated graphical orbits, and sometimes making self-portraits. Recently, Fredster has been dealing with gender issues as well, which will be visible during the exhibition at Burning Giraffe Art Gallery. As the artist is described on his website, Fredster is an image maker, building a personal queer mythology. Indeed, Fredster's new drawings are homage to queerness. They are not dealing directly with sexuality (homosexuality, heterosexuality, etc.), but with gender identities which are socially constructed and changeable. That is why his depiction of naked young men at the beach or two young men wrestling are not about their sexuality, but about their gender identity in a given context.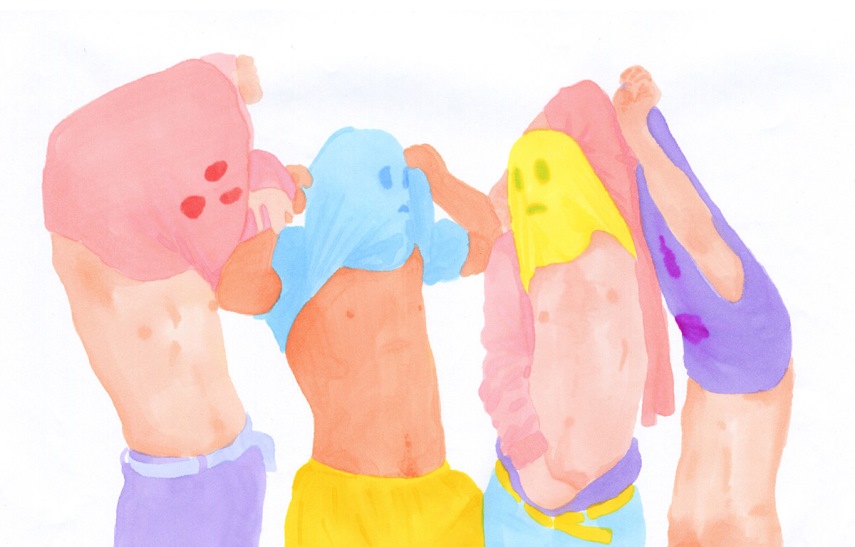 Questioning Gender Identity
How does Fredster deconstruct gender identity (male in particular) and expose virility and masculinity? He often uses homoerotic images that can be found on the Internet. These images are then transfigured through the use of bright and sharp pastel colors. As result, the artist creates images with intense colors, depicting intimate characters, and providing viewers with new perceptions of masculinity and virility. As Alex Vaccani wrote in TOH! Magazine #22: Males caught in a state of bliss, half naked, with light and humid colors which create a soft erotic tension, almost childlike, which reveals a determined sexuality, sometimes more explicit, but that always serves the goal of completing a personal mythology of attraction between male and their sexuality.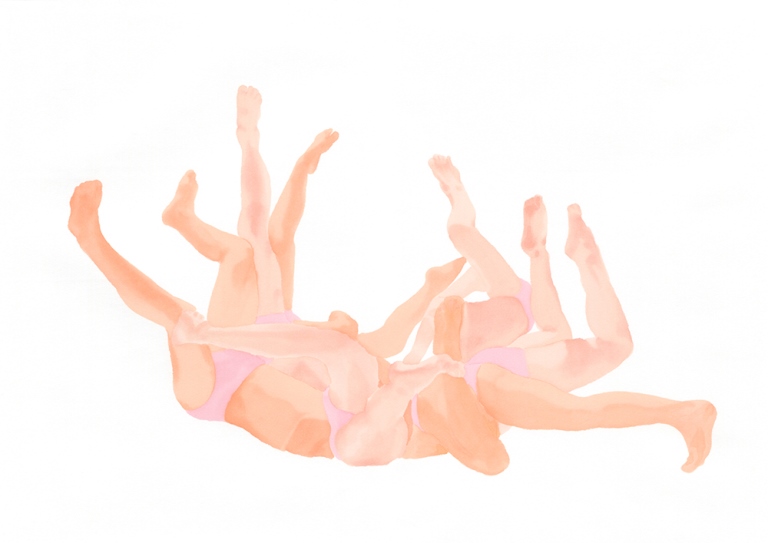 Fredster Drawings at Burning Giraffe Art Gallery
The exhibition at Burning Giraffe Art Gallery opens on September 1, 2016. The vernissage is scheduled for Thursday, September 1, from 6:30 pm to 9:30 pm. On September 3, Fredster and musician Fabrizio Modenese Palumbo will take part in the audio/video performance NOVÖ YŪREI (a post-cartoonist shunga), at Magazzino sul Po, in Turin, within the IMAGO event of the Varvara music festival. The exhibition will be on view until September 24, 2016 at Burning Giraffe Art Gallery, Turin, Italy.
Featured Image: Fredster – Danse, detail, markers on paper, cm 42×30. All Images courtesy of Burning Giraffe Art Gallery