Vote Against Tories and Get a Free Banksy Print... Well, Almost
Are you registered to vote in the UK? Do you like Banksy? Would you like a free limited edition print of his? All you have to do is go against the Conservative incumbent this Thursday in the area of his hometown of Bristol and it will be mailed to you! The street artist posted the offer on his website on June 3rd accompanied by a picture of the artwork and a short statement, once again commenting on the politics in his home country, shortly after painting a mural in Dover with a reference to Brexit. While many would like to get their hands on a free Banksy print, there seems to be a catch in doing so, and it includes being somewhere between brave and, well, illegal.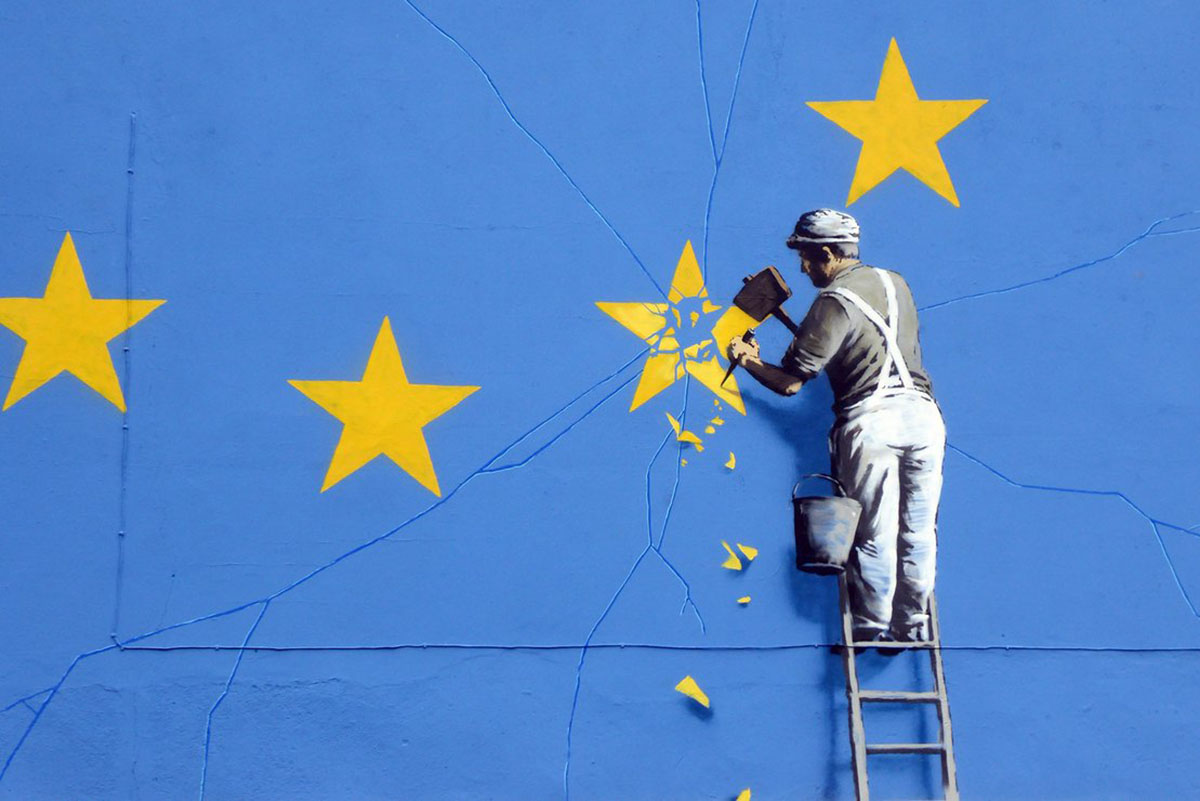 Banksy Offers Free Print to UK Voters…
If you visit Banksy's official website, as usual you will find a statement of his latest endeavors. This time round, it's a chance for you to get the "UK Election Souvenir". Next to a picture of the print, which is yet another version of his 2002 stencil Girl with a Baloon as she is now chasing one with Union Jack on it, there is a short statement. "An exclusive new Banksy print will be released on the 9th June. This limited edition artwork on archival quality paper is completely free, but is only available to registered voters in the Bristol North West, Bristol West, North Somerset, Thornbury, Kingswood and Filton constituencies. Simply send in a photo of your ballot paper from polling day showing you voted against the Conservative candidate and this complimentary gift will be mailed to you." Easy, right?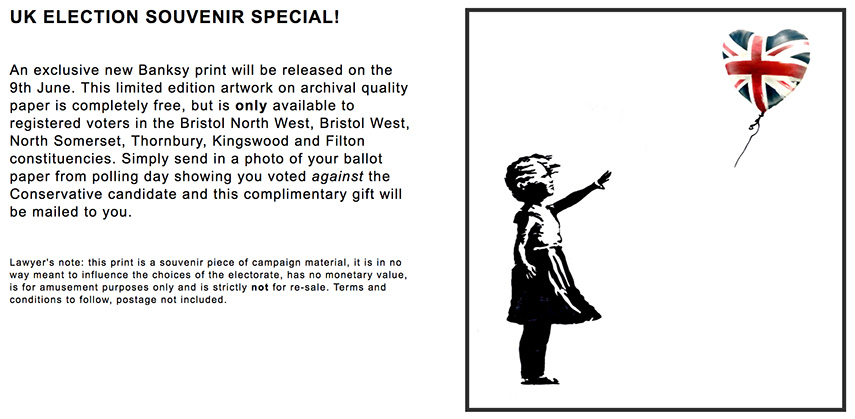 …But to what Price?
Below the statement, written in smaller font as a Lawyer's note, there is another statement insisting that the offer is not meant to be seen as a form of bribery toward potential voters. "[T]his print is a souvenir piece of campaign material, it is in no way meant to influence the choices of the electorate, has no monetary value, is for amusement purposes only and is strictly not for re-sale. Terms and conditions to follow, postage not included." However, intentionally or not, Banksy seems to be going against the Representation of the People act, which warns of the legal risks of breaching election secrecy laws by taking pictures of a ballot paper. In fact, the law states: "No person shall directly or indirectly induce a voter to display his ballot paper after he has marked it so as to make known to any person the name of the candidate for whom he has or has not voted or as to the number on the back of the ballot paper given to the voter at that station." This means that voters could get in trouble by photographic their ballot papers, although the legislation could also be interpreted in different ways.
At this point, as controversial as ever, Banksy could simply be asking how brave we are to get a free print of his work.
UPDATE 06.06.17
All images via banksy.co.uk