I Love Paris! Artists Pay Homage to the Endless Inspiration that is the City of Paris at Galerie Brugier-Rigail
They say, if you come to Paris once, you will be coming back ever after. And that's completely true, isn't it? No one can remain immune to the beauty and charm evaporating from every Parisian street corner, every building, every bistro, every boulevard. And you know what? This saying is significantly true for artists. Not many cities in the world can brag about being 'the one and only', as the favorite and most inspiring spot on Earth. So, the little artist crew gathered together to pay an homage to the city of eternal inspiration, the ever-illuminating City of Light that gives them ideas, courage, and motivation to hold on through their artistic paths. The exhibition, called I Love Paris will be a celebration of the unique artistic relationship between the creators and this eternal city.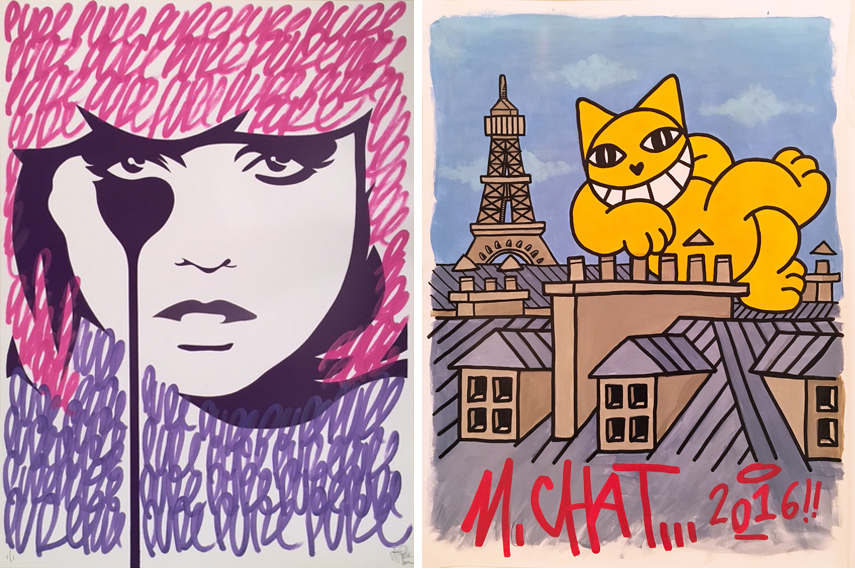 Open-air Gallery and Statement-Walls
It is not just that Paris is inspiring artists to come to live there and endeavor some of their best artworks in a career (as it usually happened throughout the history), but Parisian streets have eventually become some kind of an open-air gallery as well, a place for urban artists to freely express themselves. The street walls, building facades, and subways of Paris became something like the statement-walls and places for the opinion-sharing, open discussion, and creative narratives made with stencils, murals, and collages.
Great Source of Artistic Energy
Eight artists who share their admiration for Paris, got together to make a tribute to this city and everything that it has given to their artistic careers so far. They are Gris1, JonOne, LA II, M.Chat, Nasty, Pure Evil, Nick Walker, and Mun-Gi Yang. Each one of them has a special connection to Paris and this was the opportunity to show their vision of the city. JonOne, for example, is one of the first street artists who entered the Paris institutional walls, while Nasty have always found inspiration for his work in the city of Paris, especially its trains and subways. Nick Walker, on the other hand, is creating a recognizable costumed character whose humorous adventures around the city walls make passerby smile, but they reflect some political statements as well. And M.Chat loves to draw his cat on top of chimneys and roofs of the City of Light. In fact, all these artists see Paris as a great source of ever-flowing artistic energy.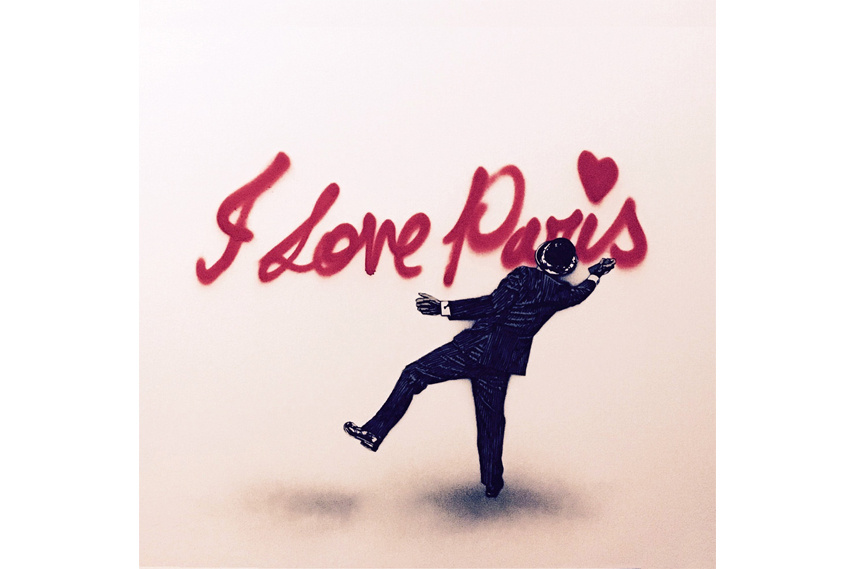 I Love Paris at Galerie Brugier-Rigail
The work of those eight artists altogether is being presented in the exhibition I Love Paris, starting from May 12 until May 31, 2016, at Parisian Galerie Brugier-Rigail. Created in 2001 by Eric and Laurent Brugier Rigail, the Galerie Brugier-Rigail presents a selection of eclectic artworks, with a tendency to promote young and emerging artists, as well as to showcase the work of already renown ones. A new edition of Nick Walker and other serigraphs will also be presented on this occasion. So, off you go, straight to the gallery to get the artistic sense of Paris.
Featured image: Nick Walker – I Love Paris (detail) Slider image: Mun-Gi Yang – Luxury Stone All images are courtesy of Galerie Brugier-Rigail