Galleria Varsi Presents SBAGLIATO Art Project in Rome
Founded in 2011, SBAGLIATO art project by three Roman architects and designers is a product of their mutual desire to change and usurp the traditional urban settings and rigidity of architectural orders by creating 'gaps' in the fabrics of urbanity.  SBAGLIATO's project Vertigine in Galleria Varsi comprises of labyrinthine installation, series of drawings and photographic work, which transform its space into a polygon of visual experimentation where visitors are invited to experience the void.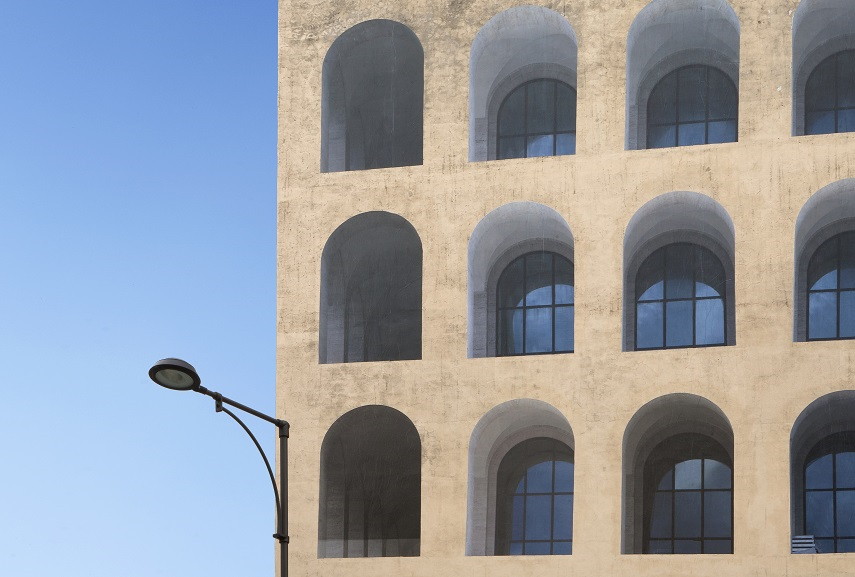 SBAGLIATO Art Project – Creating a Void
The name of the show, Vertigine, or Vertigo, recalls both architecture in a sense of heights it can create, but also humans and the feeling such heights may produce. In both cases, the distortion of perception is involved, and the project marks the continuation of the group dealing with this topic. SBAGLIATO is interested mainly in distortion of perception in public spaces, but for this occasion they moved to the gallery space and chose a symbol of ascension as the topic of the show. Staircase is architectural element that can often be read in symbolic terms. It is not just a simple building solution but it also stands for symbolic ascension from the ground into a higher spheres. Architects and designers of SBAGLIATO have wrapped the gallery space with photographic works, drawings and installation, toying with the rules of vision and perspective in order to move the viewers from the safe and familiar positions. The aim is to provoke reactions and instincts, and to enhance the sense of void through visual stimuli. Faced with such perplexed space, visitors can either choose to cross its threshold, to follow the staircase's summit to infinity, or if paralyzed by fear, to remain suspended or to fall into abyss. The choice is either to surrender to the spinning of the space or to flee.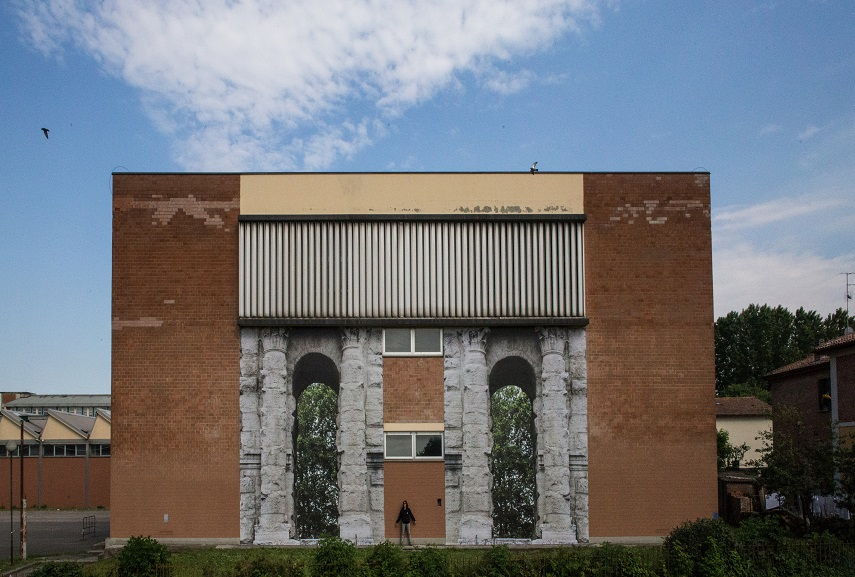 SBAGLIATO's Practice in Public Spaces
SBAGLIATO operates in public spaces through the use of posters, which are the perfect means of expression when mimetic and ephemeral effects are sought. In creation of their works, they usually combine graphics and photography. They also use collage processes and interact with the existing street architecture in order to change it. In posters SBAGLIATO often uses images of architectural forms which are combined, intervened upon and re-introduced into public setting, in heterogeneous but not random manner. Matter is 'opened' beyond its physical limits through the applied poster, and the view into otherness, into fractures of urban context and the void is allowed.
SBAGLIATO participated in numerous public art manifestations in recent years, including Life Is Beautiful in Las Vegas, L'ALT!rove Festival in Catanzaro, Cheap Festival in Bologna, the Memorie Urbane Street Art Festival in Gaeta and many other events around the world.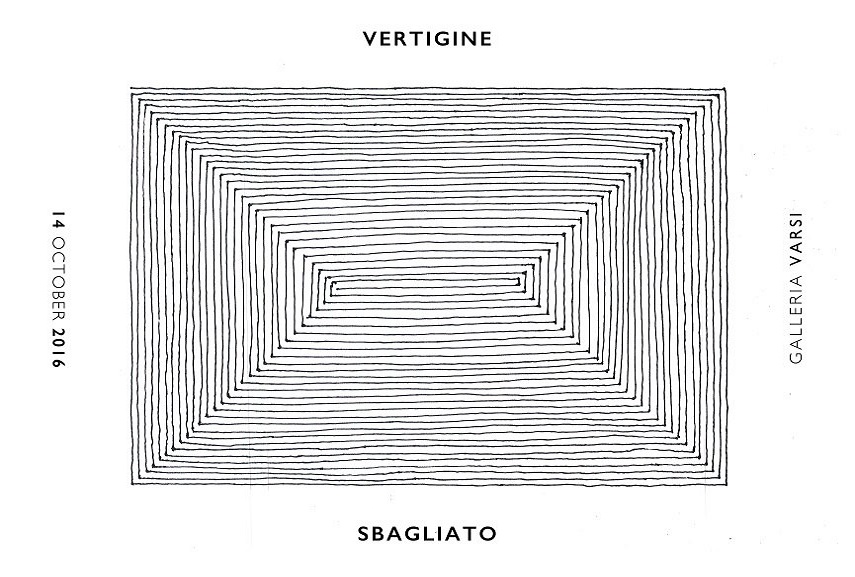 Vertigine in Galleria Varsi
First solo exhibition SBAGLIATO held in 999Contemporary gallery in Rome in 2012, and since then this art project presented its works in numerous museums and art spaces in Italy, including Palazzo Collicola, the Visual Arts Museum of Spoleto, Galleria Toselli and Palazzo Fazzari.
The exhibiton Vertigine is another chance for public to see and encounter the fascinating works of SBAGLIATO. The exhibition will run from 14 October to 13 November 2016 at Galleria Varsi in Rome.
Featured images: SBAGLIATO – Causa Effetto, Memorie Urbane 2013; Vertigine Banner; SBAGLIATO – Mukanda, 2015; SBAGLIATO, Altrove Festival, 2015; SBAGLIATO – Catanzaro; SBAGLIATO – Londra, 2015. All images courtesy of Galleria Varsi.