Possible Worlds
Like a true child of Dada, Gareth Halliday plays with found imagery, arranging surreal scenes using a modern technique of collage, as once early Surrealists employed photomontage. His new and extensive series of works on paper is currently on view at the Newcastle chapter of The Outsiders gallery. The exhibition is entitled Possible Worlds, packed with conceptual insinuations, while simultaneously marking a great step for the artist who is making a comeback to the commercial art world after more than 10 years of self-imposed exile. The display encompasses critically acclaimed pieces submitted to the last March Groucho Club's charity auction in London, where works of Tracey Emin, Chapman Brothers and Peter Blake were also found. Possible Worlds opened on June 27, running through July 26, 2014 at The Outsiders Newcastle.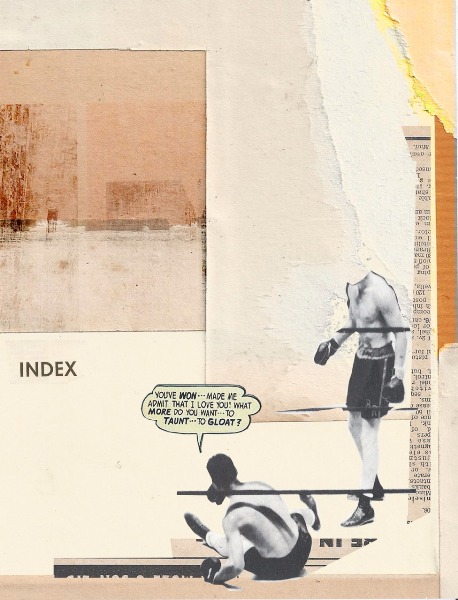 Early Modernity in Digital Collage
Composing his works, Gareth Halliday relies on subjectivity more than anything else, which brings his practice into correlation with early Surrealism and, as mentioned, Dada. He assembles recycled fragments into a coherent whole, while merging traditional artistic values with low, often kitschy culture, liberated from any dogma. He's the free Punk boy of contemporary photomontage, bringing light about our own lives vis witty and ironic representations of the unexpected. Even the title of the show bears a reference to the theory of modal realism, forged by the American philosopher David Lewis, as the oeuvre investigates endless possibilities of making something new out of existing, but discarded or abandoned elements. Having experience in printmaking, painting and photography, the artist fuses his materials, searching for relationships between those pieces of reality passed, reaching solutions that are frequently ambiguously evocative.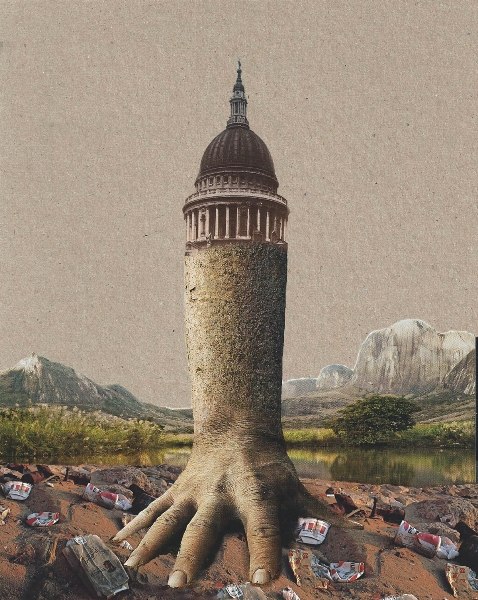 Dada meets Advertising
Naturally, Halliday is profoundly driven by the mass media overload, gathering images we see and instantly discard. His interpretations are personal and universal alike, made of stacked commercials, pop idols, and stereotypes.
Possible Worlds is a collage series of particular, design-like aesthetics, and it adopts a lot from the early 20th century photomontage and photography. Key of viewing it is to uncover the artist's satire, while he pushes the viewer to face the real world and realise the repulsive dissonance between the shallow messages that are served to us through the commercial media and the truth. Halliday's collages challenge our perception of advertising, as he allows us to delve deeper behind the pretty pictures of fake life.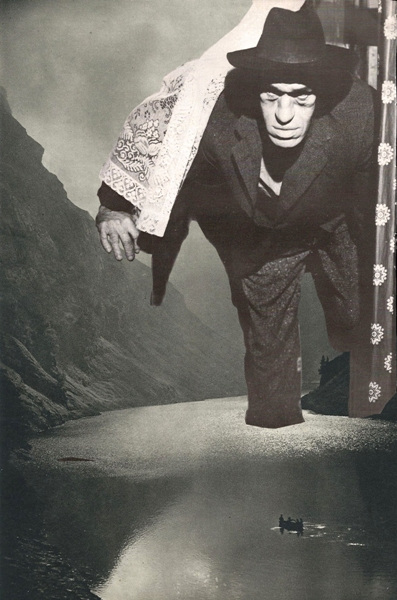 Gareth Halliday
Gareth Halliday graduated in Visual Arts from the University of Northampton in 2000. As the result of a deep disappointment in the commercial art system, he took a full time job as a postman, while constantly thinking about artistic side projects. His own subconsciousness pushed him back into the art world, since his comeback was triggered by a series of repeating nightmares where the artist dreamt of coming to his own exhibition, where no work was on display, but one, sorry-assed postal stamp. This was obviously the clear sign to pursue his true calling – creative arts. His affinity towards collage emerged as the only logical artistic path, since he was a long time collector of vintage magazines, postcards, and ephemera, while the aesthetics he delves into is firmly connected with urban art in and around the city of London.Still, his viewing of the subject remains very private in comparison to the mass production of advertising campaigns that surround us all.