Unforget Me
This Saturday, February 22nd, Jonathan LeVine Gallery will also be presenting the show Unforget Me by Toronto-based artist Gary Taxali. The exhibition includes Taxali's 25 new paintings and mixed media works including his largest painting to date (80 x 90 inches). An acclaimed illustrator, designer and artist, Taxali is one of those talents who have managed to navigate with skillful manner through contemporary art, commissioned illustration, and collaborative commerce.
The show will be on view through March 22nd. Unforget the date!
Comics
Known for a graphic style and retro aesthetic, Taxali's imagery is largely inspired by vintage animation, comics, advertising and packaging. His love of comics began at an early age, but he wasn't so much a fan of comic characters as much as of sequential and straightforward story-telling nature of comic itself. It was at the Ontario College of Art where he fell in love with illustration. Soon after his graduation in 1991, he began working as a professional illustrator.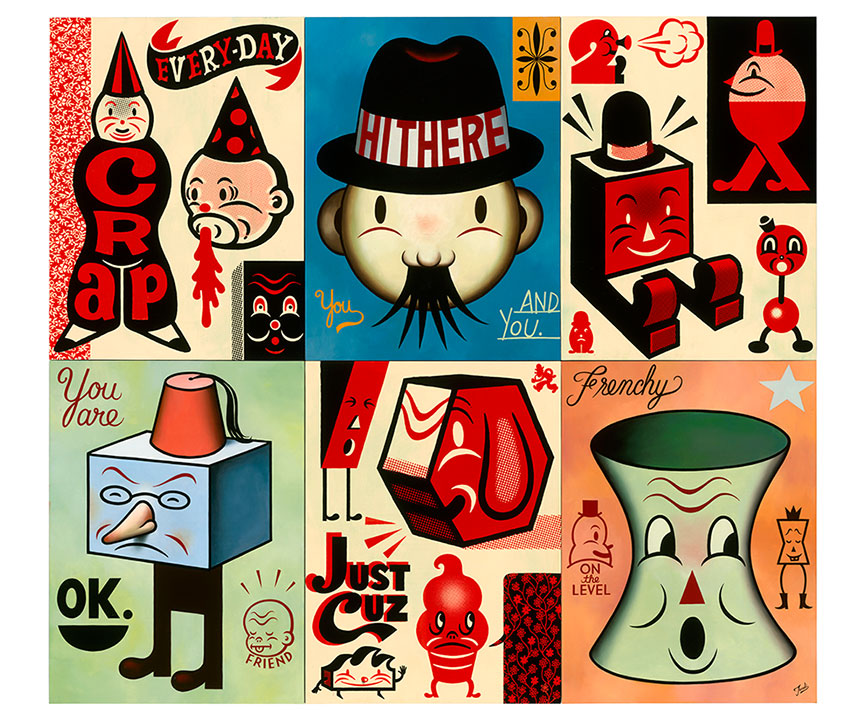 Chumply
Taxali creates hand-drawn typography and expressive, cartoon-like figures with layers of printmaking techniques such as rubber stamps and silkscreen. Hand-lettering is an integral aspect of his work. For Taxali, the type is just as important as the characters he creates. He, even, created his own font, "Chumply" which appears in his work quite often. Taxali is also know for working with multiple mediums and utilizes a variety of found materials like old book covers and torn, scribbled-on pages. He considers these vintage materials to be an already "finished" pieces of art to which he just adds a mark.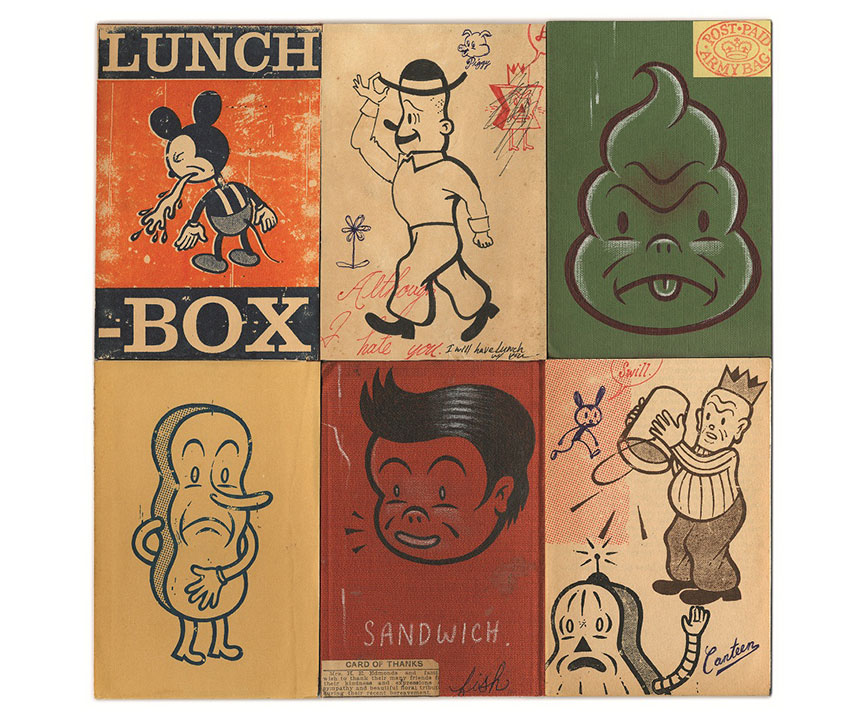 Theme of Paradoxes
Taxali describes the exhibition as exploring: "themes of love, separation, isolation, unease, excitement, revelations and absolute joy through the overarching theme of paradoxes. In these works, my characters try to make sense of their situations and the dualities therein. Many of the works contain opposite reactions, both in concept and execution. I've also employed the use of non-existent words. An effective way for me to convey all of this is through humor, both light and dark, mocking the flaws of the human condition yet serving as a sweet reminder that nothing should ever be taken absolutely seriously—I try to unforget that every day."
Follow These Galleries
Jersey City, United States