Urban Art Group Exhibition at GCA Gallery Marks December
GCA Gallery Exhibition Parallels will mark the end of the successful year for this gallery space located in Nice. As the end-of-the-year treat, the Gallery prepared a remarkable show where well-known names of the French urban art scene, ARDPG, ENDER, KOUKA, PIMAX, and STEW exhibit their most recent works that engage, with their unique aesthetic expressions, with some of the themes and motifs from contemporary pop culture and Japanese manga TV shows. They are also inspired by urban signs, art from the past, especially classical art and the Renaissance, as well as general urban conditions of our times.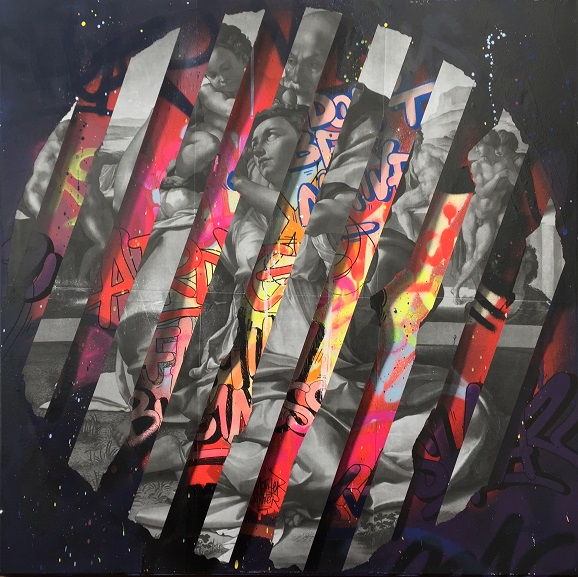 Finding Inspiration in the Past – Art of ARDPG and ENDER
ARDPG is inspired by words, architecture, as well as by our urban surroundings. His works examine the tensions between contemporary imagery and the works of the previous ages. He often combines different techniques and styles, such as collage, acrylic paintings, decoupage, and spray paint. At Parallels he is represented with several recent pieces including The Circle, where spray-painted graffiti are overlaid with the reproduction of Michelangelo's Sacra Famiglia Tondo that is cut out in strips. ENDER worked as a street artist for over 20 years, and is famous for his stencils and paste-ups. Similarly to ARDPG he is inspired by art of the previous ages, especially by Italian Renaissance, which he re-interprets. Among the motifs he usually represents are winged urban figures, gargoyles, and Mariolles or cheeky kids, done in collage, stencils, acrylic and spray paint.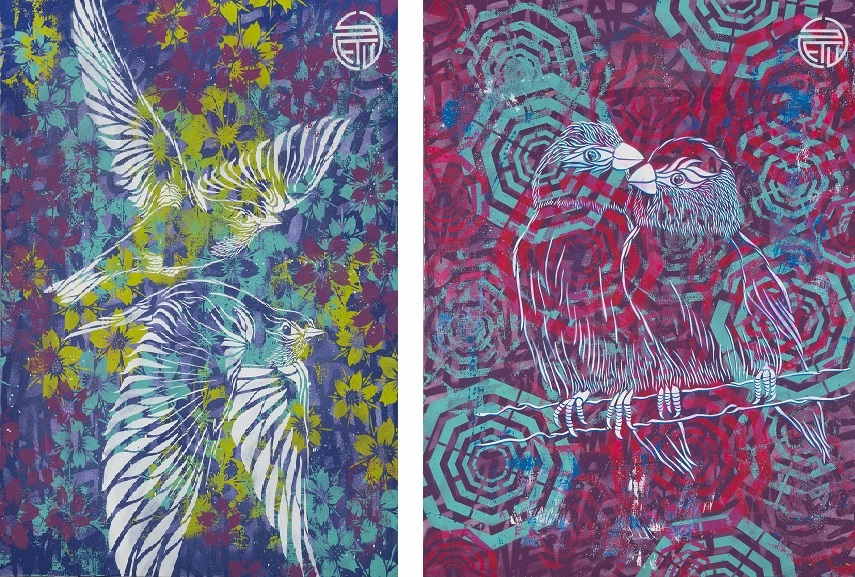 Popular and Japanese Culture in Urban Art of KOUKA, PIMAX, and STEW
Being human and what it entails is explored in KOUKA's work. This artist is inspired by hip-hop music and popular culture, but he also looks for motifs that contain a deeper meaning related to conditions that affect human lives, both in Western Europe and Congo, where he sometimes works. PIMAX is a well-known name on the French and European art scene. He also comes from the street and urban background, and he combines images from popular culture and particularly Japanese manga TV series Goldorak. From this series he created his signature figurine Goldofuck that he represents in almost every possible situation. Techniques and materials he uses include stencils, molding, assemblage, spray paint, resin casting and screen printing. STEW is another street artist who over the years developed his recognizable style that has attracted both street art admirers and gallery goers. In Parallels exhibition he will showcase several of his recent works in which he continues to explore the motifs from Japanese culture done in a cartoonish manner, such as Samurais, along with more universal topics of flowers and birds.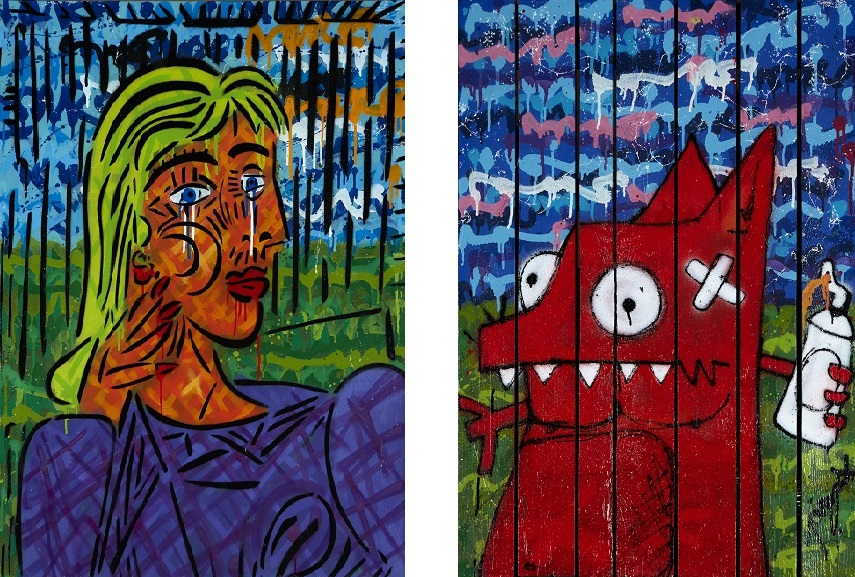 Parallels at GCA Gallery
Although diverse in their aesthetics, the selected group of artists belongs to the same milieu of urban French art scene, and bringing them together in a gallery space is a real treat for art lovers and collectors. Art aficionados will be able to observe their works in one place and admire the showcased artistic skills and richness of the covered topics. The exhibition Parallels at GCA Gallery in Nice will open on December 8, 2016 and will run until February 25, 2017.
Featured images: ENDER – Just the Two of Us; KOUKA – Memento Mori; ARDPG – Blue Battle, 2016. All images courtesy of the GCA Gallery.