Gemma Compton and CopyRight's Relationship With Each Other and Art
A Bristol-based artist, illustrator and fashion designer, Gemma Compton combines classic wildlife imagery with perfectly painted celebrities. She draws influence from popular culture, the natural world and religious iconography, developing a strong illustrative style. Gemma's husband, CopyRight, is also an acclaimed British artist who has been spray painting for the last 10 years. A photographer turned street artist, he realized he could turn his photographs into paintings by creating stencils. He creates urban tales, reflecting on the notion that every action has a reaction.
The work of this art couple will soon be on view at Vertical Gallery. Titled TWO SIDES – Gemma Compton and CopyRight, the exhibition will allow them to explore how their individual artistic practice could be combined into a collaborative project, exploring the "two sides" of relationship. The show will bring together both their individual works and their collaborative piece specially created for this show.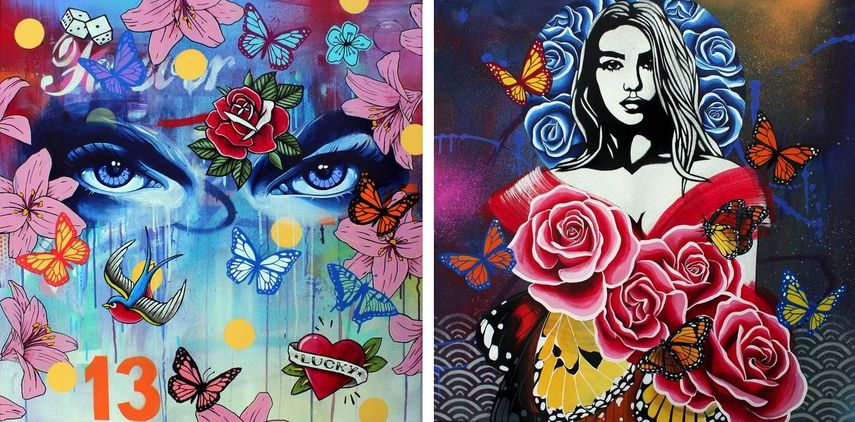 The Practice of Gemma Compton
Spending her childhood in the English countryside, Gemma Compton developed an early love of nature which continues to inform her work. In her work, she explores ideas of love, life, loss, and the beauty of nature. She combines glamorous women with flora and fauna in her compositions, juxtaposing our modern human ideals of beauty with the natural beauty and cruelty of nature.
Nature is beauty and sometimes beauty is cruel. – Gemma Compton
The color blue dominates her works, a shade typical for the 18th-century porcelain. In this way, the artist references her own physical fragility after suffering serious injuries in a road traffic accident at the age of 18. Though she works mainly in her studio now, she continues to create stunning street art pieces.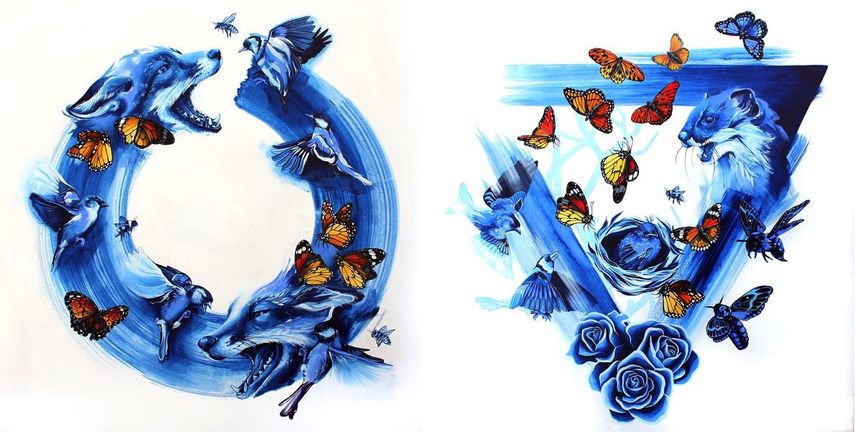 The Practice of CopyRight
Combining his roots in Street art with his dark, romantic narrative, CopyRight created a Pulp Fiction of strong iconographic works. He rose to fame by painting pink roses all over the UK streets, turning it into his trademark. Advancing from his beginning, he often experiments and uses different techniques in his approach to painting, creating depth with the spray can, texture with the use of a paintbrush and the print style with the stencil.
CopyRight's recent works could be viewed as symbols of the eclectic nature of our present. He often combines depictions of strong female characters with vivid pop art imagery, examining emotional opposites such as revenge and forgiveness.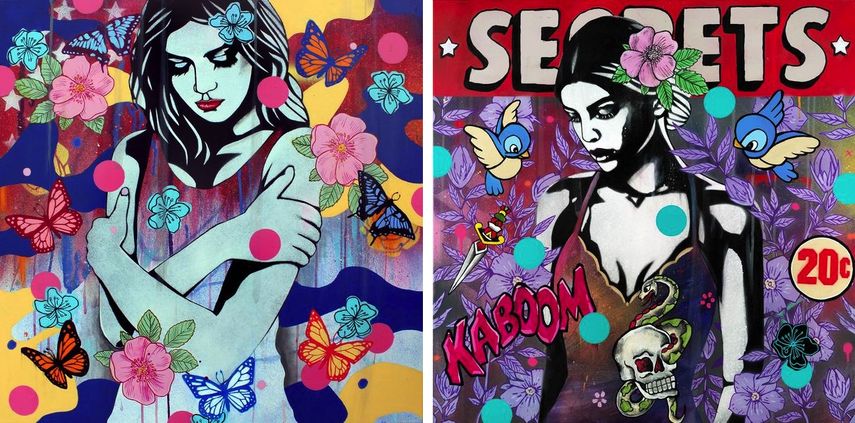 The Artist Couple at Vertical Gallery
The exhibition will be comprised of three sections. A third each for the individual, to showcase their signature style and the other third will showcase the result of them blending their two different artistic practices.
The exhibition TWO SIDES – Gemma Compton and CopyRight will be on view at Vertical Gallery in Chicago between March 2nd and 23rd, 2019. The opening reception will be held on Saturday, March 2nd, from 6 to 9 p.m.
Featured image: Gemma Compton and Copyright – Forever Lucky (detail), 2019. All images courtesy of Vertical Gallery.