Gerhard Richter and the New Paintings at Museum Ludwig
There is a proverb that originates from computing: One should "never change a running system". At least, don't try to question its functionality because you just wouldn't understand. In the same vein, I always wondered how Gerhard Richter keeps running his system for success as though it was simple. The art market and its beneficiaries surely leave no doubt that, in the case of Richter, the equation, important artist = important works, is never to be revised, no matter what the artist produces.
As the prices continuously proliferate, so does the institutional acknowledgement of him. Obviously, once becoming part of the millions club and accumulating enough wealth, there is no need to have your work justified because the money itself acts as an indicator for good or bad. The result of this process renders virtually any kind of critic insignificant (including this one). And, just like King Midas – whose touch turned everything into gold – apparently, according to contemporary critics, each work by Richter is a milestone in the development of art history.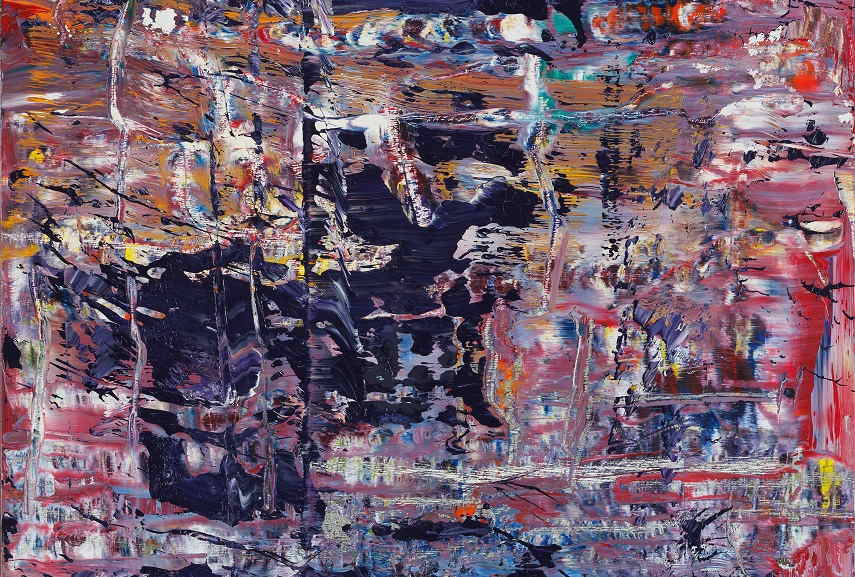 Business as Usual
As for now, the Museum Ludwig in Cologne offers a great chance to experience the constantly debated conflation of art markets and museum institutions. The current exhibition on Richter brings an exhausted German expression, Museum als Durchlauferhitzer des Marktes (museum as geyser of the market), to visual and literal fruition. According to the duty of a museum, the Ludwig dedicated a show to Richter in celebration of his 85th birthday. Being not too fond of the idea from its beginning, Richter eventually took over the setting of the show. Business as usual. It was, however, surprising when the title was released: Neue Bilder (New Paintings). The simplicity of the title already suggested its deeper meaning: There is not much to say (which should not be misread as – little effort was made).
Yet, the fact of the matter is that 26 new works from 2016 which would serve as the main attraction for the exhibition caused a bit of astonishment, as you would expect his gallerist Marian Goodman to be occupying himself with Richter's latest works (and a retrospective celebrating Richter's age be more appropriate for the Ludwig). The new museum pieces, ready to be sold (if not already), getting that last pat on their back before being scattered all over the world. Art dealing at its best: Turning an official museum exhibition into a sales opportunity. Gallerist, artist and museum benefit from this situation alike.
While, of course, artists are often commissioned to produce new works for a museum show, the distinction here is that these works were most likely never meant to be specially shown at the Ludwig. Also, taking a look at Goodman's Richter show from 2016, there is not much of a difference to these works; thereby, giving rise to the fatal question: Do these works matter? And if so, why? Knowing that we secretly don't need to address this question, as prices liberate you from this hassle, we nevertheless do so.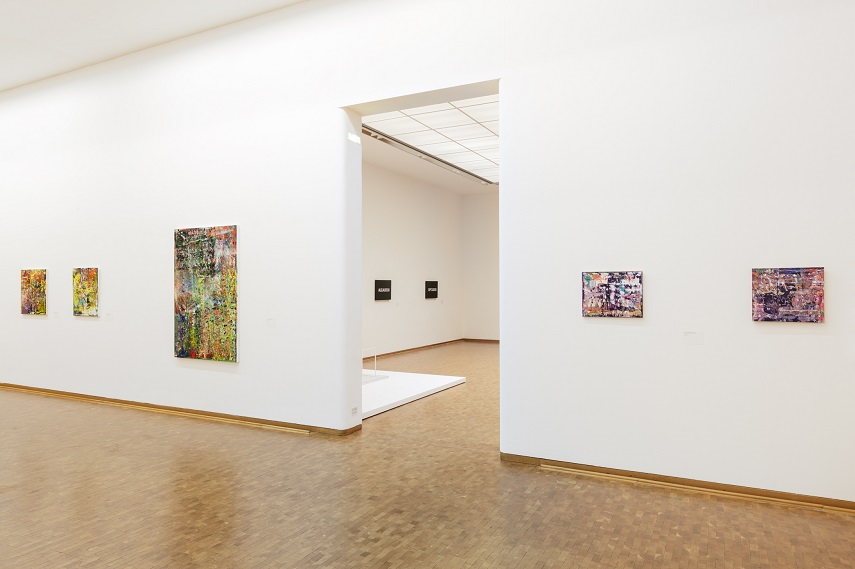 Stop Asking Questions
Reading the press release, it becomes clear that the museum is not even trying to convince the viewer of anything. Starting with a proclamation of Richter's importance as an artist (if by chance, you didn't already know), it finishes off with how these works were made and that they come in different sizes. And, yeah… so…? As everyone should be well aware of his oeuvre and successes by now, it's expected that everyone just fall in line and assume that these works must be good – so please stop asking.
This brings us back to the discussion – Why museums are bad at telling us that art matters – from 2011 in which Ben Lewis said: "What is important is not that you personally think that this is a good work of art, its the way the museum justifies its presence."  The ontological logic as justification offered in this case – it is good because it is Richter – becomes tediously present in this show. As there is generally no distinction between 'art is good because it matters' and 'art is good because it's successful', the show renounces any need for clarification.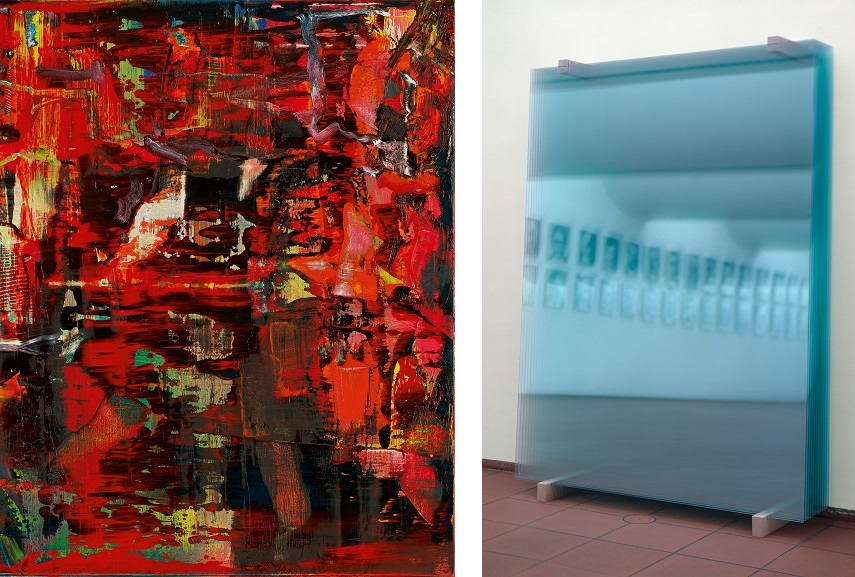 Art Outsmarting the Artist
This is, of course, in compliance with Richter's artistic philosophy: his works outsmart him, meaning; you don't need to talk about them, as they will be always smarter — so just enjoy looking. Again, comparing these works to the ones from the Goodman show, it must be stressed that the "exhibition" is not really about the works, but rather about representing Richter.
To give it at least the idea of a museum show, nearly all of Richter's works from the collection are shown alongside one another (= contextualization). What is usually spread out in an appropriate amount of space has been squeezed into two measly sized cabinets. The new works are all hanging in a hallway connecting the cabinets. After walking less than 100 meters, the show is over. Very much feeling like an intermezzo, which you accidentally come across en passant, it is, therefore, not necessarily a bad exhibition since you aren't likely to take it all that seriously. All in all, you might just mistake it for a gallery space. Despite its small scale, this show very much depicts a situation in which the institutional task of a museum dissolves into the need to increase its visitor numbers.
Gerhard Richter – New PaintingsFebruary 9 – May 1, 2017Museum LudwigHeinrich-Böll-Platz 50667 Cologne, Germany
Featured image: Installation View Gerhard Richter. Neue Bilder. Museum Ludwig Cologne, 2017. Photo: Rheinisches Bildarchiv Köln/ Britta Schlier. All images courtesy of the author.