Gilbert1 Exhibition Explores Fragmented Abstraction at Italian Gallery
After Artissima art fair 2015, all of us realized that the beautiful city of Turin has quite vivid contemporary and urban art scene. The city has amazing galleries, and great contemporary and street art platforms. One of these great galleries is Punto618 Art Gallery, located in Venaria Reale, just outside Turin. This newly opened art space has already shown all its great capabilities – it organized an amazing exhibition of Rems182, entitled Tensione Astratta, that will close in the first days of December. However, Punto618 is preparing for another great show. This time it's about Gilbert1, young French artist known for his work created in abandoned buildings, on the streets of French cities, but also in studio, for the galleries. The Gilbert1 exhibition at Punto618 is entitled Falling to Pieces.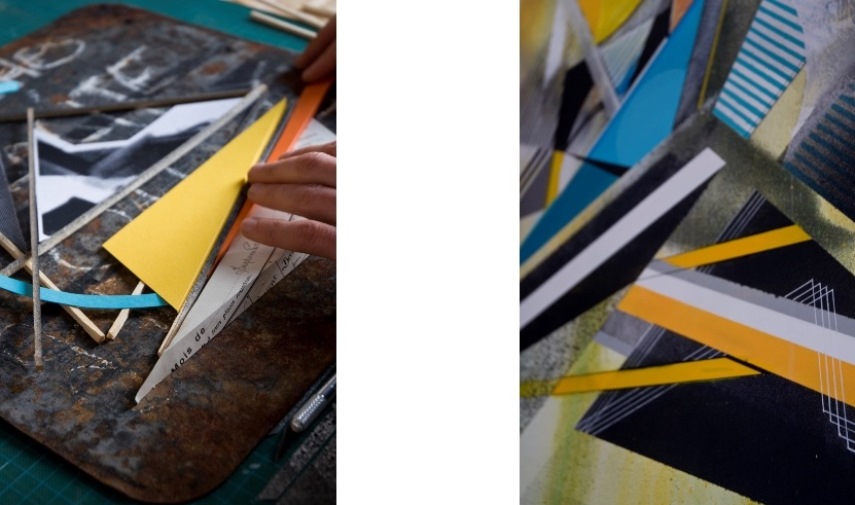 Street Art and Abstraction – The Art of Gilbert1
Although he is known for his street and graffiti art, Gilbert1 also creates in a variety of other media as well. His body of work includes paintings, prints, drawings, murals, videos and installations. His installations are often made of reclaimed material and located in the abandoned areas. The artist has also been interested in calligraphy and typography for a long time. Usually creating in abandoned spaces, Gilbert1 expresses himself through abstract and unstructured figures which represent which represent tracks of decadent society. One of his latest series contains monochromatic drawings and paintings on canvas and found wood. Though his art, Gilbert1 has created an apparently chaotic universe, raw and authentic, dynamic and powerful, related to a search of movement, and some deformation of space, which symbolizes a kind of emergency. Gilbert1 has been exhibited a lot in the previous period – when he is not painting murals in quiet and abandoned places, such as military barracks, or working on his new studio series, the artist is busy with exhibitions.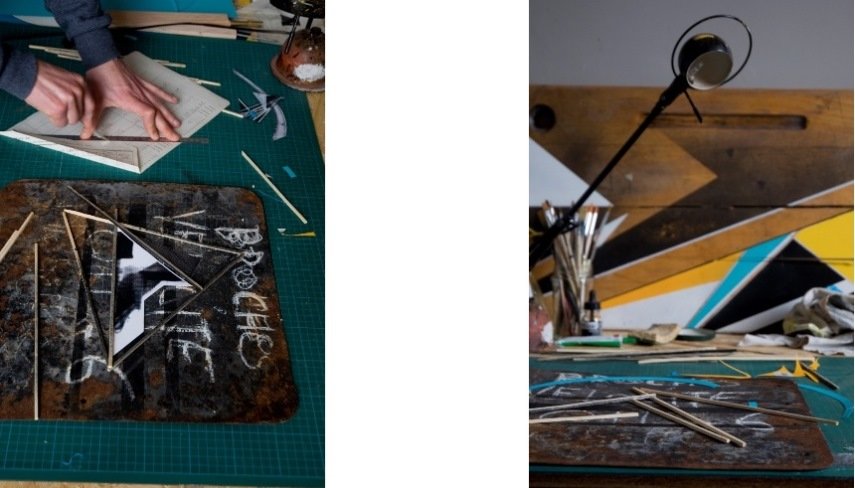 Falling to Pieces
What we will see at the Gilber1's exhibition at Punto618 is a new body of different medium works. The artist's work represents the falling of abstract and geometric destructured elements, as a metaphor of the human who falls and decomposes in the surrounding society (we could say we leave in quite chaotic societies, right?). The materials composing the volume works are often broken, and used by their own history, giving an image of a moving and evolving body composed by elements suddenly exploding in a falling scene. The title of the exhibition at Punto618 – Falling to Pieces – is representative of this particular view Gilbert1 has adopted in his artistic approach.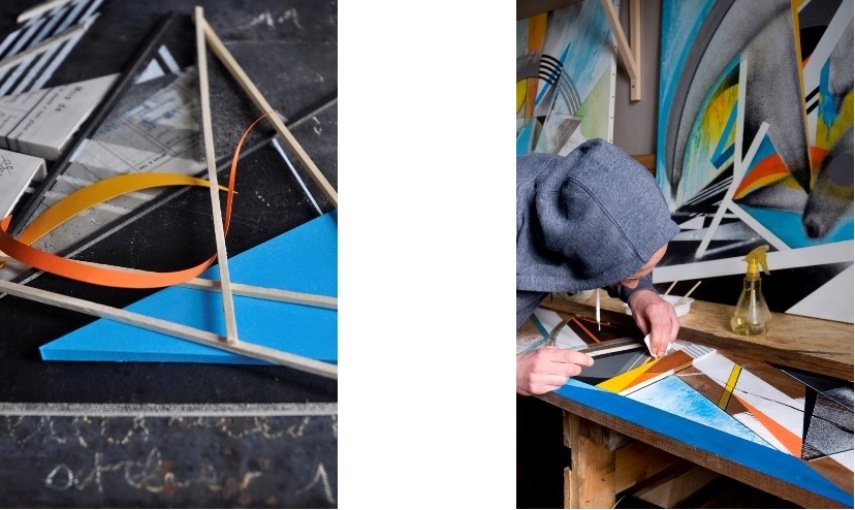 Gilbert1 Exhibition at Punto618
Punto618 Art Gallery was opened in August 2015. It is located just a couple of minutes on foot from the Reggia di Venaria (Royal Palace of Venaria) in a lively and tourist area of Venaria Reale. The gallery deals in contemporary art, in particular is focusing on urban contemporary art. Be sure not to miss the Gilbert1 exhibition in this amazing art space! The show presents a new body of different medium work, as black and white drawings, paintings on canvas and on found wood materials, and some volume assemblages. The exhibition Falling to Pieces will be on view from December 13, 2015 until January 17, 2016 at Punto618 in Venaria Reale, just outside Turin. The opening will take place on December 13, at 5pm.Featured Images: Gilbert1 – Falling to Pieces. All Images courtesy of Punto618 Art Gallery