The Poetry of Decay - Gina Soden in an Interview
Asylums, schools, ex-military compounds, power stations, cathedrals, villas, industrial sites. Deserted a long time ago, these venues have now found immortality in the photography of Gina Soden, a British artist who's been traveling the Old Continent in search for them. What started as a quest to learn about her own culture evolved into a poetic display of old, decaying buildings that invites the viewers to explore the concepts of memory and time. Through meticulously composed imagery, Gina Soden manages to create narratives that escape the often stiff aesthetics of architectural and documentary photography, putting an emphasis on the texture and color of the spaces she photographs. With a passion for symmetry, she takes us back to the past and a time when these structures were fully functional and of service to people, at the same time highlighting their painfully slow collapse and the beauty within. By isolating certain details and putting short titles to her photographs, the artist stimulates our imagination and suggests the stories that passed through these places, making a promise they will never be forgotten.
In an interview for Widewalls, Gina Soden talks about her inspiration, her process and the way she wants to expand her practice in the future.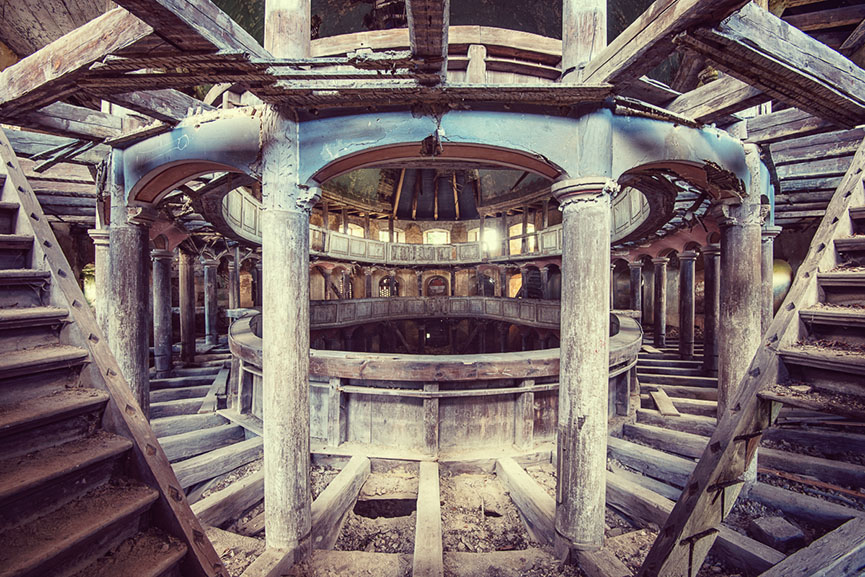 Gina Soden – On an Emotional Photographic Journey
Widewalls: Your photographic work focuses on ruins of diverse decaying sites, such as hospitals, asylums, schools, churches and even coal mines. How did this adventure of yours begin and when? Were you interested in such things already as a child?
Gina Soden: This life-changing adventure started early 2009. I was browsing the local area looking for locations for portrait shoots on Google Maps and came across an old lab facility. I had just finished college and was still shooting film at that time – so I went to the lab and discovered that the fences had holes in them all around the site. I thought: "Well others have been in, so why not me?!" I decided to sneak in and take a look. It was fascinating – I was instantly drawn in to finding out what had happened, what was left, and I loved the rebellious side to it – being somewhere not many venture to and would not really know about. I then developed the film (Portra 800 if I recall correctly) and after scanning in the negatives and looking at the results – I was immediately drawn to this unseen (to many) subject in that state. I wasn't interested in it as a child as such, but I have enjoyed photography since I was 13 – My dad used to sneak around in these buildings when he was young, so maybe when I started he didn't discourage it as he knows how interesting and fun it is!
Widewalls: You're originally from the UK, but you travel throughout Europe in order to capture the most unusual deserted locations. What have been your favorite spots so far?
GS: Don't get me wrong; I love shooting in the UK too – but I have found because I am not surrounded by the types of buildings or style of interiors that I photograph in Europe generally that I just get a bit more excited as I haven't seen certain styles before – and also the travelling abroad part of it makes for great behind the scenes shots. It gives a better sense of escapism – for both me and the viewer. My favourite spots tend to change often with new trips happening monthly – however a firm favourite which won't ever change is where I photographed Blue Orphanage. A huge castle in Belgium – gothic in style with large forest grounds. It was once a family home and boarding school, and with its huge brightly coloured vaulted ceilings and immense decay, it was just perfect to photograph. I felt a true sense of escapism there – so emotive and beautiful. It's being demolished right now! So sad. I sometimes favour some spots over others in regards to my experiences whilst there – whether that be a really awkward way inside which ends up in me covered in bruises or scratches or blood (or all three!) or a beautiful sunset allowing golden light to pour in, getting caught by security with bad timing or evading them in a ninja fashion or wandering around a radioactive zone with like minded friends drinking moonshine shooting with my Bronica film camera. So many memories!
Widewalls: Is there any specific quality you're looking for, when it comes to your selection of places to be photographed? How do you find these places at all and do you sometimes need a special permit to enter these buildings?
GS: Definitely; but I am open to photographing locations without my usual requirements which are: – Little to no graffiti – Natural decay (i.e objects and doors/windows not being smashed up) – Original fixtures and fittings (quite rare now!) – Grand architectural spaces – Decayed locations with lots of items and furniture left behind – Or decayed locations with interesting architectural features such as stained glass windows, tiled floors, fresco ceilings e.t.c.
Widewalls: Emotionally speaking, it must be exciting to enter all these buildings with a lot of history and a veil of unknown as well. Do you usually explore the history of the place before you decide to visit it? What's the oldest location you've shot so far?
GS: I sometimes do at great length, as to find the building in the first place I end up finding a lot of facts about the place and what it was used for and who lived there, etc. Sometimes the locations are passed to me by friends, clients or I have them on my map already from stumbling across them either on Google maps or in person while driving around, so sometimes I have no clue at all! The oldest building is probably an Italian church dating back to the early 17th century. It was magnificent, still stood proud on the roadside, overtaken by nature completely on the outside but on the inside mostly intact. Just wonderful!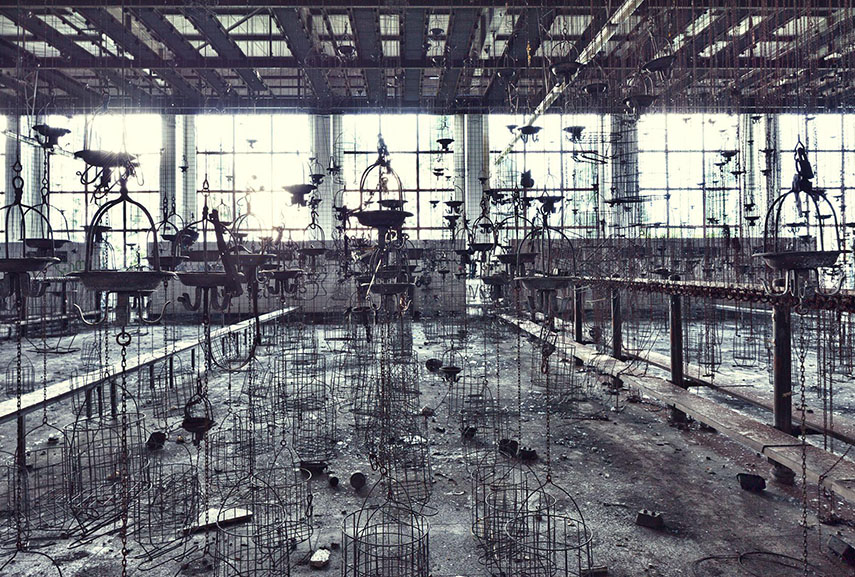 Capturing the Ruins
Widewalls: Lighting is one of the most important factors in photography. What is your approach to lighting? Do you stick to available light or you also use artificial sources of light when needed?
GS: I only ever use a torch if I do use lighting, and even that is rare. My piece Disco – the whole room was lit by a few torches. I rely mostly on natural light. Ideally I'd love to photograph all locations first thing in the morning with diffused light creating soft shadows and picking out the highlight details, or golden hour for obvious reasons – but due to weather, time of year, positioning of the rooms I want to shoot in the building, several locations being shot throughout the day with a few hours of driving, this isn't possible really! So I work with what I have. Soft light is much better for me, but dependant on the scene I will either wait for the sun to go in or out depending on what look I want to achieve. For example, leading lines and an arched ceiling in a balcony corridor creates depth, so bright sunshine can add to that with deep shadows. However, it can cut a scene up entirely, or the window shutters may be broken or doors can't be opened or closed, so there are different shadows everywhere, which can add confusion to the scene. Blue sky or clouds is great but again not always possible. It really depends on the colours and objects around.
Widewalls: Do you usually carry a lot of photo gear with you and travel with assistants or you prefer to keep it lightweight and simple?
GS: I generally don't carry a lot no, though some may disagree with me when they try and lift my bag and tripod. Add climbing, running and awkward windows into the mix it can be an exhausting day with all that weight on my back! My recent travel buddy Martin was a great assistant, my lovely French friend. My partner and I travelled to Italy and met him there, and together made a good team with banter, access and keeping an eye out for each other!
Widewalls: You've made six photo series so far, over the span of four years. Can you describe us the evolution of your ideas and your work? Any majors changes in your style and your approach to the main topic?
GS: When I first started my work was a lot more high contrast and punchy… this has definitely changed, perhaps due to a camera system change and my editing style. The way I edited before did not suit the current kit I have. The camera I use now has a lot more dynamic range and it enables me to depict the painterly style I enjoy with better clarity. Ideas wise, I wanted to experiment more with precise themes within blight and abandoned buildings. I used to visit a lot of different types of buildings in one trip for fear of the building being demolished or lost forever, now I realise more and more I will never have time to see them all, so I am a lot more selective about what I see and what I want to convey. The list is still huge though! I also have experimented with film, but not yet edited the work or shown the results. I have a lot of ideas! A major change was my Kaleidoscope series, not a permanent change of style I will add, but just deviating and experimenting with abstract work. I was interested to see what was still recognisable and how colour and pattern presented in this style affects the viewer's perceptions.
Widewalls: Your most recent series from 2016, entitled Kaleidoscope, focuses on abstract forms. Since this series is a special one, based on a radically different approach, we would like to know more about the artistic and technical processes behind your new artworks. How did you achieve this ''kaleidoscopic look''?
GS: I take an original image I have edited of an abandoned space and in Photoshop flip and rotate it and use different layers to expose different parts of the building, making some more abstract than others. I really enjoy this process as I can colour the images in ways that wouldn't work with my usual work. It's great fun to work backwards when viewing it in its final state to work out what it was originally.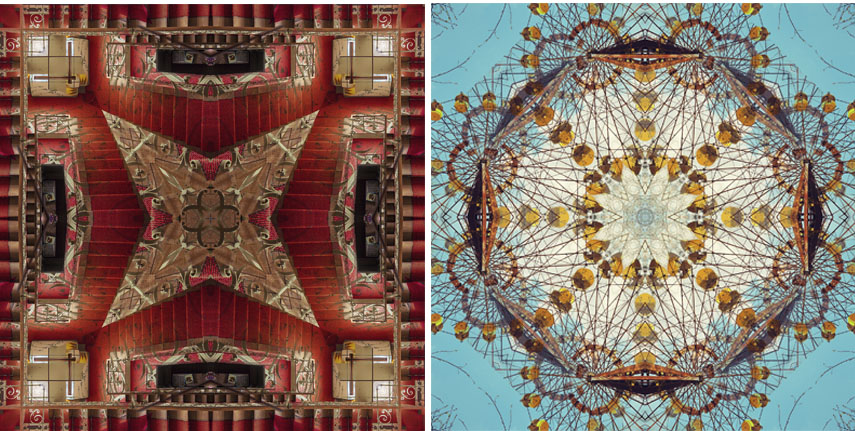 Envisioning the Future
Widewalls: You've been a regular exhibitor ever since 2010, both locally and internationally. What have been your experiences with galleries and art collectors so far? Since you've exhibited in Europe, the US and Asia, have you noticed any major differences when it comes to photographic trends?
GS: It's been an amazing journey so far – I feel very lucky! My work seems to appeal to a varied audience, including big collectors. I have exhibited with some incredible galleries and each one has a slightly different market. It is great to get a good selection of feedback from these different sources. I am not sure I am experienced enough in visiting galleries and fairs internationally to comment on the particular trends, but since I have been doing this, generally contemporary photography has become a lot more accepted and therefore, collectable.
Widewalls: What are your plans for the rest of this year? Are you about to take another trip to some mysteriously beautiful abandoned location and if so, care to share some details?
GS: I recently showed my work with Artistics at FotoFever, it went really well and the fair was a delight to walk around, really well organised. I've just come back from Italy which was superb – even though I had a lot more "fails" than usual, including getting lost, wrestling with skin cutting brambles and a steep hill for about 2.5 hours, only to be greeted with a locked door and no way in to an incredible villa. I travelled for about 6 days with my partner and French friend Martin, we had a great time, the autumnal leaves within the locations looked incredible. I've also (finally) been scanning in my medium format negs from my Chernobyl trip, I am so pleased with them!
So many things going on – I am truly addicted!
Featured images: Gina Soden – Disco; Gina Soden – Blue Orphanage. All images courtesy the artist and Artistics Paris.