How Was the Universe Created? Govinda Sah 'Azad' Seeks the Sacred at October Gallery
Every now and then in life, each person finds him/herself looking at the sky, while his/her mind is filled with thoughts regarding the beginning of everything – of the cosmos itself. After all the thinking about what is going on up there, you start using your imagination while trying to comprehend whatever you can. Govinda Sah 'Azad' exhibition under the name Boundless Possibilities – his third solo exhibition in London – is presenting his understanding of the universe as a space of endless possibilities through mixed media works on canvas.
The Revelation of a Dream
Being born in Rajbiraj, Nepal, back in 1974, and knowing that Himalayan Mountains are nearby, it seems like Govinda Sah had his mind and eyes set at the endless sky from the beginning. It didn't take him that long to understand that he loved art. He was caught by sculpture and drawing at an early age. Being intrinsically curious, he left Nepal in order to work as a sign board and wall painter in Delhi, India, from 1991 until 1994. Probably called on by the Himalayas telling him to fulfill his dreams, he returned to Kathmandu in 1995, and applied to Fine Art College in order to become a painter. His faith started unfolding as he participated in few group exhibitions that led him to his first solo exhibitions in 1999. He was later called Lion Heart by Govinda Dongol, professor and campus chief. It seems like he had every right to do so, bearing in mind that Sah received an MFA at Wimbledon College of Arts in 2008, and that he currently lives and works in London.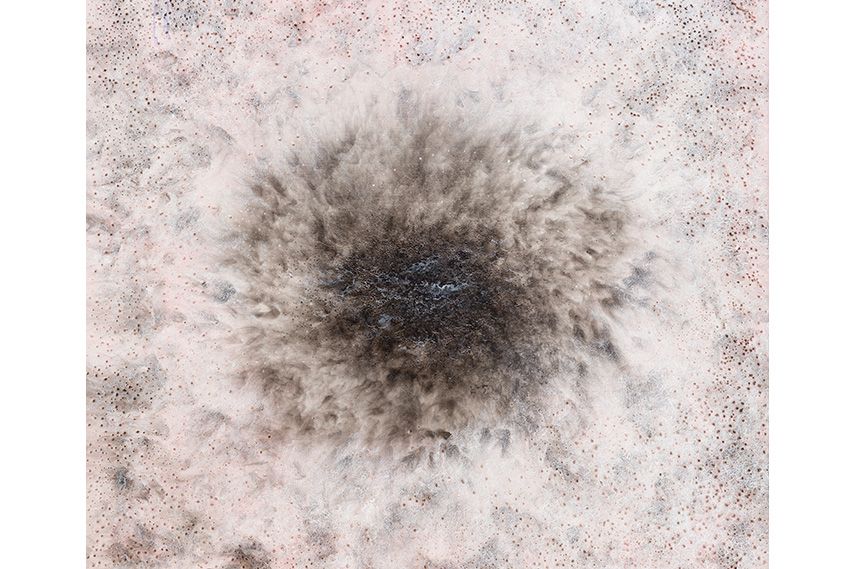 Supernovas, Explosions and Black Holes
Sah is trying to intertwine traditional eastern metaphysical beliefs regarding the reality and life itself, with contemporary western science findings throughout his visual realizations. Sah is presenting roaring skies and unbelievable cosmic explosions on his canvases. As Sah is not alone in asking the question on how the universe was created, he is using logic and science to reach the answer. Still, what keeps him going down this unknown path is the pursuit of the sacred.
As canvas, like universe, has boundless possibilities, Sah is pushing the boundaries in painting. He utilizes the jute and canvases' wooden stretchers, which help him in constituting minute holes, shaped frames and deep openings. Using complex artistic skills, he delicately composes paint layers, and merges them with three-dimensional objects (like hair and pearls) to demonstrate the expansion of the universe outside the canvas' flat surface.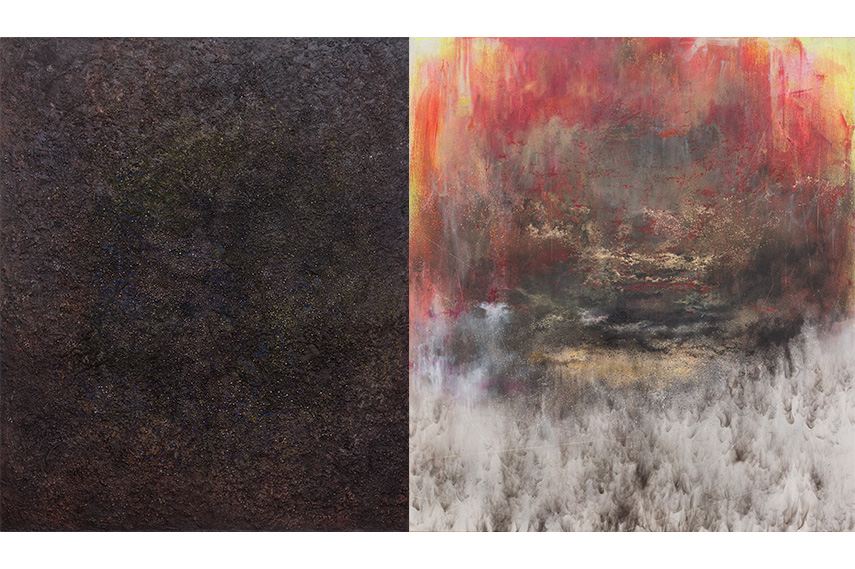 Uncovering the Govinda Sah 'Azad' Exhibition
If you think this is the full extent of his inspiration, you are wrong. Sah also uses fire in his artworks, allowing a flame to grab his art piece using the appearance of smoke as the manifestation of turbulent skies. You can see how the flame is swallowing the canvas, just as the light (his ultimate fascination) absorbs darkness. Govinda Sah 'Azad' exhibition demonstrates the artist's perception of the universe embodiment as the composition of mathematical precision and sacred uncanny. Boundless Possibilities will be presented at the October Gallery, 24 Old Gloucester Street, London, starting from May 19, and ending on June 25, 2016.
Featured image: Govinda Sah 'Azad' – Matter Nothing Matter, Mixed media on canvas, 160 x 180 cm, 2015. All images courtesy of the October Gallery.