Only my Strength of Will Remains - Goya Drawings at Museo Prado
In most of Europe, the period of the late 18th and early 19th century, often called the Age of Reason, was marked by the grand wars fought by Napoleon, the increasing urbanization/industrialization, and the gradual constitution of the national states. In the cultural context, it was a time when artists were still rarely not fully autonomous and worked for the grand monarchies. That didn't stop some of them from becoming critical although it was hard to position oneself as an avid social and political chronicler, as was the case with the Spanish painter Francisco Goya.
Throughout his career, the last of the Old Masters as the grand artist is often called, managed to perfect his craft to the full extent, embrace and expand printmaking as a relatively unused artistic medium at the time, and create artworks saturated with a profound emphasis of the human behavior and decline of the reason into cruelty, violence and absurdity.
The foundation of Goya's practice was indeed drawing. The creation of preparatory sketch enabled him to experiment and search for different modalities of the composition which is then further extended through painting or print.
The Spanish Museo Prado reasonably holds an astounding collection of the artist's works, and a great deal of them are revisited with the current exhibition solely focused on the drawings Goya made throughout his lasting career.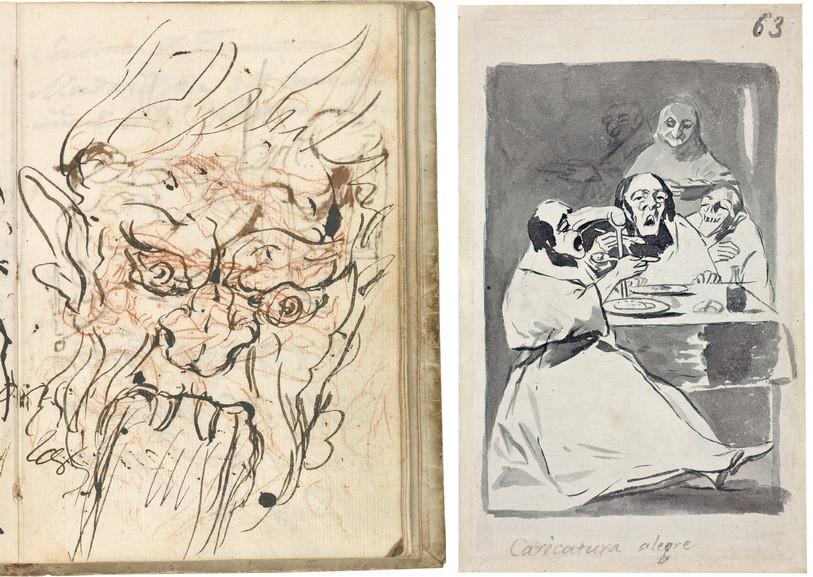 The Goya Drawings
Under the full title Goya Drawings: Only my Strength of Will Remains, the exhibition refers to a specific historical moment when the museum opened for the first time on 19 November 1819. Although it displayed an array of pompous art commissioned by the Spanish monarchs in the past three hundred years, it also featured three paintings by Goya – the Horseman with a Pike and the two equestrian portraits of Charles IV and María Luisa de Parma in its central gallery. In decades to come, the Museum gathered around one hundred paintings, five hundred drawings, all Goya's print series and the accompanying documentation including correspondence with his friend Martín Zapater.
Having on mind the mentioned historical event which immediately reflected on the national culture, in joined efforts, José Manuel Matilla, Chief Curator of Prints and Drawings at the Museo Nacional del Prado, and Manuela Mena, Chief Curator of 18th-century Painting, selected artworks that show the scope of themes and motifs which pervaded Goya's sketchbook and print production.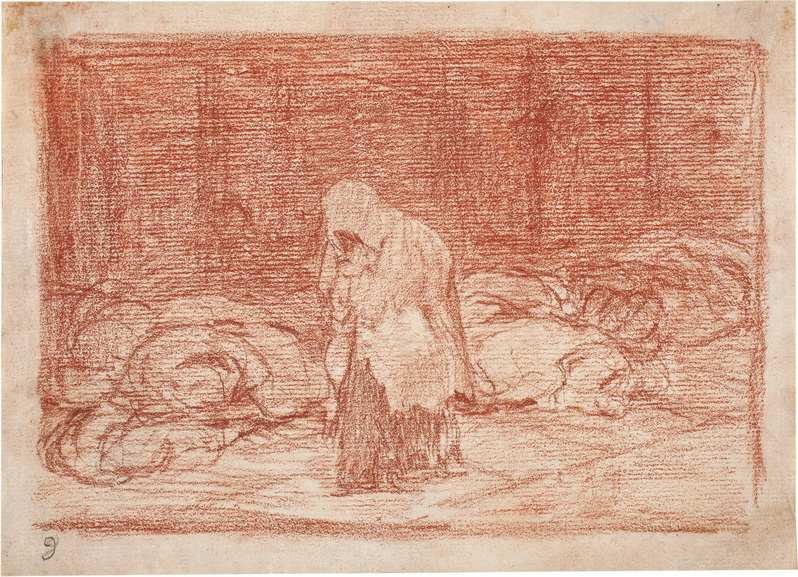 The Installment
The exhibition spreads through rooms A and B of Museo Prado's Jerónimos Building and is thematically and chronologically organized.
The first room starts with a selection of pieces Goya made during his early years in a period between 1771 and 1778. The artist quickly started differing stylistically from his contemporaries, and the sketchbook made during his visit to Italy in 1771 perfectly illustrates his rapid evolution. The following group gathers the earliest drawings for prints produced in a period between 1772 to 1794, especially the celebrated etchings of Velázquez's paintings.
Then there are drawings found in letters to Martín Zapater (1775-1803); he was Goya's lifelong friend with whom the artist shared numerous letters including sketches of everyday life. On display are also Sanlúcar Sketchbook (1794-95), the first of Goya's eight sketchbooks of drawings, as well as the Madrid Sketchbook dating from 1795-97, which shows Goya's special focus on the depiction of women.
Room A also features the series Dreams (1796-97), as well as an extension of it titled Caprichos published in 1799 which includes eighty prints satirically thematizing the human behavior. Goya was well known for his portraits, so this series encompasses works saturated with emotional depth and great craftsmanship. While Sketchbook F (1812-20) reveals the artist's concern for social issues, Disasters of War (1810-14) reflect the tragic consequences of the Spanish War of Independence. The last series in this room is called Tauromaquia, and was produced by Goya in between 1814 and 1816. These compositions responded to the Enlightenment debate on the legitimacy of bullfighting by underlining the history of this particular discipline spanning from antiquity to Goya's time.
The second part of the installment in Room B starts with a selection of graphic works featuring Goya's classic themes such as bulls and bullfighting, witches and majas which appear throughout his career. The following series on display belongs to the Black Borders Sketchbook made between 1816 and 1820, and consisting of fifty-four drawings; Old Women and Witches Sketchbook (1819-23), one of Goya's most specific and obsessive groups of drawings devoted to old age, and the presence of witches; and Follies (1815-24) consisting of twenty drawings, along with several other series such as The crowd, Bordeaux Sketchbook, Violence against women, By habit we look at them as born only for our pleasure, Old age, Sketchbook (1808-14).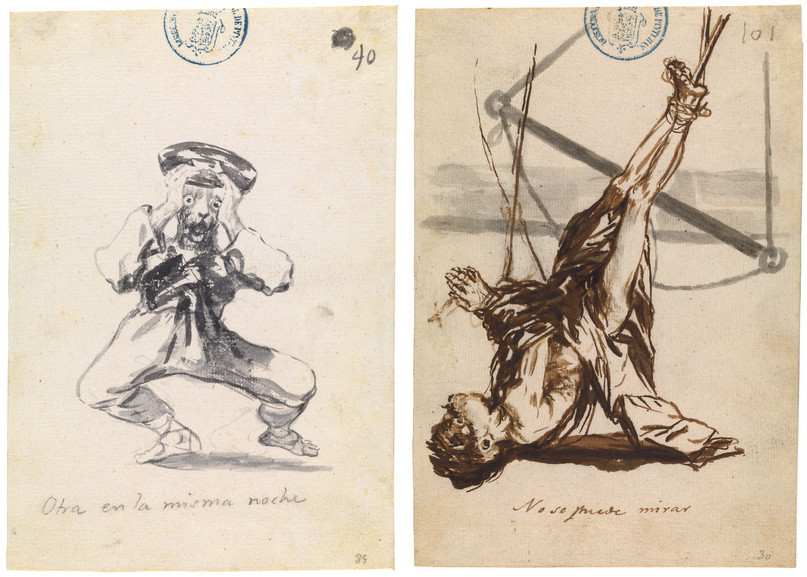 Goya Drawings at Museo Prado
It can be said that this exhibition tends to not only revisit the domains of Francisco Goya as an extraordinarily talented and meticulous artist, but to underline his position as a person actively engaged with the social and political reality as well. This master developed almost a philosophical stance towards humanity and understood perfectly the implications of class discrepancy and mechanisms of systematic exclusion.
A fully illustrated volume including all the series as well as critical essays written by the curators offering a new interpretation of Goya's oeuvre and the personal persuasions behind the same will accompany the show.
Goya Drawings: Only my Strength of Will Remains will be on display in Rooms A and B of Museo Prado's Jerónimos Building in Madrid, Spain until 16 February 2020.
Featured images: Francisco de Goya – Agility and audacity of Juanito Apiñani in the ring at Madrid, 1814-16. Preparatory drawing for no. 20 of the Tauromaquia. Red chalk on laid paper, 186 x 278 mm. Madrid, Museo Nacional del Prado; Francisco de Goya – Satan's Despair, 1815-24. Preparatory drawing for a Folly that was not printed. Red wash and red chalk on laid paper, 224 x 325 mm. Madrid, Museo Nacional del Prado.